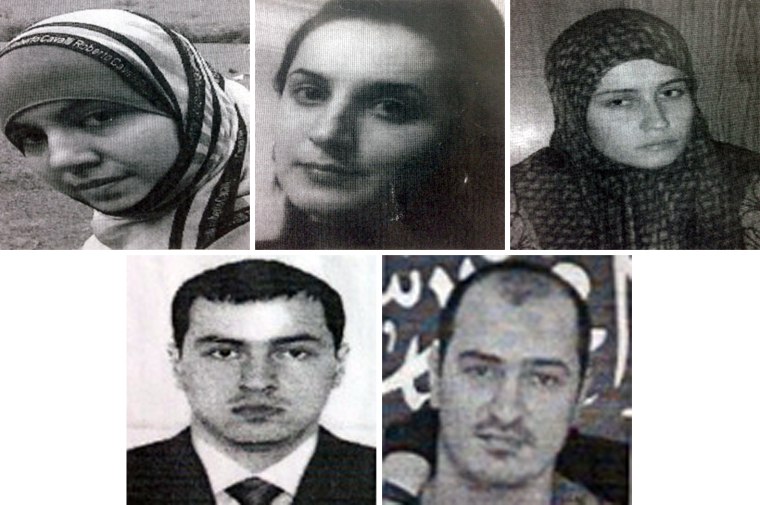 SOCHI, Russia — Russian security officials are hunting for two more young Muslim women — so-called "black widow" terror suspects — who they believe are planning to target the final stages of the Olympic torch relay with suicide bomb attacks.
Wanted posters distributed by police say that the women have been dispatched by underground groups to attack between Tuesday and Thursday in Rostov-on-Don, where the torch is expected to arrive Wednesday on its way to the Olympic city of Sochi.
The posters warn that the suspected terrorists may wear clothes that do not adhere to Islamic tradition, such as long dresses and hijabs, so that they can blend and "infiltrate into places with mass gatherings without hindrances."
The posters ask for help finding the women: Jhannet Tsakhaeva, 34,  from the restive Russian region of Dagestan, and Oksana Aslanova, 26, from Turkmenistan. A third woman who was wanted, Zaira Alieva, 26, from Dagestan, was killed Saturday by Russian security forces in Dagestan, NBC News confirmed.
In addition, wanted posters seen by NBC News on Tuesday identify two men — Ruslan Saufutdinov, 21, and Murad Musaev, 25 — who the posters say are planning attacks in southern Russia.
The posters suggest "gaping holes in security right now in Sochi," said Evan Kohlmann, an NBC News terrorism analyst.
He said that they undercut Russia's plan for a "ring of steel" around Sochi to protect the games — a 1,500-square-mile security zone that includes more than 40,000 police officers, special forces, ultra-sensitive sonar, monitoring drones and patrol boats.
"The problem is that when you need to stop a lone-wolf suicide bomber, you need to think about government intelligence. You need to think about preventive measures," said Andrei Soldatov, a Russian security expert. "But not about the number of troops you can put on the ground."
Rostov-on-Don is about 350 miles north of Sochi. The stop in Rostov-on-Don will be the 120th for the Olympic torch, leaving 16 before it reaches its destination for the Feb. 7 opening ceremony of the Winter Games.
To the east of Sochi is the volatile Caucasus region, where an Islamic insurgency is simmering. It is the area of greatest concern as President Vladimir Putin tries to protect his Olympics from terrorism.
Russia has been aggressive in trying to decapitate the leadership of militant groups in the Caucasus. But there are "plenty of foot soldiers and volunteers" willing to join the fight, said Andrew Weiss, a former Russia expert in the Clinton White House who is now vice president for studies in the Russia and Eurasia Program of the Carnegie Endowment for International Peace.
"The added part of this is the regional, small-cell-based structure," said Weiss, who is an NBC News analyst. "It's very hard for the Russian security forces to penetrate that. That's been a chronic problem for the Russians all along."
Fears of an attack are growing as the games approach. On Sunday, a video surfaced in which two men claimed responsibility for twin bombings last month in the Russian city of Volgograd, and vowed they had a "surprise" in store for Putin and Olympic tourists.
Another poster named Ruzana Ibragimova, also known as Salima, as a suspected terrorist intent on targeting the Sochi Olympics. "Black widow" terror suspects are so named because some are seeking to avenge the deaths of their husbands.
Ibragimova was made a widow last year, when Russian forces killed her husband, also a suspected militant. She has a 4-inch scar on her left cheek that reportedly came from Russian troops.
The Pentagon said Monday that the United States has offered its support to the Russian government and that American air and naval assets, including two ships in the Black Sea, will be available if the Russian government asks for help.
Senior U.S. military officials, however, told NBC News on Monday that the likelihood that Putin would ask for help was zero.
Richard Engel reported from Moscow. Erin McClam reported from New York. Michele Neubert and Alexander Smith of NBC News contributed to this report.  
Related: