National Security Adviser H.R. McMaster has reassured South Korea that America will pay for a missile defense system, according to an official from the key U.S. ally, apparently contradicting President Donald Trump.
A spokesperson for South Korea's presidential office said on Sunday that McMaster told South Korean National Security Adviser Kim Kwan-jin in a phone call that a pre-existing funding arrangement would remain in place. Under the plan, South Korea does not pay for the system but provides land and other support.
"The U.S. National Security Adviser H.R. McMaster explained that the recent statements by President Trump were made within the context in line with the general U.S. public expectations on burden-sharing with allies," a South Korean presidential office spokesperson told NBC News.
Trump in an interview with Reuters Thursday said Seoul should pay for Terminal High Altitude Area Defense (THAAD), calling it a "billion-dollar system."
Key parts of THAAD were installed on Wednesday, South Korea said. The White House was not immediately available to comment early Sunday.
THAAD is being deployed to help protect South Korea and others from a potential missile attack from North Korea, which on Friday conducted the latest in a series of ballistic missile tests. North Korea has also conducted five nuclear tests since 2006, including two last year, and repeatedly threatens the U.S. and its allies.
Related: Trump Says 'I Will Not Be Happy' If North Korea Conducts Nuke Test
Meanwhile, a U.S. aircraft carrier and supporting warships arrived on the Korean peninsula and began exercises with the South Korean navy late on Saturday. The U.S. has threatened to use military force against North Korea if necessary.
In the Reuters interview Trump also threatened to renegotiate or end what he called a "horrible" trade deal with South Korea.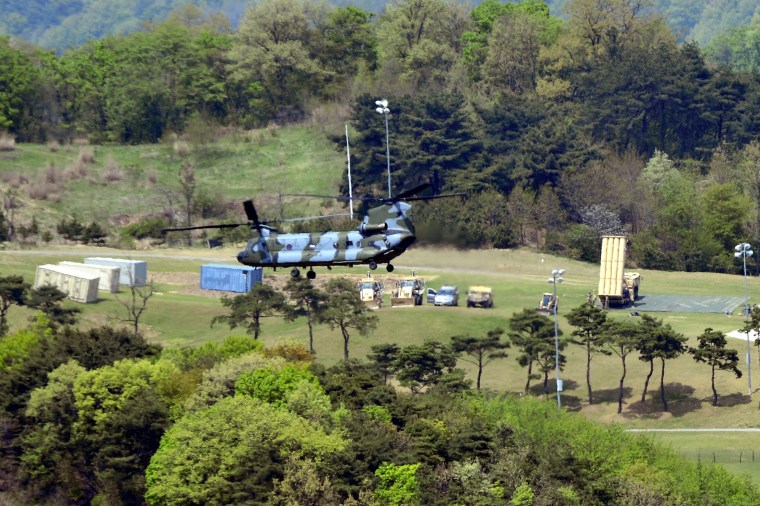 In the phone call, McMaster "conveyed President Trump's firm messaged that the S.K.-U.S. alliance is the most solid alliance and that it also is the U.S.'s top priority in the Asia-Pacific region. He also said that the U.S. will be with S.K. 100 percent," the presidential office spokesperson said.
Trump has repeatedly accused allies of not paying their fair share, especially in regards to NATO. Trump's claim that Germany "owes vast sums of money to NATO" — just days after meeting with the country's leader Angela Merkel at the White House — was rejected by Germany's defense minister.
During the campaign Trump raised concerns by suggesting he could support South Korea and Japan obtaining nuclear weapons. The leaders of both countries at the time dismissed the idea.