France is no stranger to strike action — it's typically business as usual for tourists and locals when workers take to the streets.
That looks set to change for the most visited country in the world, which is bracing for a third week of strikes while grappling with floods and also preparing to host Europe's largest soccer tournament amid ongoing terror alerts.
Train services are paralyzed, flights have been canceled and there have been hours-long lines for gas as unions protest workplace reforms. Power has been cut to homes in some areas, and street protests have forced the closure of roads.
It is a perfect storm for authorities already dealing with the security threat posed by the 24-nation Euro 2016 championship, which begins Friday and is expected to attract 2.5 million soccer fans, most of them from overseas.
The State Department last week warned Americans traveling to Europe of risk of summer terror attacks and said Euro 2016 stadiums and fan zones were all "potential targets."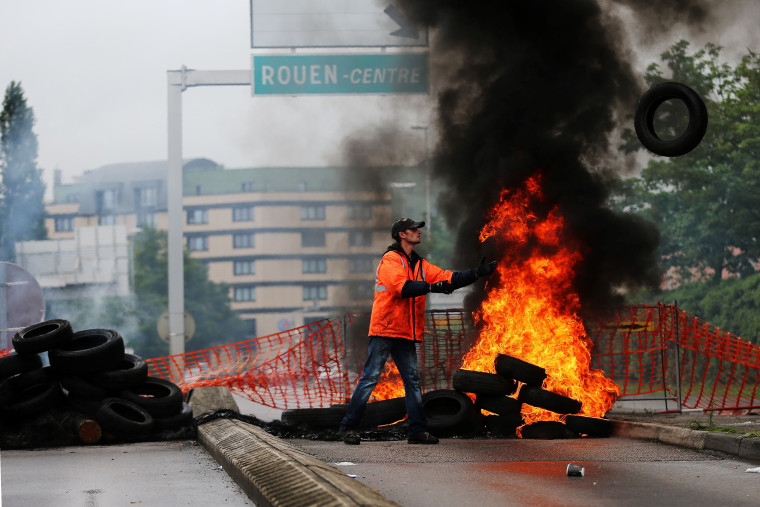 A state of emergency, declared following the November 2015 attacks in Paris that left 130 people dead, has been extended by the government. Yet with ministers in no mood for compromise on labor laws, protests are expected to culminate in a nationwide strike day on June 14.
On top of all that, days of heavy rain have swollen rivers including the Seine, forcing Thursday night's evacuation of artworks from the Louvre.
Who is on strike, and why?
Unions are angry at a package of government labor reforms that will give big companies more freedom to hire and fire workers or extend working hours.
Among the most significant changes is a new rule allowing companies to reach collective pay deals with their own workers rather than having to match national agreements, and a new requirement that at least 50 percent of employees endorse a pay deal. At present, unions representing only one third of employees can negotiate pay settlements.
The biggest losers could be larger, traditional unions such as the militant CGT according to Coline Bied-Charreton, a senior lawyer specializing in labor and employment law in the Paris office of global law firm Pinsent Masons.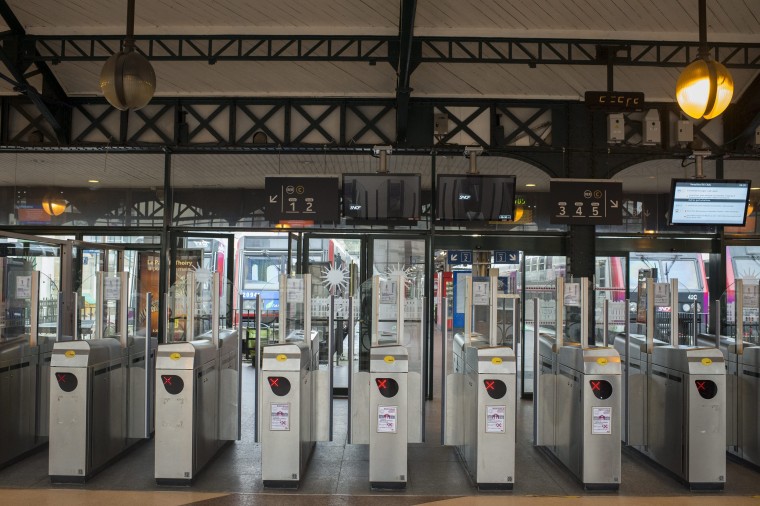 "These changes are not necessarily bad for employees or even all unions, but it definitely would be bad for the CGT," she told NBC News. "In many new areas of business such as technology, CGT is not massively present — it is more associated with traditional industries and that, in my opinion, is why it is afraid of these new laws."
How bad is it — and could it get worse?
Former president Nicholas Sarkozy this week attacked his successor Francois Hollande's left-wing government, accusing it of "weakness, cowardice and a total loss of authority" over the protests.
Workers with the country's largest union, CGT, last month blockaded six of France's eight oil refineries and forced 16 of the country's 19 nuclear power plants to reduce output. That prompted panic-buying of gas, with drivers waiting hours in line as pumps ran out of fuel.
On Thursday, than one million homes in Lorient, Cherbourg and the Ile-de-France region around Paris had their electricity supplies interrupted while 120,000 customers in Saint-Nazaire had their power cut.
Related: France's Terror Test-Run Didn't Go Exactly to Plan
One in five high-speed TGV train services was canceled and other major rail links were cut to a third of normal, state-owned SNCF said. At the Gare de Lyon station in Paris, protesters blocked tracks for about an hour. There was also a partial shutdown of the Paris transit system, with RAPT workers forcing the closure of the RER B rail route linking the city center and Charles de Gaulle Airport.
Action by air traffic controllers forced dozens of flights cancellations across Europe on Thursday, while some unions at Paris Orly airport and Air France have also voted to join the strike action.
Another nationwide strike is planned for June 14.
Are tourists affected? Should you cancel your vacation?
Absolutely not, tourism leaders say. Tourism officials insist that France is safe and that vacationers are unlikely to encounter much disruption.
Atout France, the national tourism agency, said it could not comment on the strikes but told NBC News it was encouraging visitors to come as normal.
Major attractions such as the Eiffel Tower remain open and unaffected, and most long-haul international flights to and from France are unaffected.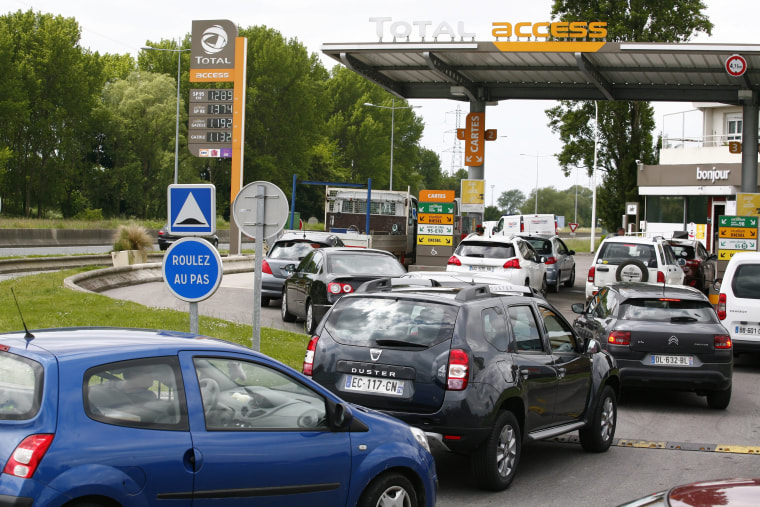 A bigger problem might be the rising flood waters of the River Seine in Paris which on Thursday night forced the evacuation of the Louvre museum and closure of a nearby subway station.
"Here in Paris if tourists want to go to Versailles then they might find there are fewer trains but everything else is open," said Bied-Charreton. "We have power, we have food … all of these things are normal."
What happens next?
An urgent concern is to avert disruption during the month-long Euro 2016, which kicks off Friday at the national stadium in Paris. In addition to the dozens of live games around France, millions are expected to watch the tournament on television.
In a still-fragile economy — unemployment jumped 1.1 per cent February to reach a record 3.6 million — even the socialist government believes labor reforms are essential to keep France competitive with its European rivals such as Britain and Germany.
Prime Minister Manuel Valls, in consultation with Hollande, used his powers to push the reform package through the National Assembly without a vote.
CGT remains opposed, hoping its refinery blockades will choke off the government's plans. It has even threatened to cut power supplies to the headquarters of the national employers' federation, MEDEF.
So far it has received the support of some other unions and workers have taken to the streets in cities including Rouen, Nantes and Marseille.
However, there are signs that its support could be about to crack — and that even the protest-hardened French public could be losing patience.
An opinion poll published Thursday in Le Figaro found that the CGT was almost as unpopular as Hollande's government, with 60 percent saying the union is abusing the right to strike and 47 percent supporting its cause.
The refinery blockades have already eased, and Paris transit authority RATP said the majority of its subway and bus services were now unaffected by strikes.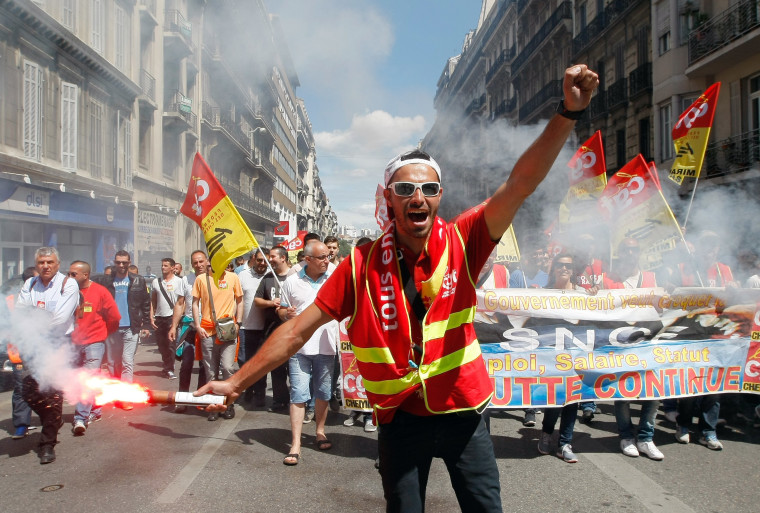 On Thursday, four of the five unions representing air traffic controllers agreed to call off a strike planned for this weekend. Could a rare French government victory over unions be on the cards?
"I think maybe this time the government will not back down — and that would be a real change," said Bied-Charreton. "The last three times when the unions went on the streets, the government backed down."
She said industrial unrest in France was a "generational phenomenon."
"Every ten years or so, there are reforms — but young people want to take their own action, like in previous generations. They want to go on the streets to demonstrate, to make their own rebellion — something to tell the grandchildren. This is very French. This time the government does not seem to be willing to give up these reforms … it seems to be a cultural change."