Half a million Filipinos fled their homes as a Super Typhoon Hagupit bore down on the islands, expected to bring with it winds of up to 143 miles per hour and threatening to devastate a region battered by a different hurricane just last year.
The vast Category 5-equivalent storm — packing life-threatening wind gusts of up to 143 mph and intense rainfall of up to three-quarters of an inch per hour — is expected to make landfall Saturday.
Filipinos were bracing for the typhoon to live up to its name, which is Tagalog for "smash." Many of those evacuated were still living in tents after the devastation caused last year by Super Typhoon Haiyan, which left more than 7,300 people dead and missing.
"I'm scared," Haiyan survivor Jojo Moro told the Associated Press. "I'm praying to God not to let another disaster strike us again. We haven't recovered from the first."
Richard Gordon, chairman of the Philippine Red Cross, which is mobilizing an international rescue plan in case of disaster, said it had moved more than 100,000 people.
The U.N. Global Disaster Alert System said almost 32 million people — a third of the country's population — were likely to be affected in some way by cyclone-force winds when the storm arrives in central parts of the island nation Saturday afternoon or evening.
Hagupit, known locally as Ruby, was downgraded late Thursday to a typhoon after it lost power. However the Joint Typhoon Warning Center, a U.S. military task force based in Hawaii, issued an advisory at 9 a.m. ET Friday restoring super typhoon status after recording estimated gusts of 150 mph.
Dozens of domestic flights were canceled and inter-island ferry services were suspended.
In Tacloban, where Haiyan's tsunami-like storm surges left thousands dead and wiped out entire villages, the airport was closed on Friday, leaving families to seek help in emergency shelters.
Among them was Peachy Nerja, 28, and her mother, father, sister, brother and her sister-in-law and her two young children who came from the nearby town of Tanauan and were staying at the home of work friends.
"Last time the storm surge almost ate our house and we had to climb up onto the roof," she told NBC News. "People are more prepared this time so there is more co-operation but some are still staying behind because they do not have enough money or do not know where to go."
She added: "We are hoping that the destruction will not be as bad as last time, but this is still a very strong storm."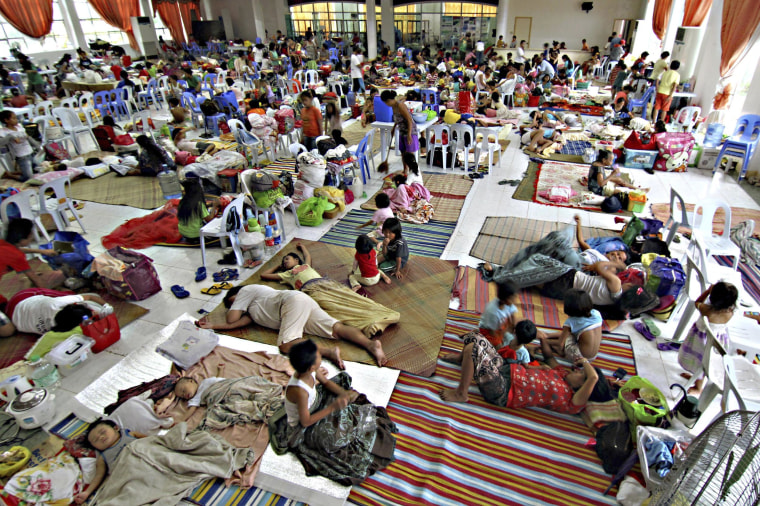 At least 47 of the country's 81 provinces are considered potentially at high risk. The first one in its path is Eastern Samar province, where it is expected to make landfall. It is then expected to cut across central islands along a route north.
Hagupit's slow movement is expected to cause significant problems. The Philippine weather bureau said it could be as late as Wednesday before the storm clears the islands, leading to rainfall totals Sarsalari called "extraordinarily high," causing landslides, debris flows and life-threatening flash floods.
"Although it's been reported that the typhoon has lost strength, it doesn't mean that our readiness will also weaken," said Alexander Pama, who heads the country's disaster-response agency.
NBC News' Erik Ortiz and M. Alex Johnson and The Associated Press contributed to this report.