Sweden's military said Tuesday it is examining a video that shipwreck hunters say shows the remains of a Russian submarine off the Scandinavian country's coast.
The alleged find comes less than a year after reports that a Russian submarine was seen in waters near Stockholm, triggering an extensive but unsuccessful search.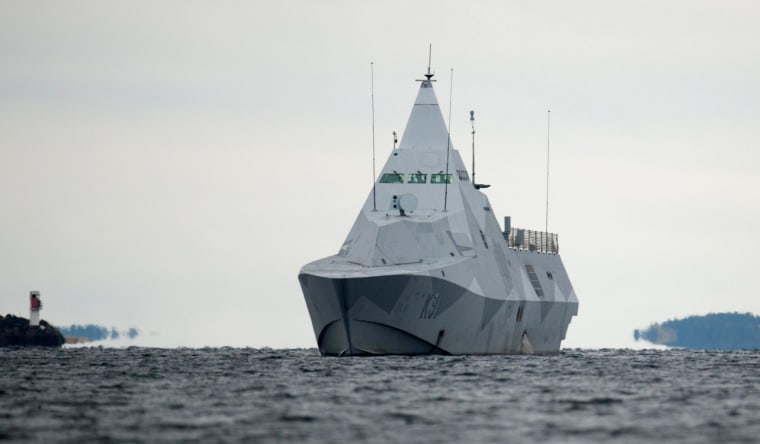 A former naval commander told local media that he believes the firm has discovered the remains of a World War I Catfish-type submarine that sank in 1916.
"The submarine is about 20 meters [65 feet] long and three and a half meters [11.5 feet] wide," exploration company Ocean X said in a statement, adding that "Cyrillic letters on the hull indicates that it is Russian."
"The submarine is completely intact, has no visible damage to the hull and the hatches are closed," Ocean X diver Stefan Hogeborn said in the statement. "Therefore do we fear that the crew were not able to save themselves."
"My spontaneous observation is that it is old"
Video of the discovery, which was filmed using an unmanned remotely-operated underwater vehicle, was passed on to military officials along with information about the location.
"We are now analyzing the material," Swedish armed forces spokesman Jesper Tengroth told NBC News. "We can´t give any further comments until that work is finalized."
However, he added that there did not appear to be any connection to the reported sighting in October.
An extensive Cold War-style hunt was launched after the military detected what it described as foreign "underwater activity" — a claim bolstered by a grainy image circulated in local media. However, the navy's top commander later concluded "with certainty" that the image showed a civilian working ship, most likely a fishing boat.
The Ocean X video was published by Sweden's Expressen newspaper. Per Andersson, a retired lieutenant colonel in Sweden's coastal defense force, told the newspaper that the co-ordinates of the wreck had been known to military officials for some time.
"My spontaneous observation is that it is old," he was quoted as saying. "It looks like a submarine from the First or Second World War. If it is longer than 20 meters [65 feet] I think it is a conventional military submarine. I feel very confident that it is a Catfish. It accords with the details on the submarine."
Russian news site Lenta reported that the wreck was most likely a Catfish called "Som" which collided with a Swedish steamer in the Baltic Sea in May 1916, killing two officers and 16 enlisted men.
Concerns about possible incursions by Russian submarines have increased as relations between Moscow and the West have worsened due to events in Ukraine.
During the Cold War, the navy repeatedly chased suspected Soviet submarines along its coast with depth charges.
Ocean X, which searches for hidden treasures from wrecks such as antique artifacts, says it previously found a U.S.A.F. B-17 bomber off the east coast of Sweden in 1992.