A powerful earthquake struck southern Taiwan Saturday, killing at least 14 people and leaving more than 150 people missing in one building alone, officials said.
The 6.4-magnitude earthquake shook about 30 miles east of Tainan, a city of around 2 million, just before 4 a.m. local time (3 p.m. Friday ET), the U.S. Geological Survey said. At least 484 people were hurt, Taiwan's Central Emergency Operation Center said.
Nine buildings collapsed in the temblor, which also caused at least five to tilt at alarming angles. The focus of a massive rescue effort was the 16-story Weiguan Jinlong residential building in Tainan, which buckled.
Some 200 were pulled from the building that had been home to about 80 families, but as of 9 p.m. local time Saturday, there were still 156 missing from the building, according to the government's forward command post in Tainan that deals with rescue work.
At least 12 people died in that building, the Tainan City Fire Bureau said. Among the victims was a 10-day-old baby, Reuters reported.
About 800 soldiers pitched in with the rescue effort.
Kate Lao Shaffner, an English teacher who lives around 18 miles from the quake's epicenter, said the "extremely violent" shaking woke her entire family.
Terrifyingly, Lao Shaffner and her husband weren't able to get to their oldest daughter's bedroom.
PHOTOS: Rescuers Search for Survivors After Taiwan Earthquake
"My 7-year-old was in a different room. We could hear her cry for us but it was shaking so violently we couldn't get out of our beds to walk to get to her," she said.
When the shaking stopped Lao Shaffner's husband got their daughter from her bedroom. The family was unhurt.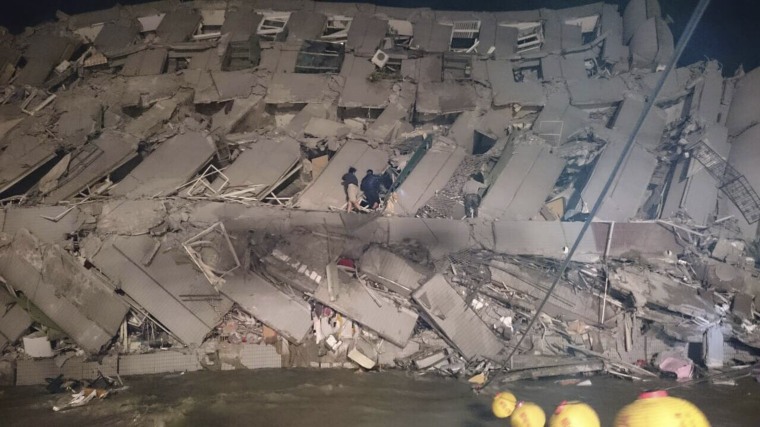 Two died in Tainan's Gueiren District, including a woman who was hit by a fallen water tower.
"I was watching TV and after a sudden burst of shaking, I heard a boom. I opened my metal door and saw the building opposite fall down," a 71-year-old neighbor who gave his name as Chang told Reuters.
Chang, a plumber, grabbed his tools and a ladder and pried open some window bars to rescue a woman crying for help.
"She asked me to go back and rescue her husband, child, but I was afraid of a gas explosion so I didn't go in," Chang told Reuters. "At the time there were more people calling for help, but my ladder wasn't long enough so there was no way to save them."
The earthquake occurred at a depth of around 14 miles, and Tainan was the hardest hit city, the U.S. Geological Survey said.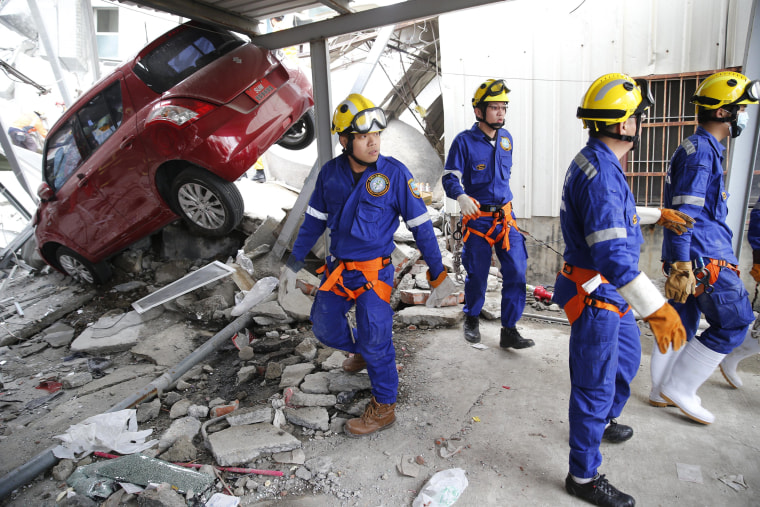 Taiwan President Ma Ying-jeou said every effort was being taken to rescue survivors. A 1,200-bed shelter was established at a nearby military school.
Saturday's earthquake could be felt in the capital of Taipei, located on the other side of the island, where the shaking was so violent it awoke many in the city, Reuters reporter Yimou Lee said in a phone interview.
Taiwan sits on the seismically active "Ring of Fire." A massive 7.3-magnitude earthquake that struck in central Taiwan in 1999 killed about 2,400 people.
China's government has offered assistance to Taiwan, a small island nation that Beijing considers a breakaway province, and expressed condolences for the victims, state-run media Xinhua reported.