Thailand's Parliament will vote for a new prime minister on Thursday, and the country's young and urban are about to find out whether their backing of a progressive opposition party at May's elections will translate into genuine power.
Not too long ago, they were basking in the euphoria of the party's stunning victory, priming themselves for democratic change and reform. Two months on, they are instead confronted with the sight of 79-year-old Wan Muhamad Noor Matha — very much considered a member of the old guard — as the "new" speaker of Thailand's House of Representatives.
The young voters had propelled the Move Forward Party — led by the Harvard-educated, 42-year-old Pita Limjaroenrat — to an unprecedented majority of the seats in Parliament after nine years of military rule, but this was too slim for the party to push forward its own candidates, forcing it into a coalition with seven other parties.
Move Forward had campaigned on an ambitious structural reform agenda targeting the country's monarchy, monopolies and military. These aims essentially extended the goals of student protests more than two years ago that were triggered by the dissolution of a political party — Move Forward's predecessor entity — which was highly critical of outgoing Prime Minister Prayut Chan-o-cha, the former military general who seized power in a 2014 coup and made changes to the Thai Constitution in 2017.
Its slim majority has made its agenda vulnerable to the machinations of the institutions it is seeking to reform, along with the interlocking patronage networks that remain despite the ouster of several influential business families in this election. The installation of Wan Noor as a compromise candidate after second-placed party Pheu Thai had objected to Move Forward's choice, was just the beginning.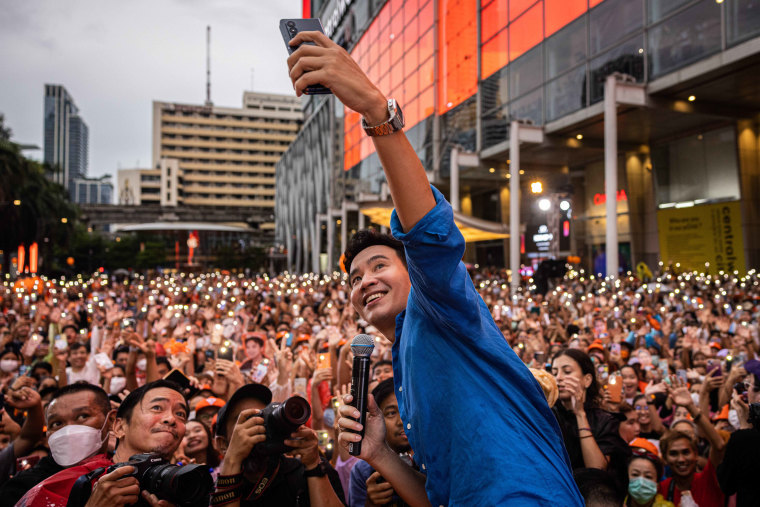 "The choice of Mr. Wan Muhamad Noor Matha as House speaker indicates that the Pheu Thai Party has significant leverage over the Move Forward Party," said Syetarn Hansakul, a senior analyst with the Economist Intelligence Unit.
"It puts the Pheu Thai Party in an advantageous position if Mr. Pita fails to get sufficient votes from the senators to back him as prime minister."
Barriers to power
In fact, it's not clear if Limjaroenrat will even get to lead the new Thai government when the bicameral National Assembly comes together to begin the vote for prime minister on Thursday — which could be the first of many.
Limjaroenrat needs 376 votes to become prime minister. He has 312 from his eight-party coalition from the 500-seat lower house, so this means he would still require about 64 more votes from the 250-member Senate — a body appointed by the royalist military in the aftermath of the 2014 coup.
That's by no means a guarantee since one of Move Forward's stated aims is to amend Thailand's lèse-majesté law, which criminalizes criticism of King Maha Vajiralongkorn and other members of the royal family.
"It's not our job to listen to the people," Thai Senator Prapanth Koonmee reportedly said in June. "Even if you got 100 million votes, I still wouldn't pick you if I don't like you or find you suitable."
In fact, Nomura assigned a 60% likelihood that Pheu Thai — instead of Move Forward — will lead the coalition government after the endorsement of Wan Noor as House speaker last week.
"Neither is a preferred choice by the Thai establishment," said EIU's Hansakul. "However, between the two, Pheu Thai presents less of a threat to the status quo to the Thai establishment" since it does not proclaim an agenda to reform the monarchy and the military in Thailand, she said.
Limjaroenrat could also be disqualified because of a complaint against his shareholding in a media firm, which is illegal under Thai law.
Still, a government led by Limjaroenrat's Move Forward may spell trouble for monopolies in the alcoholic beverage and energy sectors since the party aims to level the playing field, according to EIU's Hansakul. The business community has also balked at a plan to raise the minimum wage significantly.
Even if Limjaroenrat manages to clinch the prime minister role, a Move Forward-led government will face significant obstacles because the Senate retains substantial veto power and Pheu Thai holds a significant share of seats in the coalition.
"As a result, Move Forward may not be able to secure its preferred ministerial portfolios, as demonstrated by its failure to have its choice of House speaker appointed," said Napon Jatusripitak, a visiting fellow at ISEAS Yusof Ishak Institute in Singapore.
Generational change
Limjaroenrat hasn't quite given up. At a Sunday rally in central Bangkok, he addressed hundreds of supporters and reminded the Senators "we're all the people's politicians."
There may be fresh protests if Limjaroenrat and Move Forward are prevented from leading the new government.
Move Forward's unexpected victory in May was heralded as "a profound, earth-shaking result for Thai politics over the last two decades" as the Thai people spoke up for change and reform, Thitinan Pongsudhirak, professor of politics and international relations at Chulalongkorn University, told CNBC after the elections in May.
Its victory was seen as a break from the populist appeal of Thaksin Shinawatra, the tycoon and former prime minister who went into self-imposed exile in 2008 to avoid a jail sentence for abuse of power following a military coup that had overthrown his government two years earlier.
He has continued to influence Thai politics from a distance — Pheu Thai is the latest iteration of his party vehicle after several before were disbanded by the courts — but Move Forward's emergence at this election points to his waning influence among the young who are not familiar with his biography.
In fact, new speaker Wan Noor could be considered part of this old guard — he's a veteran of at least nine political parties, including Pheu Thai's predecessor entity Thai Rak Thai, and a former House speaker in the late 1990s under three different prime ministers. He was most recently associated with the Prachachat Party.
"This new generation wants a structural change that Thaksin cannot offer. He's always trying to reconcile with the old money, he's still courting the king for the right to return," said Pavin Chachavalpongpun, an associate professor in politics at Kyoto University's Center for Southeast Asian Studies.
"The issue of the monarchy is at the center of the struggle in Thai politics today," he added. About 250 of the 1,914 prosecutions linked to the 2020 protests were under the lèse-majesté law, according to the group Thai Lawyers for Human Rights — with many minors among these cases.
While the objections of the royalist military establishment and the old guard may derail Move Forward's ambitions, Limjaroenrat's party can still count on the mandate of 14 million Thai voters.
"If pro-democracy social movements do not lose momentum, it is likely that support for the party will persist, even if the courts disqualify the party or its leader," said ISEAS Yusof Ishak's Jatusripitak.
There is also an argument that Move Forward might be more effective in opposition for now.
"In Thailand, political parties are ephemeral, as they tend to lack enduring organizational roots at the local level and are prone to dissolution at the hand of the courts," Jatusripitak said.
"From this standpoint, the transformation of the Move Forward into a movement-based political party following the pro-democracy movements in 2020-2021 is a strategic adaptation that should keep support for the party alive for the time being," he added.