A video that appears to show Toronto Mayor Bob Ford smoking from a crack cocaine pipe has been recovered from a computer's hard drive, the city's police chief said Thursday.
Toronto Police Chief Bill Blair did not release the video or say precisely who owns the computer on which it was found, according to the Associated Press and Canadian media.
However, the police chief said he was "disappointed" after viewing the recording.   
The digital video file, Blair said, is "consistent with what has been described in the media," CTV reported.
Ford has been dogged since May about the purported crack-smoking video, which reporters from the Toronto Star and the website Gawker have said they have viewed, but has yet to be made public.
Ford and his staff members have denied the video exists, and the mayor has not been charged with a crime.
At Toronto City Hall Ford addressed reporters briefly Thursday.
­"I think everyone has seen these allegations against me today. I wish I could come out and defend myself. Unfortunately, I can't, because it's before the courts and that's all I can say right now... I have no reason to resign." 
At the news conference Thursday, Blair announced that police forensic teams were finally able to recover the video from a deleted file.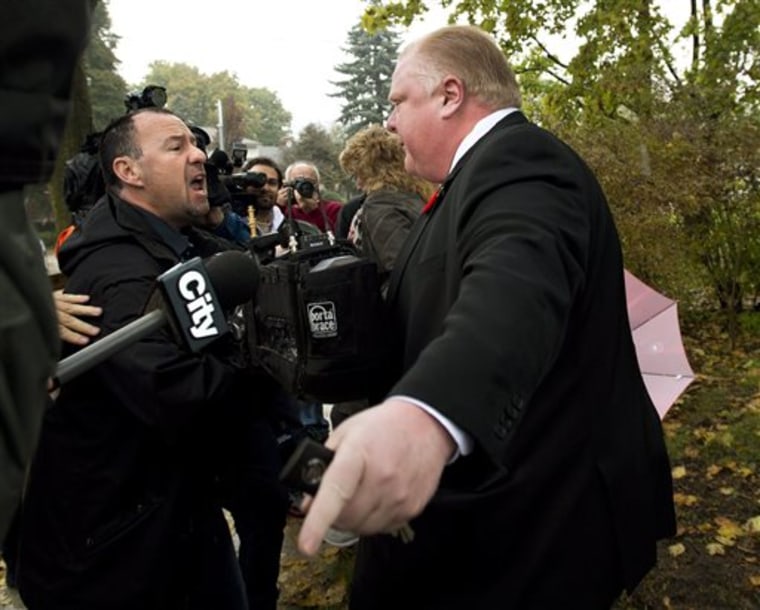 Blair also said that investigators had taken into custody an associate of the mayor, Sandro Lisi, and charged him with extortion in connection with the evidence collected in their investigation of drug use, dubbed "Project Brazen 2," by Toronto police officials.
Earlier Thursday, Canadian authorities released more than 300 pages of documents in their probe of the mayor and Lisi.
Lisi was arrested on Oct. 1 and charged with trafficking marijuana and conspiracy.
Among the revelations in the documents were that police had rummaged through Ford's garbage in search of evidence of drug use and had conducted a massive surveillance operation monitoring the mayor and Lisi. The police documents, which were ordered released by a judge, detail the surveillance operation.
"Lisi approached the driver's side of the mayor's vehicle with a small white gift bag in hand; he then walked around to the passenger side and got on board," reads one document dated July 30, 2013, the AP reported. "After a few minutes Lisi exited the Escalade empty handed and walked back to his Range Rover."
The documents state that on Aug. 13, Lisi and Ford met and "made their way into a secluded area of the adjacent woods where they were obscured from surveillance efforts and stayed for approximately one hour."
The documents also say that Payman Aboodowleh, a volunteer football coach at Don Bosco Catholic Secondary School, where Ford coached the team, told investigators that Lisi met Ford through him.
Aboodowleh said he was "mad at Lisi because he was fueling the mayor's drug abuse," according to the document.
The Associated Press contributed to this report.
Related: