Two bomb attacks blamed on Kurdish militants killed seven members of the security forces and wounded 224 people in southeast Turkey Thursday, officials and security sources said, in a renewed escalation of violence across the region.
A car bomb ripped through a police station in the city of Elazig at 9:20 a.m. (1:20 a.m. ET) as officers arrived for work. Three police officers were killed and 217 people were wounded, 85 of them police officers, Prime Minister Binali Yildirim said.
Offices in the police station were left in ruins and filled with smoke after the bomb exploded in front of the complex, destroying part of the façade.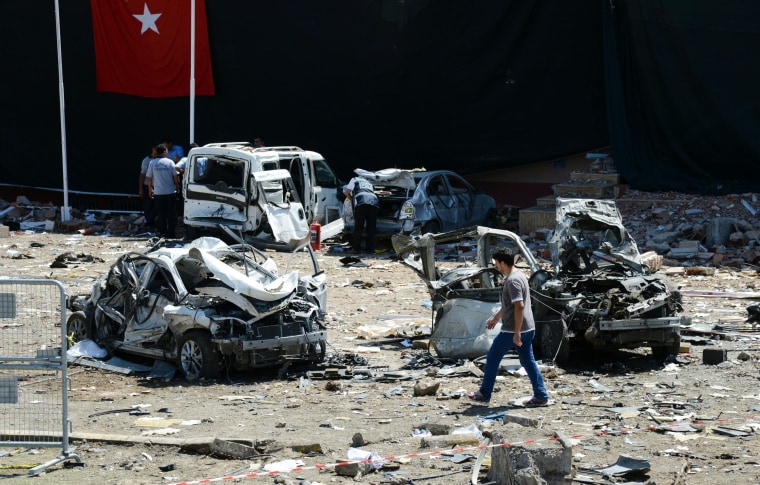 Less than four hours later, a roadside bomb believed to have been planted by Kurdistan Workers Party (PKK) militants tore through a military vehicle in the Hizan district of Bitlis province, security sources said.
They said the blast killed three soldiers and a member of the state-sponsored village guard militia and wounded another seven soldiers.
No one immediately claimed responsibility for the bombings, but Yildirim said there was no doubt they were carried out by the PKK, deemed a terrorist organization by Turkey, the United States and the European Union.
"We have raised the state of alarm to a higher level," Yildirim said at the scene of the attack, where a crowd chanted "Damn the PKK!"
The PKK has carried out dozens of attacks on police and military posts since 2015 in the largely Kurdish southeast in its fight for greater autonomy for Turkey's 15 million Kurds.
Late Wednesday, two police officers and one civilian were killed and 73 people were wounded when a car bomb exploded near a police station.
The southeast has been scorched by violence since a two years ceasefire with the PKK collapsed in July last year. Thousands of militants and hundreds of soldiers and police officers have been killed, according to official figures. Rights groups say about 400 civilians have also been killed.