The Obama administration distanced itself from claims by two senior militants that members of the Afghan Taliban were due to hold direct talks with U.S. officials in Qatar on Thursday.
National Security Council spokeswoman Bernadette Meehan said that "United States currently has no meetings with the Taliban scheduled in Doha."
She added: "We remain supportive of an Afghan-led reconciliation process whereby the Taliban and the Afghans engage in talks toward a settlement to resolve the conflict in Afghanistan."
Earlier, a senior militant commander in Qatar told NBC News that the delegation was being led by Tayyab Agha, a close aide of supreme leader Mullah Omar. He added that it also includes five former Taliban commanders freed from Guantanamo Bay in a controversial exchange for American soldier Bowe Bergdahl in May 2014.
"Finally we are going to sit with each other. The first round of our talks with U.S. officials is being held today on Thursday," that senior member of the Afghan Taliban said by the telephone. "We aren't hopeful it will resolve all the differences in one day, [but] it can provide us an opportunity to study each other's mind and pave the way for further talks."
Negotiations had also been planned for Friday, both sources said. The other senior militant spoke from the United Arab Emirates.
But the NSC's Meehan said reports that the White House would hold direct talks with the Taliban in Doha this week were "incorrect."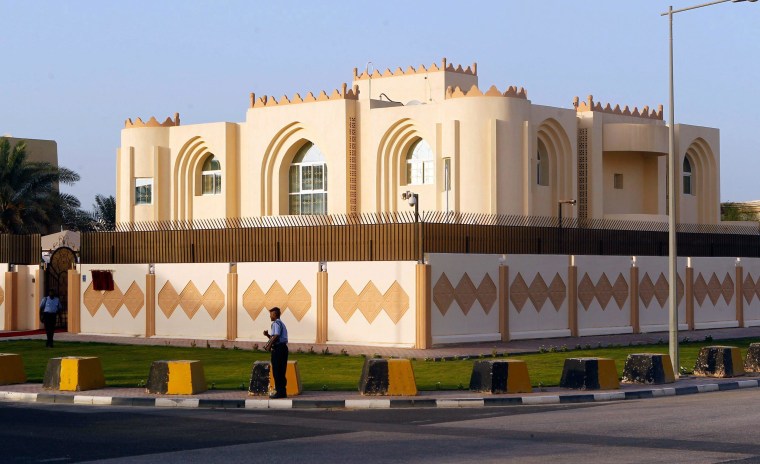 Afghan Taliban spokesman Zabihullah Mujahid confirmed that a Taliban team was in Qatar but denied negotiations were planned.
"Our position for talks is clear ... we will only talk after all foreign forces leave Afghanistan," he told NBC News.
In the past, the militants have officially denied negotiations for fear of undermining the morale of fighters in the field.
A spokesman for Afghanistan's President Ashraf Ghani also said there were no talks ongoing.
"The President of Afghanistan has asked all our international allies and neighbors to respect the right of Afghanistan for an Afghan-led and Afghan-owned peace process and we have gotten that assurance from our allies," Ajmal Abedi told NBC News.
An attempt at talks in Qatar in 2013 foundered when militants opened their offices in the Gulf state with much fanfare — including flying a Taliban flag and putting up official-looking plaques on the building.
About 2,200 American soldiers have been killed in Afghanistan since 2001 when the Taliban government, which was shielding al-Qaeda's Osama bin Laden, was toppled by U.S.-backed forces in the wake of the 9/11 attacks.
In 2014, 3,699 Afghan civilians were killed as fighting intensified along with the drawdown of U.S troops, which officially ended their combat role in December, according to the United Nations. This was a 22 percent rise in civilian deaths, and the highest total since the U.N. began keeping records in 2009.
NBC News' F. Brinley Bruton and Abigail Williams and Reuters contributed to this report.