Some of the cruise missiles launched by Russia on anti-government militants in Syria landed mistakenly in Iran, senior U.S. defense officials told NBC News.
The 26 low-flying missiles, shot from Russian warships in the Caspian Sea on Wednesday, were intended to hit in the area of Aleppo, Syria, where moderate rebels and ISIS fighters are located. Most made it there.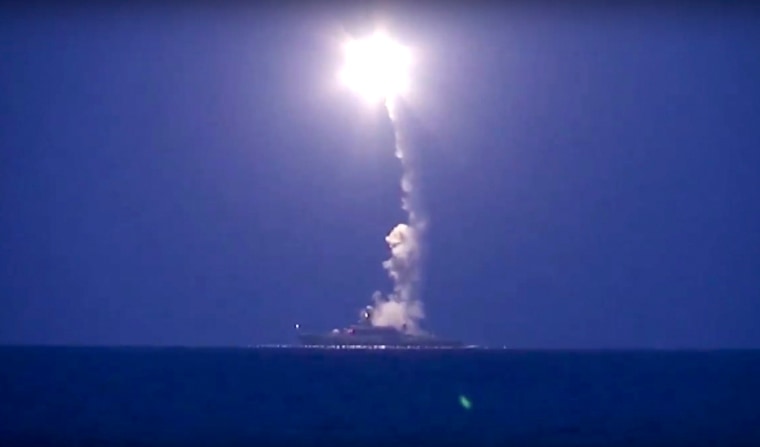 But four came down in a remote, rural area of Iran, officials said. They apparently did not cause any casualties.
"The Russians helped plow the fields of Iran," one official said.
Nevertheless, the fusillade concerned U.S. military officials because the route took the missiles through Iraqi and Syrian airspace where U.S. and coalition warplanes are conducting daily combat operations.
Russians did not notify the United States or coalition forces in advance, the officials said.
Moscow, meanwhile, denied the U.S. allegations, with Russian Defense Ministry spokesman Igor Konashenkov saying the accusation "more than vividly characterizes a current level of political culture of certain representatives of U.S. administration. More precisely it characterizes their level of cynicism as regards to the rest of the world."
And even Iran, the alleged victim of the stray missiles, denied the U.S. account. Iranian official Hamidreza Taraghi told The New York Times, "This is complete nonsense."
Russia began launching the missiles on Wednesday, a week after the start of an airstrike campaign aimed at helping Syrian President Bashar Assad, who is entrenched in a five-year-old civil war with anti-government rebels that has fueled the rise of ISIS.
Russia's intervention has added a new layer of complexity to the multi-front war, and threatens to undermine a strategy pushed by President Obama to find a way to force Assad from power.
Russia has said it is targeting ISIS, but the terror group is not present in the areas where the fighting is underway.
Instead, the bombings appear to have given Assad's military room to try to retake lost ground against other rebels.