BEIJING — U.S. plans to install a sophisticated missile-defense system in South Korea could trigger a nuclear showdown similar to the Cuban missile crisis 60 years ago, Chinese state media warned Thursday.
Washington and Seoul announced July 8 a plan to install the Terminal High Altitude Area Defense (THAAD) anti-missile system to counter the increasing threat from North Korea's missile and nuclear program.
The system's radar coverage can also be extended to monitor Beijing's missiles, according to Chinese critics of the plan.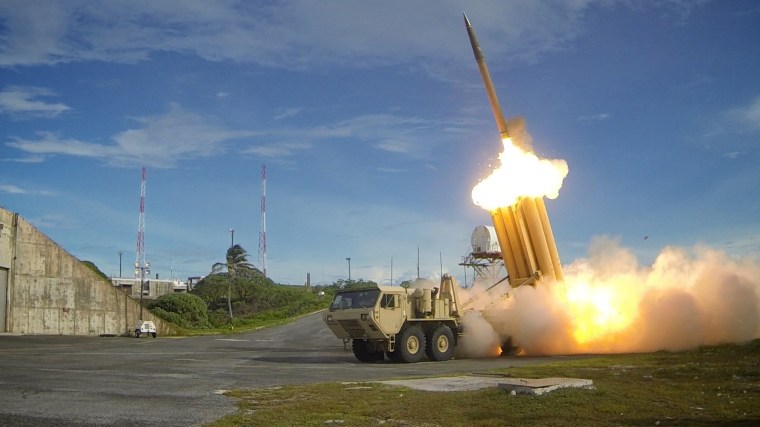 "The negative influence of the deployment of THAAD … is similar to that of the Cuban missile crisis," warned a commentary piece in government-run China Daily published Thursday. Another editorial in the paper last week described the anti-missile system as a "clear, present and substantive threat to China's security interests."
"THAAD can be target of surgical strike," echoed the Global Times, another state-run newspaper, in an implicit threat to South Korea.
State-run outlets like Global Times and China Daily are often used to reflect the government's position on issues.
Related: "Is China Militarizing the South China Sea?"
During the Cuban missile crisis in October 1962, the U.S. and Soviet Union engaged in a tense 13-day standoff after Soviet nuclear-armed missiles were installed in Cuba, just 90 miles from American shores, prompting fears of all-out nuclear war.
A disaster was averted after the U.S. blockaded the island, forcing the Soviets to dismantle the missiles in exchange for a vow from Washington not to invade Cuba. The U.S. also pledged to remove its missiles from Turkey, one of the Soviet Union's southern neighbor.
China's Foreign Ministry has slammed the THAAD deployment as "harmful" to China's security and to the stability and denuclearization of the Korean peninsula, language that may signal a downgrading of Beijing-Seoul ties and possible improvement in Beijing-Pyongyang relations, according to analysts.
North Korea on Monday test fired three ballistic missiles in violation of U.N. sanctions and was planning its fifth nuclear test, according to South Korean media reports citing satellite images of test sites. Beijing has not issued any condemnations of the North Korean tests, as it has in the past.
Daniel Pinkston, international security analysts at Troy University in Seoul, rejected the idea that THAAD posed a risk to China.
"It is nonsense to say that THAAD poses a strategic threat to China," he told NBC News,
Instead, Beijing's opposition to the system was aimed at hampering U.S. efforts to boost its alliances in East Asia, Pinkston said.
Related: China Hints at Air Defense Zone in Disputed Sea
China has also been engaged in a power struggle in the South China Sea, where its territorial claims overlap in parts with Vietnam, the Philippines, Malaysia, Brunei and Taiwan. Beijing has repeatedly accused the U.S. stirring up trouble in the region.
On July 12, an international tribunal delivered a searing rebuke to Beijing, ruling that the country has no legal basis to declare historical rights in the South China Sea.