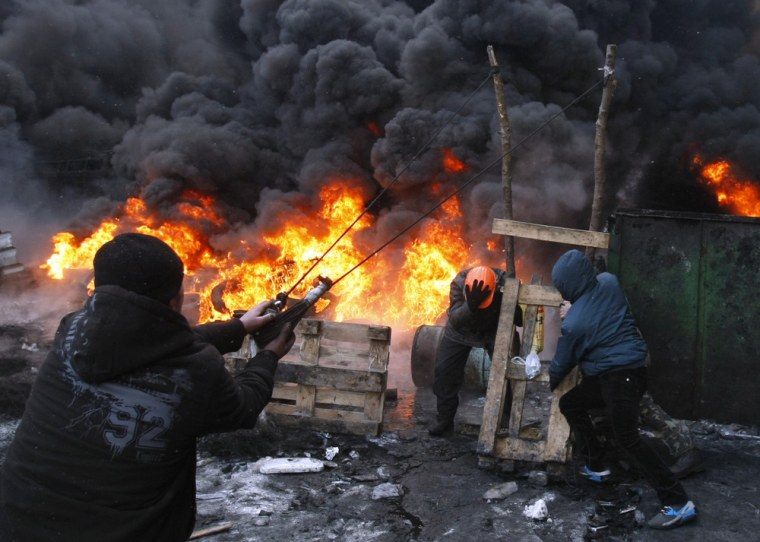 Leaders of pro-Western demonstrations that have turned Kiev into a battleground urged protesters Thursday to maintain a truce with Ukraine's riot police -- after at least two demonstrators were killed in clashes this week. 
Opposition leader Oleh Tyahnybok asked protesters for several more days of a ceasefire following hours-long talks with President Viktor Yanukovych.
Other opposition leaders, however, including boxer-turned-politician Vitali Klitschko, said negotiations had yielded little result. 
"Hours of conversation were spent about nothing. There is no sense sitting at a negotiating table with someone who has already decided to deceive you," Klitschko said, according to Reuters.
Demonstrators appeared angry as they booed and jeered upon hearing the speeches.
A day earlier, opposition leaders had delivered an ultimatum to Ukraine's government in the wake of a deadly protest crackdown. The message: Call elections or we will "go on the attack."
Klitschko said the government had 24 hours to respond if it wants to end the stand-off "without bloodshed," according to a report by the BBC.
He and other leaders announced their demands during rousing speeches to tens of thousands of peaceful demonstrators in Independence Square, which is also known as the Maidan.
But Thursday, Interior Minister Vitali Zakharchenko issued a statement guaranteeing police would not take action against the protesters in Maidan. The downbeat Klitschko urged protesters to refrain from violence. 
"I am afraid, yes, I am afraid of human losses," Klitschko said, according to The Associated Press. "We will be widening the territory of the Maidan further until these guys start reckoning with us." 
Fierce battles have seen riot police line up with their shields in Roman-style tortoise formations and fire rubber bullets and stun grenades into the crowds. The violent demonstrators, who some link to Far Right groups, have responded by throwing Molotov cocktails and fireworks.
Oleh Musiy, coordinator of the protesters' medical corps, told The Associated Press four protesters died of gunshot wounds and a fifth after falling from the Dynamo Kiev stadium near the clashes. The government has confirmed two of the gunshot deaths.
Meanwhile, a 17-year-old protester told a BBC radio report aired on Thursday morning that he had been kidnapped by Ukrainian riot police and tortured. He said he was stripped naked, beaten and cut, and authorities only called an ambulance after four hours.
The report said a Ukrainian member of parliament would be raising this matter with the government later in the day.
Opposition activist Yuri Verbitsky was also found dead in a forest outside Kiev, his niece Oksana Verbitska said. The BBC, citing a report by Ukraine's Radio Liberty, said he showed signs of torture.
Demonstrators took to the streets on Nov. 21 after Ukraine shunned ties with the European Union in favor of a bond bailout from Russia. The protests have been largely peaceful, but flared into violence on Sunday after the country rushed through a new law effectively banning peaceful demonstrations.
The U.S. has condemned the actions of the government and its troops, but has also called for an end to opposition violence.
Russia, in turn, accused the West of interfering in Ukrainian affairs. 
"We feel regret and indignation about the obvious foreign interference in the developments in Kiev," Russian President Vladimir Putin's spokesman, Dmitry Peskov, told the daily Komsomolskaya Pravda, according to the AP.  
The Associated Press and Reuters contributed to this report.
Related: