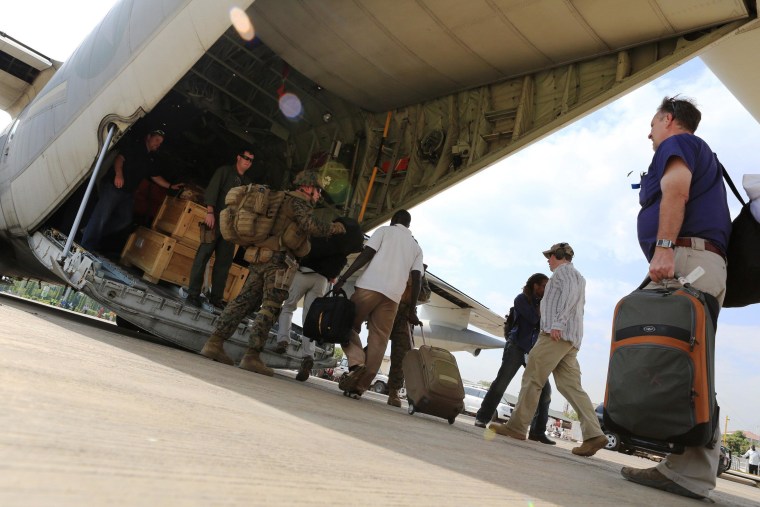 Marines used a KC-130 cargo plane to evacuate about 20 Americans from the U.S. Embassy in Juba, South Sudan, on Friday in a move to protect personnel from the deteriorating security situation. The Pentagon said two KC-130s made the trip, but only one landed. One aircraft hovered overhead as a back-up, in case they needed additional room or the first aircraft encountered any problems.The KC-130s flew from Entebbe, Uganda, picked up the Americas and returned to Entebbe.South Sudan, the world's youngest country, has been racked by three weeks of intense violence that has raised the specter of a civil war. The fighting has killed more than 1,000 people and driven 180,000 from their homes, according to the United Nations. Fighting broke out in Juba, the capital of South Sudan, on Dec. 15 and quickly spread across the country as two main ethnic groups began attacking each other. President Salva Kiir, known for his signature cowboy hats, says the violence was sparked by a coup attempt by rebels loyal to ousted Vice President Riek Machar. Others dispute that account, saying the violence started when presidential guards from Kiir's Dinka ethnic group tried to disarm those from the Nuer group of Machar. South Sudan has been plagued by ethnic tension and a power struggle within the ruling party that escalated after Kiir dismissed Machar as his vice president in July. The rebels back Machar, who is now a fugitive sought by the military.
The United States has been withdrawing non-essential embassy staff since mid-December.
It also urged all American citizens to leave South Sudan – a country slightly smaller than Texas which is said to hold the third largest oil reserves in sub-Saharan Africa – but which is also desperately poor and short of infrastructure.The U.S. aircraft that landed Friday included a squad-sized element of Marines who were tasked with providing security on the ground. The U.S. still has about 45 military personnel (about the size of a platoon) stationed in Juba, as part of the East Africa Response Force (EARF). They are tasked with providing security reinforcement to the U.S. Embassy there.
NBC News' Petra Cahill, the Associated Press and Reuters contributed to this report.