MOSCOW — Vladimir Putin, in his annual call-in TV show, warned Thursday that any large-scale global conflict would lead to the "end of civilization."
The Russian president fielded questions from members of the public during the marathon event, which ran for four hours, 26 minutes.
After being asked about whether "nonstop" sanctions could trigger World War III, Putin quoted Albert Einstein: "I know not with what weapons World War III will be fought, but World War IV will be fought with sticks and stones."
He said that any country's interests should not be protected "through confrontation."
Putin added that those who sought to place sanctions on Russia did so because they perceive the country as a competitor.
"The West sees a threat in Russia in regards to its economic development ... and in regards to its success in foreign affairs policies," Putin said.
He later dismissed allegations of Russian meddling during the 2016 White House election as a "joke."
"One of the very well-known publishers in Germany wrote that President [Donald] Trump is pushing Europe into Putin's hands," he said.
"If you put it together with an earlier joke that Russia had influenced the U.S. election, all in all it sounds quite funny: We have allegedly meddled with the presidential election in the U.S. and Trump as a thank you has presented us with Europe. This is a complete nonsense. One can't call this anything else but a joke."
Other topics raised during this year's "Direct Line with Vladimir Putin" ranged from a recent government reshuffle, taxation, rising gas prices, and infrastructure for soccer's looming World Cup, which Russia is hosting this summer.
He also addressed the recent poisoning of onetime double agent Sergei Skripal and his daughter, Yulia, in Salisbury, England. Britain has blamed Russia for the attack, which it alleges involved Novichok, a military-grade nerve agent.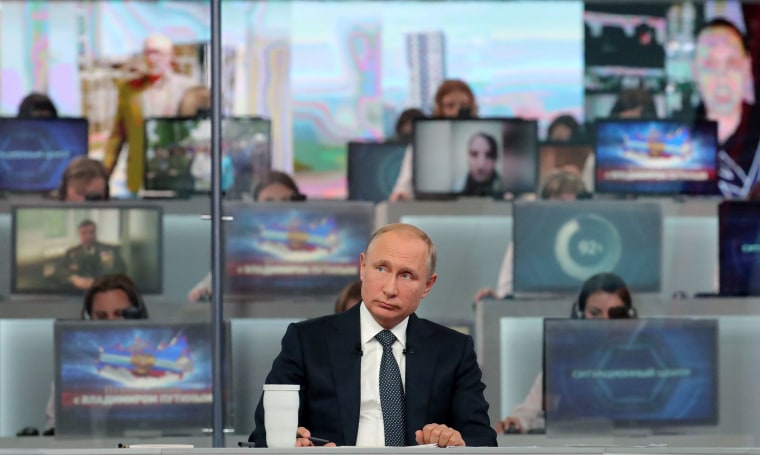 Putin's once again denied that Moscow had any involvement in the incident, adding: "If a military agent would have been used against these people, these people would die on the spot within seconds or minutes. Fortunately that did not happen. That means we are dealing with something different."
Other foreign policy issues addressed by Putin included the conflict in Syria. Despite announcing the start of a withdrawal from Syria in December 2017, Russia is not planning to withdraw its troops from the country any time soon, Putin said.
Referring to Russian military installations in Syria, he added, "They are temporary but we will keep them there while it is necessary and is required by our economic interests."
He also said that Russia's presence in Syria has allowed Moscow's military to test some of its more advanced weaponry. Syria "has helped us to adapt them to the needs of the battlefield," Putin said.
Kremlin-funded broadcaster RT said that at least 2.5 million questions had been submitted as the question-and-answer event entered its fourth hour.
Putin scrapped the usual studio audience this year, and was instead taking video questions via monitors.
He also had direct video links to regional governors and government ministers, who had been told to be at their desks for the 5 a.m. ET start of the program.
While some observers have criticized the annual call-in show as staged, Moscow bills it as an opportunity to hear the concerns of regular Russians.
Elena Holodny reported from Moscow, and Francis Whittaker from London.