The West needs to ramp up military assistance to Ukraine to ensure the war with Russia does not turn into a bloody, open-ended stalemate, British Foreign Secretary James Cleverly said Tuesday during a visit to Washington.
"We have started to see a slowing — an ossification — of the line of contact," Cleverly told reporters, lamenting the "huge loss of life."
That is why "we think now is the right time to intensify our support for Ukraine," he said. "We can't allow this to drag on and become a kind of First World War attritional-type stalemate." 
Britain announced over the weekend that it would send a squadron of 14 Challenger 2 main battle tanks to Ukraine, the first country to offer modern Western tanks to Kyiv. The United Kingdom also said it would provide more heavy artillery and ammunition to help Ukraine roll back Russian forces from its territory.
"The U.K. has been very much on the front foot" in its security assistance to Ukraine, Cleverly said. He stopped short of urging the U.S., Germany or other governments also to supply Ukraine with new tanks or other more advanced weapons.
Each country's response will be different and in accordance with its political and economic interests, he said.
Germany has faced growing calls to send its Leopard 2 tanks to Ukraine and to allow other countries that have Leopards to provide Kyiv with them.
Cleverly said Germany deserved credit for breaking with its long-standing defense policy and deciding to send a variety of weapons and ammunition to Ukraine.
"I think it's incredibly courageous what the German government has done," he said. 
He said Russia's invasion had inflicted losses not only on Ukrainian civilians and soldiers but also on Russian conscripts, who he said were being sent to the battlefield as cannon fodder.
"We see poorly trained troops being conscripted and sent to the front line and being fed into a meat grinder," said Cleverly, calling their treatment "morally depraved."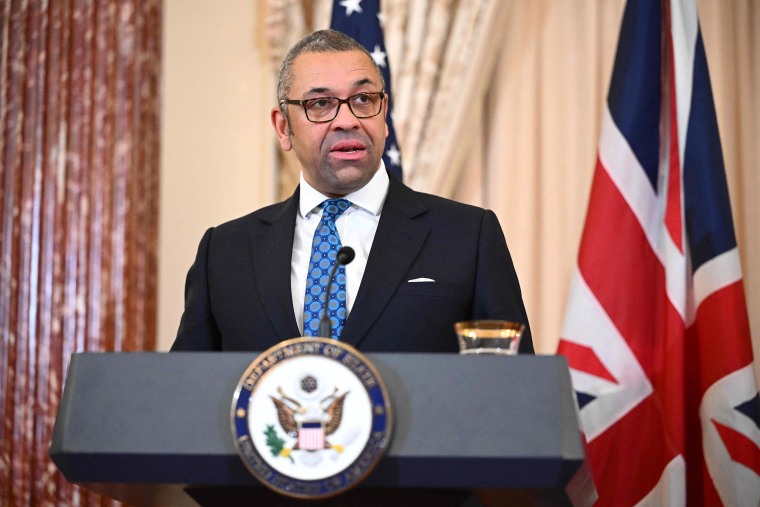 Cleverly, who later met with his American counterpart, Secretary of State Antony Blinken, said Russia was struggling to keep up its war effort and would have to organize another mobilization.
"I think it is inevitable that we will see other forms of mobilization," Cleverly said. He did not elaborate.
Clever also said it was "inevitable" that Russian President Vladimir Putin would continue to engage in more escalatory rhetoric as Russia comes under more pressure on the battlefield.
"This escalatory rhetoric is something we are going to have to expect," he said. "This is something we are going to have to get used to. And we will respond calmly and thoughtfully."
Ukraine and its supporters have accused the U.S. and NATO countries of having moved too slowly at times to provide Ukraine with the weapons and ammunition it needs, possibly depriving Kyiv of the chance to secure an early victory.
But at a joint news conference, Blinken said U.S. aid has evolved as the conflict has evolved and that weapons from the U.S. and other allies have been critical to Ukraine's success on the battlefield.
Referring to anti-aircraft, anti-tank weapons and longer-range rockets and missile defense systems, Blinken said, "If you look at the trajectory, from Stingers to Javelins to HIMARs to Bradley Fighting Vehicles to Patriot missile batteries, we have continuously provided what Ukraine needs." 
The U.S. has provided about $25 billion in security assistance to Ukraine in less than a year, and "the bottom line is we are determined to make sure Ukraine has what it needs," Blinken said.
He said he expected more announcements of U.S. military assistance "in the days to come."
Russia has argued that it is ready to engage in peace talks and that Ukraine and its NATO allies are not, but Blinken said that portrayal was "entirely false."
Putin's own words showed that he had no interest in genuine negotiations, Blinken said, citing a recent Kremlin statement after Putin held talks with Turkish President Recep Tayyip Erdoğan. Putin said Russia was ready for dialogue if Ukraine accepted what he called "new territorial realities," according to the Kremlin, a clear reference to territory seized by Russian forces.
"That of course is in and of itself a non-starter," Blinken said.