BEIJING — It would seem the Tao of Pooh has been lost on Chinese censors.
Users of China's popular messaging app WeChat and other social media this past weekend found that images and mentions of Winnie the Pooh had been scrubbed from their internet.
On WeChat, a chat app that boasts over 768 million users, albums of gif images containing Winnie the Pooh — and his other friends from Pooh Corner like Piglet, Tigger and Eeyore — were removed from the app's "sticker" site.
No official explanation has been given for the removal, though a popular meme over the years that compares Chinese President Xi Jinping to the bear created by English author A.A. Milne has been blamed.
In particular, images of President Xi Jinping meeting with former U.S. President Barrack Obama at the Sunnylands estate in California, 2013, which compared the two to Pooh and Tigger respectively, and another of President Xi and Japanese Prime Minister Shinzo Abe meeting in 2014 that portrayed Abe as Eeyore the sad donkey were wildly popular online.
A representative for Tencent, the developer of WeChat, contacted by NBC News declined to comment on the removal.
Meanwhile, on China's Twitter-like service, Weibo, the Chinese name for Winnie the Pooh, Wei Nixiong, was still searchable, but results that previously included numerous Xi/Pooh comparisons now have none of the popular memes.
Searches for stories posted earlier on Chinese news portals about the scrubbing of Winnie the Pooh were also removed, though still passed around on Chinese social media.
This latest move comes at a time of heightened censorship as the government in recent days has been already been censoring news regarding the recent death of noted Chinese human rights activist and 2010 Nobel Peace Prize winner, Liu Xiaobo.
For many of China's young netizens though, the blocking of a fairly innocuous, portly bear seemed extreme.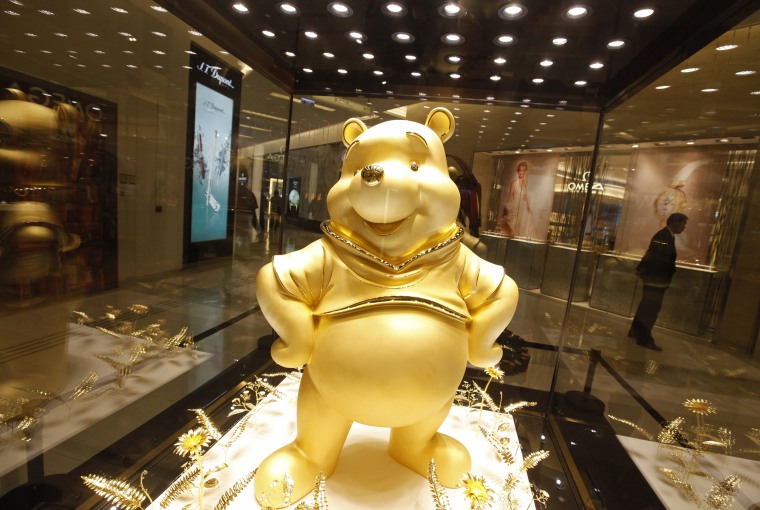 "I think this is ridiculous," one Chinese college student told NBC News on Monday. "The Chinese government is being overly sensitive."
"To ban Winnie because someone has compared him to Xi?" asked another student. "What the heck, give Pooh and President Xi a break!"