U.S. missile attacks on targets in Houthi-controlled areas of Yemen on Thursday marked a new stage in the country's civil war and raised the prospect of deeper American involvement in the protracted conflict.
It also throws a spotlight on a conflict that has dragged on for almost two years and threatens to play into a wider regional schism between Sunni and Shiite Islam.
Who are the Houthis?
The Houthis are key players in an alliance of rebels formally known as Ansar Allah — or "Partisans of God" — who follow Shiite Islam.
Their name comes from Hussein Badr al-Din al-Houthi, who led an uprising in 2004 aimed at winning greater autonomy for provinces and protecting them from the perceived encroachment of Sunni Islam.
Houthi was killed in 2004 but his family and supporters led further rebellions and their influence has continued to expand following the 2012 ouster of strongman President Ali Abdullah Saleh.
Houthis now control much of northern Yemen, having taken over the capital Sanaa in September 2014 and pushed the government into exile in November 2015.
They have been able to persuade large numbers of Yemen's armed forces to join them, allowing them to build up weaponry, according to Pieter Wezeman, a senior researcher with the Stockholm International Peace Research Institute.
Who is supporting them?
Sunni-ruled Saudi Arabia and its allies, including the U.S., see the Shiite Houthis as being financially and militarily supported by Shiite-ruled Iran.
Iran denies this, although the U.S. Navy says it has intercepted several shipping boats since the war began carrying Iranian weaponry suspected to be on the way to Yemen.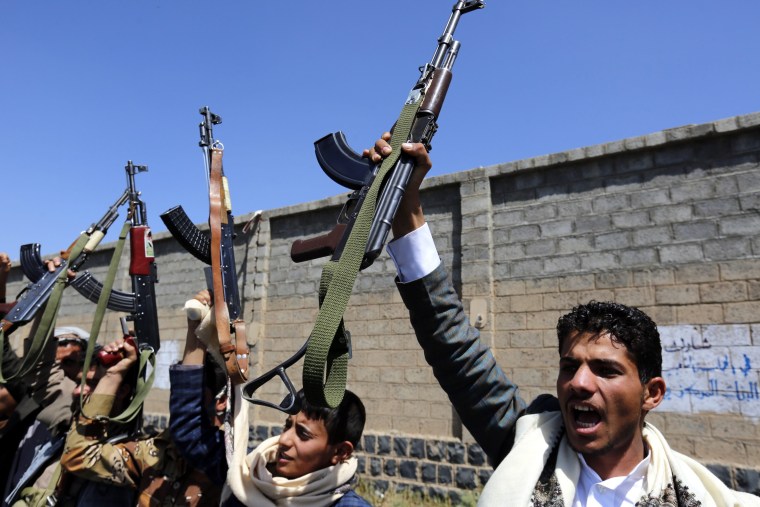 Iran is a regional foe of Saudi Arabia and continues to be a critic of the government in Riyadh and its bombing campaign in Yemen.
However, the Washington Institute for Near East Policy said there were limits to Iran's ties with the Houthis.
"Houthi relations with the Islamic republic resemble the Iran-Hamas relationship more than the Iran-Hezbollah relationship — that is, the Houthis are autonomous partners who usually act in accordance with their own interests, though often with smuggled Iranian arms and other indirect help," analysts wrote in a report early Thursday.
Saudi Arabia and Egypt fear the civil war threatens the globally-important Gulf of Aden and the Suez Canal because Yemen sits on the narrow Bab el-Mandeb strait through which much of the world's oil shipments pass.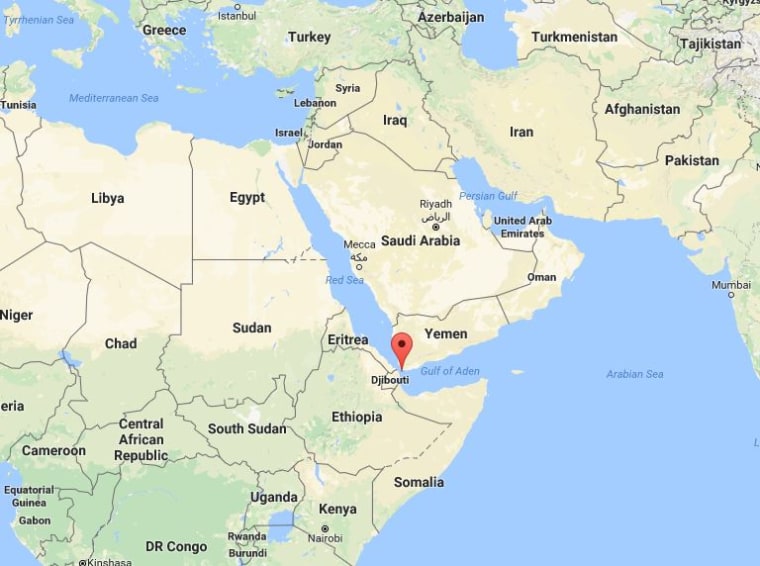 Recent missile attacks have underscored those fears. An Emirati-leased Swift boat came under rocket fire from Houthis in the area last week, suffering serious damage. The United Arab Emirates described the vessel as carrying humanitarian aid and having a crew of civilians, but Houthis said it was being used as a warship.
Houthis also fire missiles or mortars almost daily into southern Saudi border areas. In June 2015, they fired a Scud missile at Saudi Arabia but it was intercepted.
Were Houthis behind the failed attack on the USS Mason?
The Houthis on Thursday reiterated a denial that they carried out the failed missile attacks on the U.S. navy destroyer, a news agency controlled by the group reported, according to Reuters.
They said the missiles did not come from areas under its control, said the Saba news agency, citing what it called a military source.
"These allegations are unfounded and [Houthis] have nothing to do with this action," the agency reported the source as saying. "Such claims are part of the general context of creating false justifications to escalate assaults and cover up the continuous crimes committed by the aggression against the Yemeni people, along with the blockade imposed on it, and after the increasing condemnations to such barbaric and hideous crimes against Yemenis."
Has America been involved in Yemen until now?
The U.S. has been providing logistical support and refueling to the Saudi-led coalition battling the Houthis and other rebels.
U.S. military operations have focused instead on the influence of al Qaeda in Yemen, a breeding ground for Islamist militancy.
However, NBC News' British partner ITV News reported that U.S. and U.K.-made bombs had been used by Saudi Arabia in its aerial campaign — including Saturday's attack on a funeral that killed 140 people and led to international condemnation.
The conflict has also led to the death of an American who was being held by Houthis in Yemen.
John Hamen, a contractor for a company maintaining a building being used by the U.N., was detained by rebels at the Sanaa airport.
What are the prospects for resolving the conflict?
A shaky cease-fire between the government and the Houthis began in April but collapsed in August after peace talks broke down.
The exiled government of President Abd-Rabu Mansour Hadi is still recognized internationally, including by the U.N. and the U.S.
Hadi had previously proposed a plan under which Yemen would become a federation of six regions, but Houthis rejected it.
Gerry Northwood, chief operations officer with British maritime security firm MAST, suggested the Houthis would find it difficult to stage similar strikes now that the U.S. has retaliated.
"Now that the U.S. is getting involved, it will become increasingly difficult for the Houthis to position their missiles for further attacks," Northwood said.
What is the situation inside Yemen?
At least 4,125 civilians have been killed in Yemen during the conflict, the Office of the United Nations High Commissioner for Human Rights said Monday.
Instability and large-scale displacement, as well as weak governance, corruption, resource depletion and poor infrastructure, have hindered development in the poorest country in the Middle East.
Unemployment, high food prices and limited social services mean more than 10 million Yemenis are believed to be food insecure.
With food ships finding it hard to get into Yemen's ports due to a virtual blockade by Saudi Arabia, over half the country's 28 million people already do not have enough to eat, according to the United Nations.
The World Food Programme says half Yemen's children under five are stunted, meaning they are too short for their age because of chronic malnutrition.