GORGONA ISLAND, Italy -- High on a hillside overlooking the azure sea on a small Mediterranean island, two brawny men toil under the sun in a vineyard that has just released a $66 wine destined for the tables of top restaurants.
This is not an exclusive wine estate or secluded retreat for the rich, despite the tranquil beauty. It is, rather, the residence of men serving long sentences for some of Italy's most notorious and brutal crimes, on an island named after monstrous sisters in Greek mythology with snakes for hair.
Gorgona, the smallest of the Tuscan archipelago that also includes Elba, where Napoleon was incarcerated, is home to a project to rehabilitate hardened criminals through agriculture.
The island, an isolated refuge for monks for 1,500 years and a penal colony since 1869, has just produced 2,700 bottles of a crisp white wine called Gorgona with the help of a 700-year-old Italian wine dynasty. Among the buyers is a Michelin three-star restaurant in Florence.
Gorgona's 40 inmates, many of them convicted of murder, including a notorious contract killing, also produce high quality pork, vegetables, chickens, olive oil and cheese.
The two men on the hillside are serving long terms for murder and won transfer to Gorgona after years in other jails.
There is a long waiting list for entry to the island, a highly desirable location compared with most of Italy's chronically overcrowded jails.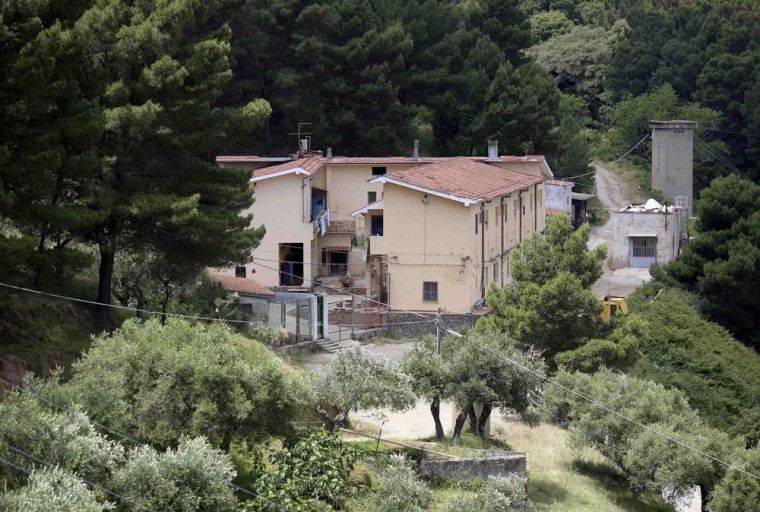 "When I come up here in the morning I am struck by the peace. The time does not weigh on you. It is a different mentality here," said one of them, Brian Baldissin, a tattooed and muscular 30-year-old from the northern Veneto region, whose older brother is also in the jail.
His companion, Francesco Papa, also 30 and from Sicily, agreed: "It is different here. You are outside and free. I drive a tractor. I work. You seem a normal person. Elsewhere you are inside for 23 hours a day."
Escape from Gorgona, 23 miles off the port of Livorno, is considered impossible -- although one prisoner did disappear and has never been found.
The only boat allowed near the rocky coast is a weekly ferry that brings family members for visits. Even that is not permitted to dock and passengers are taken off on police launches.
Prisoners are only locked up at night.
'Off you go'
"When I arrived and got off the launch, the first thing I did was to look round for a guard. Then they said to me: 'Off you go'. I was staggered," said Umberto Prinzi, 41, a convicted murderer serving a 22-year sentence.
He came to Gorgona after spending many years in five other prisons, and has three years left to serve.
The island, in an archipelago which includes the setting of Alexandre Dumas's novel "The Count of Monte Cristo", has only one permanent resident, 86-year-old Luisa Citti-Corsini, a tiny woman who lives with a cat called ET in a house above the harbor. Around 50 former residents visit their houses periodically, especially during the summer.
Citti-Corsini spends her time knitting and reading. "I don't feel lonely at all. I always have the cat," she told reporters on a recent visit. She said the inmates were "very polite". Asked if she was scared, she replied: "Scared of what?"
"I am magnificently fine here ... the air is fantastic."
In the 1960s, she escaped suffocation in a mudslide that swept her out of a window and dumped in the harbor.
Rehabilitation
Both prisoners and guards are strong supporters of the rehabilitation regime and say it should be used elsewhere.
"What does prison do? A prison like Gorgona can improve you. But other institutions where you are closed 22 hours in a cell just make you bad, that's it," says Prinzi. "The screams of desperation there will stay in your head forever."
"Work in the fields is an escape valve ... If you are locked up in a cell you just watch TV and become an idiot," he added.
"I am fortunate. But there are thousands and thousands of others who don't have this chance so they get locked up, they don't understand why, and when they get out they offend again."
Higher up the island from the vineyard, Sicilian Benedetto Ceraulo, 55, works among racks of ewes' milk and cow's milk cheeses, including a deliciously light ricotta.
Ceraulo was convicted in 1998 of being the gunman in one of Italy's most sensational crimes, the murder of Maurizio Gucci, last member of the original family to control the fashion empire, on the orders of his former wife.
Ceraulo, who has repeatedly claimed he is innocent, won a transfer to Gorgona a year ago. "It's a good life here. You are free. You have the chance to learn, I feel lucky," he said.
"In other prisons it's horrible. You live in cages like wild dogs. It is not suitable for humans. If you are locked up in a cell, deprived of basic thing like privacy, a person gets worse.
"Here I can see the sea, take a stroll. The time passes."
Not far away, Chinese immigrant Jin Zhaoli works in a large nursery cultivating more than a thousand tomato, courgette, aubergine and pepper plants. He was convicted of murdering his wife 14 years ago and is due to get out in a year. "It's good here," he said.
The vines on Gorgona were first planted in 1999 but later abandoned. They were cleaned up and restored after 2009 by a now-released Sicilian inmate who had his own vineyard at home, helped by Prinzi and Papa.
The Marchesi de'Frescobaldi wine dynasty came on the scene in summer 2012 after prison authorities asked local companies to invest in the agricultural program. The firm sent experts to improve the care and picking of the vines, harvesting the same year.
Lamberto Frescobaldi, 30th generation of the family, vice president and head of wine making, said that the 2.5 acre vineyard was ideally situated, facing east toward the morning sun and planted in mineral rich soil.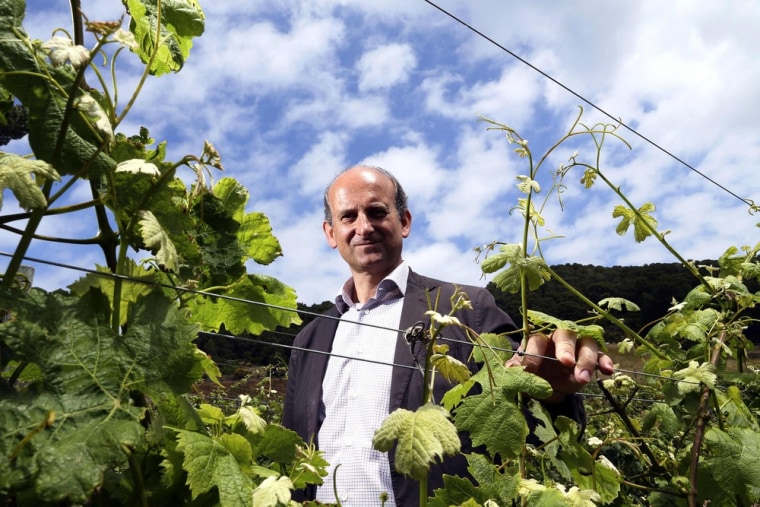 The Frescobaldis, who were bankers and then wine suppliers to the English kings in the Middle Ages, pay a wage to the convict workers and then sell the wine.
They should roughly break even from their investment, said Frescobaldi, 49, although, for a company with an annual turnover of $107 million, it is not a money spinner.
Asked what he felt when he took his first sip of the wine, Frescobaldi replied: "It brought a tear to my eye. It made me reflect on all the people on this island that don't have the chance I have to come and go."
The governor of Gorgona, Maria Grazia Giampiccolo, is known for her progressive methods and also runs a prison inside a Medici fortress in the Tuscan town of Volterra. Inmates there run "Jailbird Dinners" every year with help from local chefs.
She is a leading advocate of engaging inmates in work by building relationships with outside companies. "We need real possibilities to reinsert inmates into society... If the response is only prison it will always be inadequate," she said.