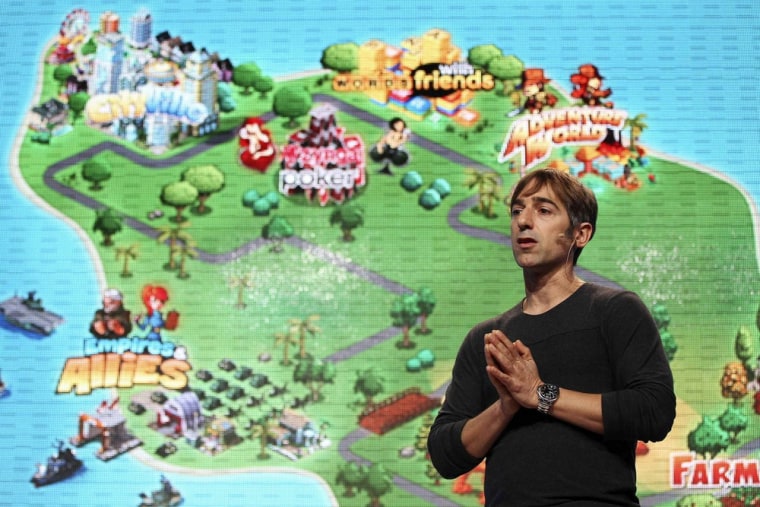 Facebook likes Zynga — a lot.
While the social game maker endured some close scrutiny during its IPO because of its reliance on Facebook, the relationship is actually more of a codependent one — and Facebook will be the first to admit that.
In its S-1 filing with the Securities and Exchange Commission, Facebook estimated that 19 percent of its 2011 revenue (and 15 percent of its Q1 revenue in 2012) was tied directly to Zynga. Put in hard dollar figures, this means Zynga accounted for roughly $159 million of the $1.06 billion in revenues Facebook reported in the first quarter of the year.
The bulk of that came from payment processing fees related to the sale of virtual goods in Zynga's games. Facebook receives 30 percent of the face value of user purchases in those games. (The two companies struck that deal in 2010, and it runs through 2015.)
"To date, games from Zynga have generated the majority of our payments and other fees revenue," the company said.
The rest of the revenue was tied to advertising. Zynga purchases a lot of ads on Facebook to promote its titles — and its apps generate a lot of page views, on which Facebook hosts ads.
Since Zynga is so important to Facebook's bottom line, some investors have raised concerns about the impact a rift between the companies could have. For example, Zynga could potentially focus its efforts largely on the mobile market or strike a deal with another social network, like Twitter or Google Plus .
Analysts, though, say they're not overly worried about that at present.
"I think it's a mutually beneficial relationship right now," says Colin Sebastian, senior research analyst at Robert W. Baird & Co. "I don't think it's in danger of breaking. Facebook has Zynga locked in to some extent. … And I don't think Zynga is purposely trying to expand its growth on other platforms. I think they're trying to grow progressively on Facebook as well as other platforms."
Michael Pachter of Wedbush Securities agrees.
"We do not expect Zynga revenue as a percentage of total revenue to decrease meaningfully in the near term," he said.
Zynga and Facebook have a long history together. Long before anyone saw the social media site as a gaming platform, Zynga gambled on it, creating titles like "Mafia Wars" and later "FarmVille" that connected with Facebook users.
CNBC.com: Facebook hikes IPO range to raise $12.1 billion
Today, the company boasts nine of the top 10 games on the site and has a customer base of over 50 million players. On an average day, Facebook users spend two billion minutes playing Zynga games.
"Zynga was one of the key developers that turned Facebook from a relatively passive communications medium to a more active and engaged social platform," said Sebastian in a note to investors earlier this year.
The relationship between the two companies extends beyond hosted games, though. Zynga CEO and founder Marc Pincus was an early investor in Facebook, putting in a reported $40,000 in 2005.
CNBC.com quiz: What's your facebook IQ?
Today, he holds some 5.3 million shares — though he plans to sell 1 million in the public offering.
In the near term, the relationship between the two companies isn't what Facebook (and Zynga) investors likely need to worry about. It's more likely the players.
The growth in social games is slowing, as mobile games (for iPhone and Android devices) claim a bigger share of the audience. While there hasn't been a notable decline in players, the deceleration hasn't gone unnoticed by industry observers.
CNBC.com: Poll shows Facebook has trust issues
Recent titles, like "Mafia Wars 2" and "Hidden Chronicles," haven't caught on with players. And user engagement levels on newer games are lower than the company commanded several years ago.
Long term, things are a bit cloudier. Zynga has launched its own portal for games – Zynga.com. Facebook will continue to receive 30 percent of the revenue generated on this site and is a partner. The bigger question is what happens when the current agreement between the companies expires?
"Under the terms of its current agreement with Facebook … Zynga is limited in its ability to offer the same games it offers on Facebook to other platforms," says Pachter. "Therefore, each time it chooses to launch a new game, the company makes the rational decision that it should launch them first on Facebook, as the Facebook platform offers the greatest potential for a successful launch. In our view, as Zynga approaches the May 2015 expiration date, it will become increasingly likely to debut new releases on Zynga.com, and not Facebook."
Below, Donald Trump, discusses with CNBC's "Sqawk Box" on whether Facebook's Mark Zuckerberg should obtain a prenuptial agreement if he marries his girlfriend.