HOLLIS, N.H. — Florida Gov. Ron DeSantis fielded unscripted questions from voters during an open forum here Tuesday — a New Hampshire tradition that the Republican presidential candidate was criticized for avoiding the last time he visited.
By submitting himself to the town hall-style format, DeSantis also found himself pressed on two subjects he ordinarily avoids talking about in great detail: abortion and former President Donald Trump, who, according to polls, has a commanding lead in the first-in-the-nation primary state.
The event, with several hundred people crammed inside a banquet hall, ended just as another large crowd gathered at a women's luncheon 30 miles north in Concord, the state capital, to hear Trump repeatedly roast DeSantis. The same-day appearances in the state stirred resentment among some Trump allies angry with what they saw as a counterprogramming effort by DeSantis.
The dueling events also underscored that while DeSantis is still uncomfortable going squarely after Trump, the former president has no such qualms about hammering his one-time ally.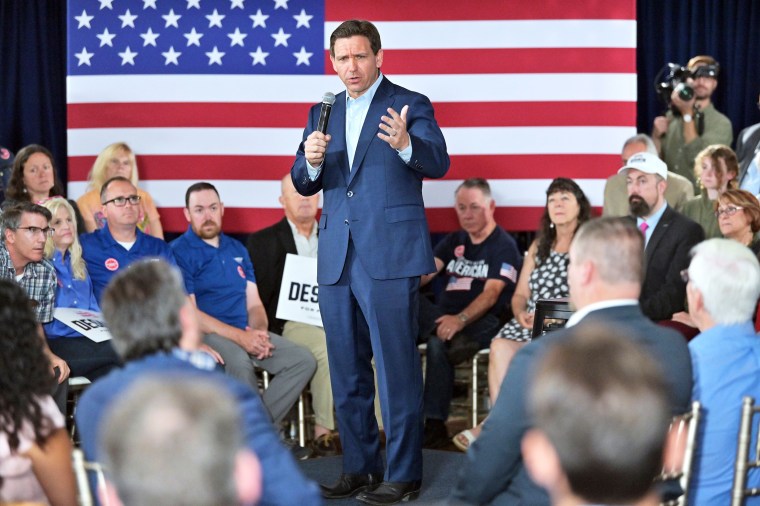 Trump was the subject of the first two questions at the DeSantis town hall. 
Why is the governor, "as opposed to the other choice," wondered the first questioner, best positioned to "drain the swamp"? Next, a teenager asked DeSantis if Trump had "violated the peaceful transfer of power" with his behavior on, and leading up to, Jan. 6, 2021.
"I remember these rallies in 2016. It was exciting: 'Drain the swamp!' I also remember 'Lock her up!'" DeSantis — recalling two Trump rallying cries, including his threats to jail his then-Democratic rival, Hillary Clinton — said in response to the first question. "And then, two weeks after the election: 'Oh, no, forget about it. Forget I ever said that.'"
The remark was consistent with the mild criticism DeSantis has aimed at Trump in the early days of the 2024 race. And it turned into a seven-minute response that meandered into a standard DeSantis complaint that the bureaucracy in Washington is out of step with the rest of the country. 
Given the chance to go harder at Trump one question later, on the topic of Jan. 6 and the violence at U.S. Capitol that day, DeSantis sidestepped and moved on after 30 seconds.
"If this election is about [President Joe] Biden's failures and our vision for the future, we are going to win," DeSantis said. "If it's about relitigating things that happened two, three years ago, we're going to lose."
"We had a transition of power from my first administration to my second, because I won re-election in a historic fashion," he added, offering an unsubtle contrast with Trump, who lost his bid for a second term as president in 2020.
DeSantis took a dozen questions from 10 people over nearly an hour. All were relatively friendly, and most were easy enough to answer by drawing from his typical campaign speeches and themes.
While DeSantis is running as a culture warrior on issues like school curriculum and LGBTQ rights, he has said little on the campaign trail about his opposition to abortion, and New Hampshire observers have noted that the issue could be a barrier for DeSantis in a state where voters — especially independents and Republicans — preach individual liberty.
One woman in the audience Tuesday noted the six-week abortion ban DeSantis signed in Florida and connected it to welfare benefits, asking why taxpayers should pay for children whose mothers "don't want to work."
DeSantis began his answer with a brief mention of the "exceptions" — for rape, incest and the mother's health up to 15 weeks — put in place by the Florida Legislature. He went on to defend the ban and emphasize state programs for mothers in need.
"I think it's wrong to count people out," he said. "And so we believe everybody counts."
Bob Beckett, who hands out business cards at GOP events identifying himself as a New Hampshire primary voter, said after the town hall that DeSantis' performance surprised him — in a good way.
"A lot more thoughtful than I was envisioning, a lot more cerebral than I was expecting," said Beckett, who voted for Jeb Bush — a comparatively more-moderate former Florida governor — in the 2016 primary and is leaning toward former New Jersey Gov. Chris Christie this time. "What impressed me was how he went from a particular question to something bigger, and larger and more grand."
Scott Maltzie, a Concord-area Republican who at the Hollis event wore a DeSantis campaign baseball cap and sticker, said the town hall was a smart move. Earlier this month, DeSantis lashed out at a reporter in New Hampshire who asked why the governor wasn't holding such events.
"I mean, that's what the first-in-the nation primary is all about," said Maltzie, who plans to vote for DeSantis in the primary. "You can't get this, really, in other states. We're small enough and personal enough where everybody has a chance to ask questions and meet these candidates face-to-face. And in terms of them, building recognizability and likability, that's huge."
Polls have shown DeSantis losing traction in the state since topping one New Hampshire survey in January, before he was an official candidate. A new St. Anselm College poll released Tuesday found Trump leading the GOP field with 47% support among registered Republican voters, followed by DeSantis at 19% and Christie, who is heavily focused on the state, at 6%. The results, which have a margin of error of 4.4 percentage points, represent a 10-point drop for DeSantis since St. Anselm's last poll, in March.
"Ron DeSantis' campaign is spiraling, and President Trump's dominance over the Republican primary field has opened a mad rush to seize the mantle for runner-up," Karoline Leavitt, a spokesperson for MAGA Inc., a pro-Trump super PAC, said in a statement to NBC News. "Ron DeSantis is not ready for this moment, and Chris Christie will waste no time eating DeSantis' lunch."
Trump, for his part, was greeted by a standing ovation Tuesday at the Lilac Luncheon, an annual fundraiser for the New Hampshire Federation of Republican Women in Concord. And he wasted little time trashing DeSantis.
The former president again raised suspicions that DeSantis would raise the retirement age for entitlement programs like Social Security, alluding to votes that DeSantis made when he was in the House, before he became governor. DeSantis has retreated from those positions and, when asked Tuesday by a voter about protecting Social Security, expressed a desire to work "in a bipartisan way to figure out how to strengthen this program ... without any major disruption."
Trump also accused DeSantis of revising his record on Covid policies. Both Trump and DeSantis took aggressive steps to manage the pandemic in its early days, but DeSantis soon backed off and has made his resistance to shutdowns and mandates a trademark issue.
"At the appropriate time," Trump warned Tuesday, he will remind voters of DeSantis' efforts to close down his state during the early weeks of Covid-19.
"We have clips of Ron where he had a closed state," Trump added.
Trump also boasted about the polls showing him with wide leads over DeSantis and the rest of the GOP field while also explaining his philosophy in going after his closest rival.
"Somebody said, 'How come you only attack him? Is it because he's in second place?'" Trump said. "'How come you don't attack others?' Because they're not in second place."
That's the position he's focused on, no matter which rival holds it, Trump added.
"As they keep coming up to 2," he said, "we keep sending them back to the dry cleaners."
Henry J. Gomez reported from Hollis, and Jonathan Allen from Concord.