EAGLE PASS, Texas — Florida Gov. Ron DeSantis on Monday said he supported using "deadly force" against migrants coming into the United States who were suspected of bringing in drugs.
He said drug cartels cut through "massive beams" in the border wall and have "backpacks" that they use to bring in drugs.
"You're already on U.S. soil once...you get through the wall," he told NBC News. "You have hostile intent, because you're obviously running drugs. You absolutely can use deadly force. I mean, think about it. If you were trying to do that — if you were to go to some Texas rancher's property, break into their house, they're going to respond."
It's not clear exactly how officers would be able to tell exactly who was a drug smuggler and who was not.
DeSantis made similar comments at a press conference beforehand, when he said that smugglers would end up "stone-cold dead."
"Of course you use deadly force," he said, adding, "If the cartels are cutting through the border wall, trying to run product into this country, they're going to end up stone-cold dead as a result of that bad decision. And if you do that one time, you are not going to see them mess with our wall ever again."
DeSantis' comments go further than where other GOP presidential candidates, including Trump, have publicly gone in the past. The Florida governor has been leaning into immigration as a way to hit Trump from the right — while simultaneously criticizing President Joe Biden's policies.
On Monday, DeSantis released the first formal policy of his presidential campaign, a slew of immigration-related proposals his team labeled "No Excuses" — a reference to what it sees as a failure by Trump to deliver on his promises.
On Sunday night, DeSantis also toured the Texas border, where he has authorized that 1,100 members of Florida law enforcement and National Guard be sent. 
DeSantis, who's trailing Trump in national polls by wide margins, is promising to send Navy and Coast Guard resources to block fentanyl-related Chinese precursor chemicals from reaching Mexican ports, "if the Mexican government drags its feet" in assisting. The U.S. has never taken this action before.
He insists he'll work with Panama to "close" the Darien Gap — a lawless stretch of jungle where migrants from Central America make the dangerous trek to the U.S.
A common refrain among Republicans for years, DeSantis also said he'll end what's known as "catch and release" — the process in which migrants are released in the U.S. while they await their asylum proceedings — and reinstate the "Remain in Mexico" policy, which President Joe Biden's administration ended. 
DeSantis also wants to increase pay for Border Patrol agents to increase recruiting, with the aim of hiring former military members and police officers at U.S. Customs and Border Protection and Immigration and Customs Enforcement. He plans to end birthright citizenship — the policy under which children of undocumented immigrants who are born in the U.S. automatically become U.S. citizens.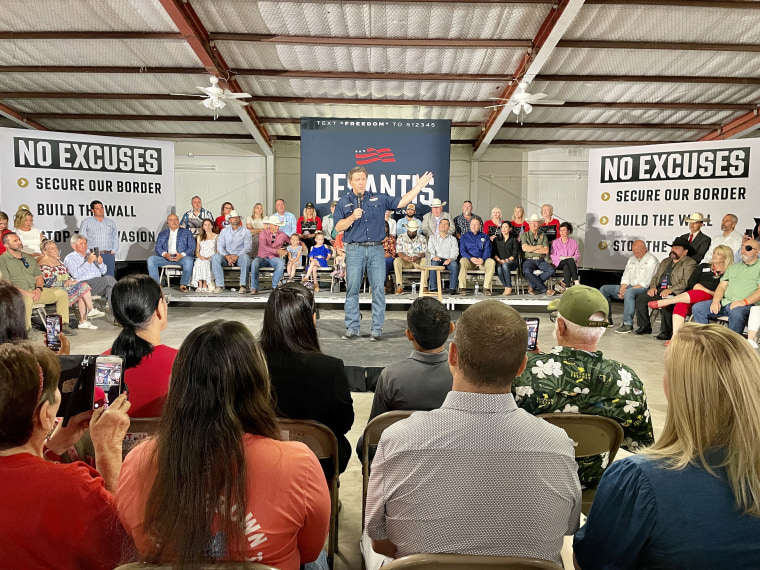 DeSantis said he'll strengthen penalties for human trafficking and cease funding for nongovernmental organizations "that encourage mass migration." His administration would also sanction and restrict visas from countries that do not accept deportees, as well as declare Mexican drug cartels Transnational Criminal Organizations.
After Florida passed a sweeping immigration bill last month that goes into effect July 1, and tightened E-verify requirements for businesses with more than 25 employees, DeSantis said he plans to do the same at the federal level.
Unlike Trump, he does not say that Mexico will pay for the border wall. Instead, his campaign claims DeSantis "will use every dollar available to him as President and every dollar he can squeeze out of Congress to get it done." DeSantis also said he will tax remittances from undocumented immigrants, with exemptions for U.S. citizens and lawfully present foreign nationals. 
DeSantis made a separate border trip this month to Arizona, but that was billed as an official state visit, not a campaign stop. While in Texas Monday, DeSantis also stopped at a Veterans of Foreign Wars hall to speak with voters.
"I can tell you as president, we are going to fully deputize all state and local governments to be able to enforce immigration law," DeSantis said at the event. "You will be able to have that authority. And we're not going to allow sanctuary jurisdictions to get away with it."
He also said he thought a lot of migrants' asylum claims were bogus and being used to get into the U.S. under false pretenses. He said he would use "executive action" to crack down on the asylum process, "where we will not entertain those claims."
The policy rollout comes as Republicans seek to make immigration a major issue in the GOP primary race. Over the last few months, Trump has mentioned sending "special forces" and using "cyber warfare" to target cartel leaders if he's re-elected president. More Republican lawmakers are rallying around the idea of using military force to battle Mexican cartels. Both House members and senators have filed legislation to label some cartels foreign terrorist organizations.
On Friday, the Justice Department announced charges against China-based chemical manufacturing companies and executives, saying the Drug Enforcement Administration had seized more than 200 kilograms of fentanyl-related precursor chemicals during the investigation, a quantity that could contain enough deadly doses to kill 25 million Americans.
In response to DeSantis' policy rollout Monday, the Trump campaign highlighted its own immigration plans, which include issuing an executive order to end birthright citizenship, build more of the border wall, reimplement Title 42 and shift law enforcement officers to immigration enforcement. The Trump campaign also said the former president plans to "carry out the largest domestic deportation operation in American history" and deploy the U.S. Navy to impose a full embargo on the drug cartels.
Trump spokesman Jason Miller tweeted that DeSantis is the "Fisher Price version of President Trump" when it comes to immigration, using an image from a 2018 DeSantis campaign ad in which he's playing blocks with his daughter to show his support for Trump and his push to build the border wall.