In the 1992 presidential campaign, Bill Clinton campaign manager James Carville had simple advice on what American's care about in an election: "The economy, stupid." Fast forward to the 2016 presidential primaries – which are occurring in the wake of significant international and domestic terror attacks that have alarmed voters – what issues do Americans care most about today?
Results from the most recent NBC|SurveyMonkey Weekly Election Tracking Poll conducted online from Jan 4. to Jan. 10 suggest that "jobs and economy" and "terrorism" are both named by around a quarter of voters as the issue that is currently most important to them. However, the aggregate numbers hide a key finding. The answer largely depends on your partisanship.
If you are a Republican, terrorism is the most important issue facing the nation, with 34% of voters choosing this issue, compared to the 26% who listed the economy.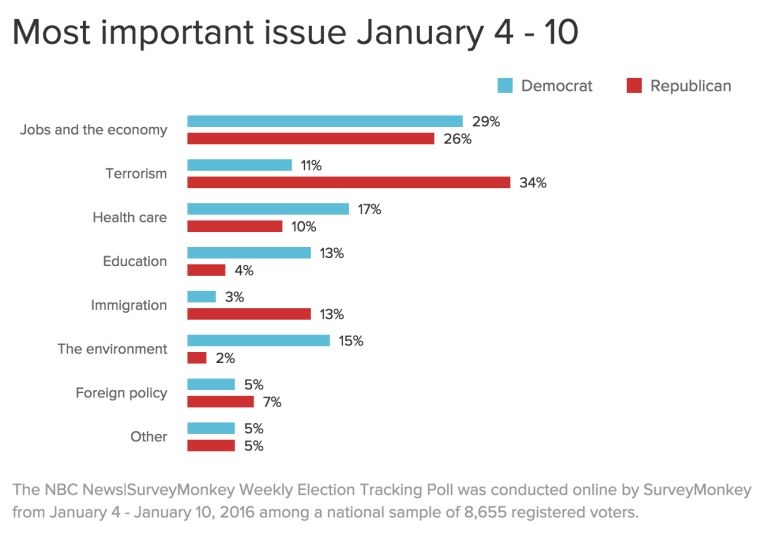 This is in stark contrast to Democrats, where only 11% list terrorism as the issue most important to them. Fewer Democrats are concerned with terrorism than are concerned with the economy (29%), health care (17%), the environment (15%) or education (13%).
But is the importance Republicans attach to terrorism simply a temporary diversion from the usual importance of the economy? NBC|SurveyMonkey began asking registered voters what issue was most important to them on Dec. 14, which allows for us to determine whether the salience of terrorism has significantly dropped as the attacks in Paris and San Bernardino recede further back in memory.
Our data suggest that the issue salience of terrorism has staying power. The number of Republicans listing terrorism as the issue most important to them only declined 5% from Dec. 14 to Jan. 10. While this is a relatively short period of time from which to make conclusions, it is hard to see the issue of terrorism fully falling off the radar of Republicans any time soon.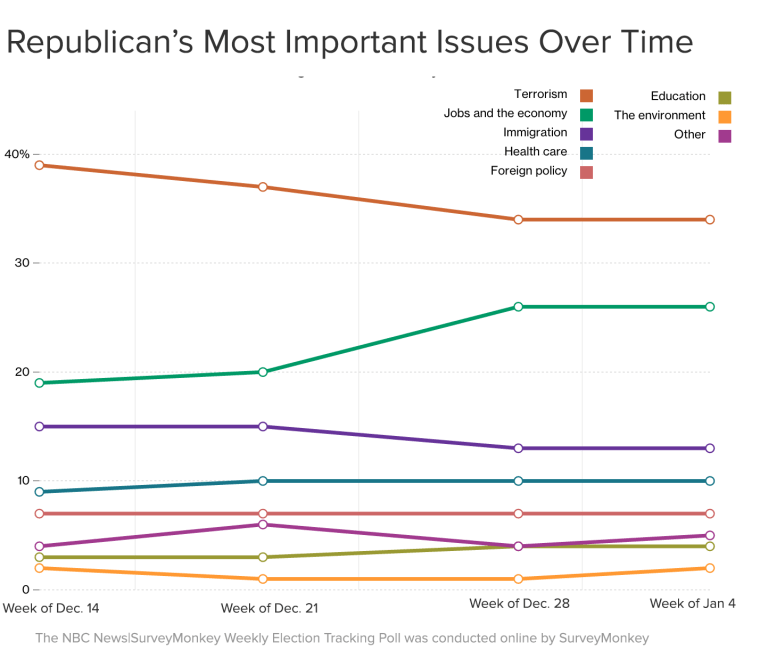 Another question is whether terrorism is a salient issue only among those Republicans who support candidates that focus more of their attention on the threat of terrorism. In the chart below, we break down registered Republicans by which candidates they are currently intending to vote for, and look at the percentages that select either terrorism or the economy as the issue currently most important to them.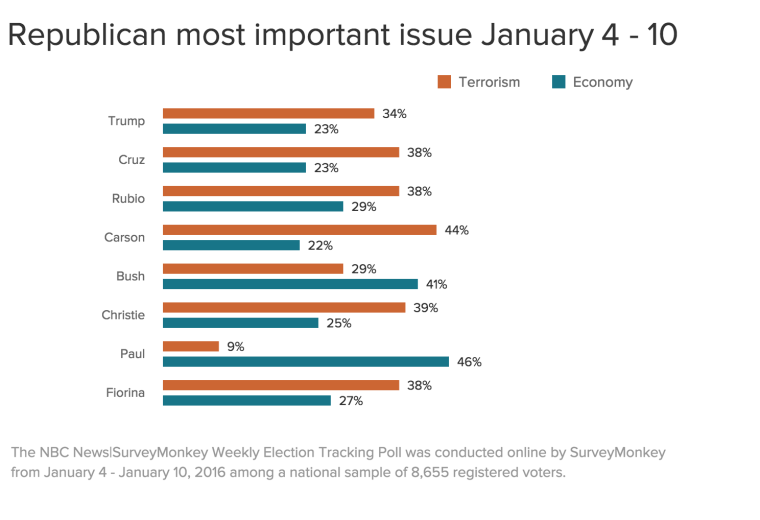 For the most part, there are not large differences between various groups of supporters in terms of the salience given to terrorism versus the economy. For all candidates other than Jeb Bush and Rand Paul, a plurality of supporters list terrorism as their primary concern. Even among Bush supporters, a full 29% list terrorism as their primary concern. This is still far higher than the 11% of Democrats who list terrorism as the issue most important to them.
Paul supporters are the only clear aberration from the overall trend. Fewer Paul supporters list terrorism as the issue most important to them (9%) than do Democrats. There is at least one camp of Republican voters, in other words, that do not follow the overall trend of the party. It is important to keep in mind, however, that Paul has the support of only 3% of registered Republicans in this poll.
While there are some differences among Republican voters in terms of the relative salience of terrorism and the economy, the differences are not nearly as big as those between the Democratic Party and Republican Party.
These inter-party differences in salience suggest that the Democratic and Republican primaries will continue to be fought on very different sets of issues. While the economy is important to enough to people in each party that it will likely see significant attention in both parties, these data suggest that the Republicans will spend more time in the coming months focused on terrorism and immigration compared to the Democrats, while the Democrats will be comparatively more focused on education, health care and the environment.
Hannah Hartig and Sam Petulla contributed to this article.
This SurveyMonkey Election Tracking data for the week of January 4, 2016 through January 10, 2016 was conducted online among a national sample of 9,746 adults aged 18 and over, including 8,655 who say they are registered to vote.
For full results and methodology for this weekly tracking poll, please click here.