PHOENIX — The late Sen. John McCain's wife, Cindy, walked up to the flag-draped casket holding her husband's body Wednesday at the Arizona Capitol and patted it, then leaned over and kissed it.
The rest of his children then filed past the casket and touched it, including his sons in uniform and daughter Meghan McCain, who was weeping.
The private service at the Arizona Capitol marked the first appearance of McCain's family members since the senator died Saturday of brain cancer.
During the service, Gov. Doug Ducey remembered McCain as a senator and internationally known figure as well as a major figure in the history of Arizona.
While Barry Goldwater was an Arizona native, McCain was "Arizona's favorite adopted son," the governor said on would have been the 82nd birthday of McCain, who was born in the Panama Canal zone while his father served in the military.
"Imagining an Arizona without John McCain is like picturing Arizona without the Grand Canyon," Ducey said.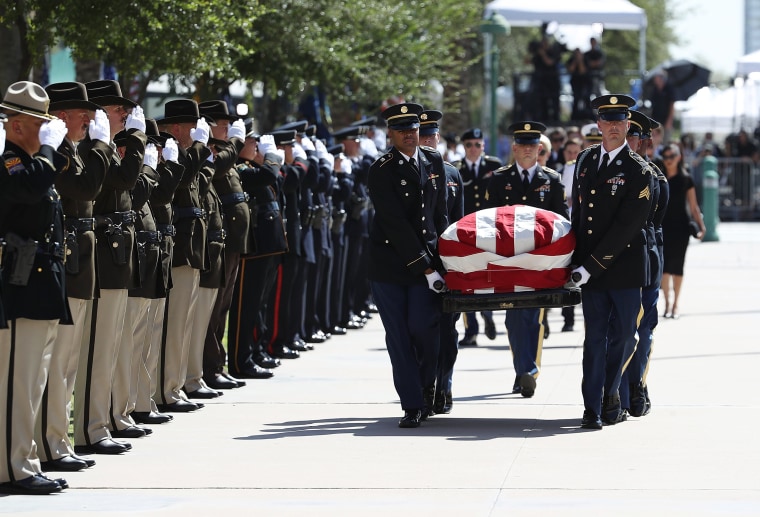 Former Arizona Sen. Jon Kyl said he has been with McCain all around the world and he had better instincts on when to assert U.S. power than anyone else he knew.
Kyl said he would miss McCain, whose greatest contribution was national security.
Sen. Jeff Flake offered the benediction at the service.
Later in the afternoon, the Capitol will be open to the public to pay their respects.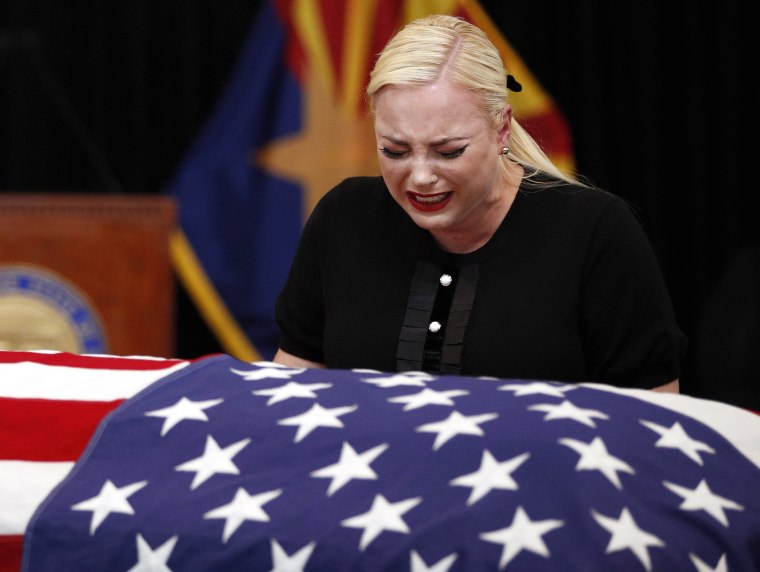 Arizona National Guard members carried the casket into the Arizona State Capitol Museum rotunda, where McCain will lie in state. Black curtains hung in the rotunda. U.S. and Arizona flags encircled the room.
By the time the service ended and the rotunda was cleared, at least 100 people had already gathered outside to wait for the public viewing.
They took shelters from the hot sun under tents erected by security teams while volunteers filled coolers with ice and water bottles.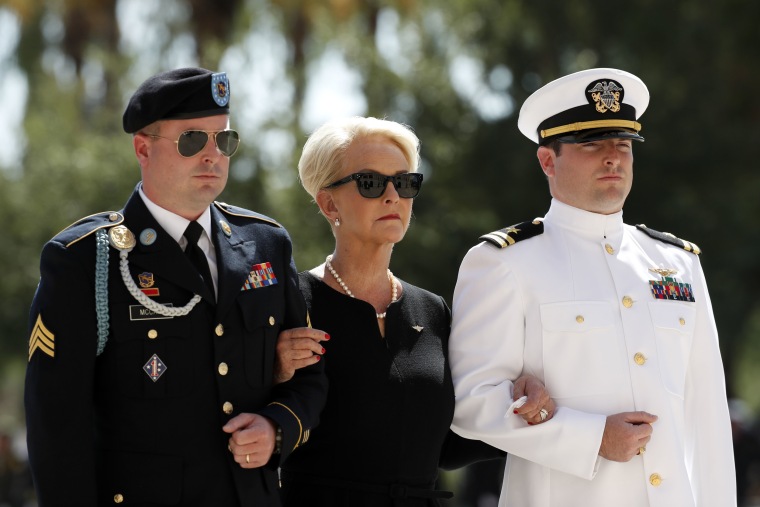 Chasity Pullin, whose husband and father are both veterans, was among those in line. She said she liked how McCain didn't act like he was above others, and praised all he did for veterans.
"It feels like you're losing part of your family, as much as he did," she said
Kassandra Morales, 44, stood with her sons, 8 and 2 years old. The single mom and Democrat brought a bouquet of flowers and said she had always looked up to McCain.
"Yesterday I asked my son who his hero was. He gave me a rapper's name," Morales said. "I brought my children here to show them what a real hero was."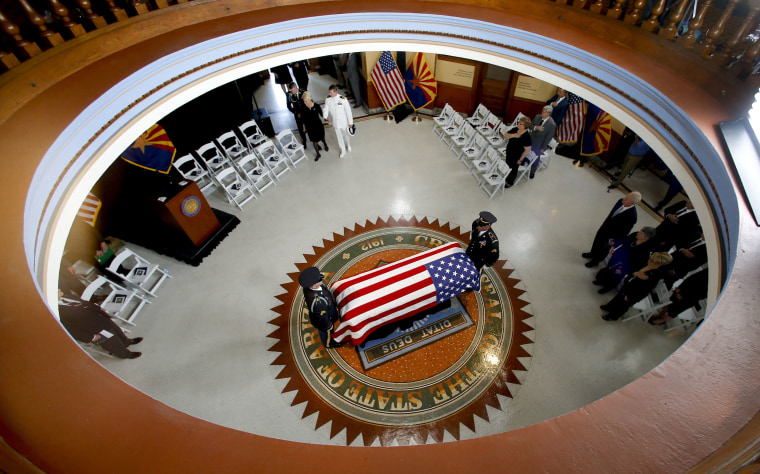 Veteran Judith Hatch handed out flags to those assembled, saying Arizona lost a champion for the military.
"We definitely have lost a strong advocate, so we'll need someone who is going to step up to the plate," Hatch said.
The viewing later in the day will go on as long as people are waiting in line, said Rick Davis, McCain's former presidential campaign manager.
For some Arizona residents, McCain has been a political fixture in the state for their entire lives. He took office in the state in the early 1980s, first as a congressman and then as a senator in the seat once held by Goldwater.
Thursday morning will feature a procession through Phoenix on the way to a memorial service at North Phoenix Baptist Church, with the public invited to line the route along Interstate 17.
The memorial service will include tributes, readings and musical performances, including a tribute from former Vice President Joe Biden. Musical choices include a recessional to "My Way" by Frank Sinatra.
From there, McCain will depart Arizona from Phoenix Sky Harbor International Airport.
Another viewing will be at the U.S. Capitol on Friday, with a final memorial service at the Washington National Cathedral.