WASHINGTON — Corn stalks in Iowa are more than eight feet high as harvest nears, but with no end to the White House-backed trade war in sight, farmers from the Midwest are taking their concerns about where those goods will go directly to Capitol Hill.
"Our concern is that we're seeing this escalate," Bob Hemesath, an Iowa corn and hog farmer, told NBC News from outside the offices of Iowa's congressional members Wednesday. "Our message is simply that we need to get these trade issues resolved and get the markets open. We need to get things moving because we're hurting economically."
Corn farmers and pork producers, like Hemesath, are taking hits from the retaliatory tariffs placed on U.S. exports by Mexico, Canada, the EU and China. Hemesath raises 40,000 hogs and farms 2,600 acres of corn a year on his Decorah farm; markets for both have seen a roughly 15-percent drop in prices since the spring when President Donald Trump slapped his first tariffs on imported steel and aluminum from overseas.
The administration has given no indication it will relent in its tit-for-tat tariff war.
"We've lost too many trade battles without putting up so much as a fight," Vice President Mike Pence said on Tuesday in remarks to the Department of Commerce, threatening to further ratchet up tariffs, particularly on China. "Let me be clear," Pence said. "This is not the first blow."
When NBC News first visited Hemesath on his farm in early June, he indicated an openness to the president's trade negotiating efforts — but he also expressed wariness that a prolonged standoff would progressively hinder profitable returns and provoke its current export markets to turn elsewhere for their corn and pork.
Republican Sen. Ben Sasse of Nebraska echoed those concerns on Capitol Hill this week. "Do they understand what farmers and ranchers want and need? No, the administration doesn't understand," Sasse said.
The Senate passed a measure last week to give Congress a role in approving the president's proposals to impose tariffs under the premise of national security concerns, but the measure was non-binding, giving the Senate no actual authority. Several lawmakers are pressing for a binding vote.
Sen. Bob Corker, R-Tenn., said congressional engagement is needed, asserting senators who have visited the White House this summer to discuss trade have left without "any earthly idea where this is going."
"How can they give us an indication when they themselves don't know? They have no idea," Corker said.
Currently, China has increased its tariff on U.S. pork exports to 50 percent, and Mexico imposed its own 20-percent tariff on U.S. pork. While Mexico left American corn off of their list of tariffed goods, both the EU and China levied an additional 25-percent tariff on the crop.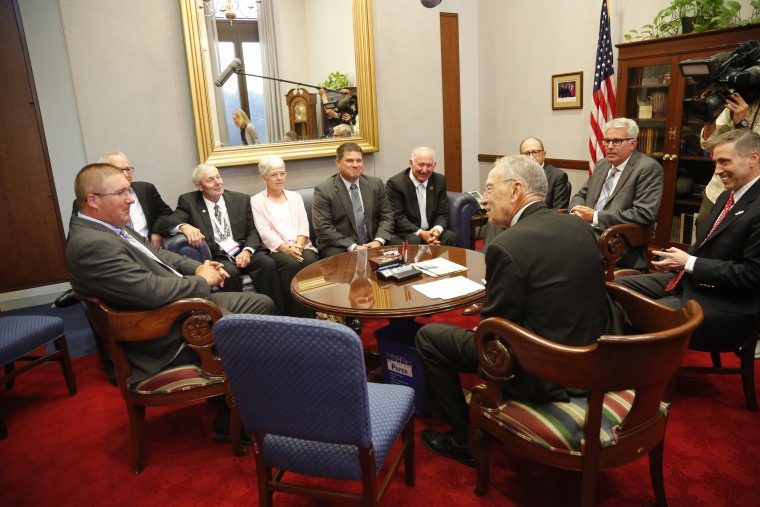 Hemesath, who joined other members of the Iowa Corn Growers Association in the meetings, worries his fellow farmers will not be able to keep their businesses afloat after this year's harvest, as the drop in prices correlated with the tariffs keep them from breaking even, let alone put them in a place to make a profit.
"We're fighting for next year's crop," Hemesath told Rep. David Young, R-Iowa, during a meeting on Capitol Hill Wednesday. "It's already hurting this year's prices; we need a solution now."
Young assured Hemesath that is the message being communicated to Trump.
"I don't question [the president's] intentions, but in the end, how do you land this plane? What are the goals? What are the objectives? That's what folks I represent want to know," Young said. "We'll give him a little more rope, but there's only so much rope left."