WASHINGTON — Republican senators have Attorney General Jeff Sessions' back.
The GOP lawmakers are furious over President Donald Trump's escalating attacks on their former colleague and are letting the attorney general — and the public — know that they stand with Sessions in the face of the president's broadsides.
"I told him we were thinking about him and that he had a lot of friends up here," Sen. Richard Shelby, R-Ala., said he told Sessions, who until he joined the administration in February was the other senator from Alabama.
"Sessions is a very loyal man to the president. He stepped in front with him...when no senator did," Shelby added. "I think loyalty ought to be a two-way street."
Sessions was the first senator to endorse Trump during the GOP presidential primary. But he has now found himself the target of unrelenting public attacks from the president over his decision to recuse himself from the investigation into Russian meddling in last year's election.
Trump kept up the drumbeat Wednesday, seemingly accusing Sessions of protecting former Democratic nominee Hillary Clinton.
When asked about his attorney general at a press conference on Tuesday, the president declined to offer support for him, saying only "time well tell."
Trump has thus far refused to fire Sessions, leading some to speculate he's waiting until the August congressional recess, when he could name a replacement who would not require Senate confirmation.
Privately, Republican senators, who served with Sessions for years on Capitol Hill, say they are increasingly angered by Trump's public attacks on his Cabinet member. Senators are calling Sessions offering their support and encouragement as they can't understand why the president would treat one of his most loyal lieutenants in this way.
Using a word sure to inflame the president — because it's what Trump had accused Sessions of being on Hillary Clinton — Sen. Lindsey Graham, R-S.C., said the president was being "weak" by letting Sessions twist in the wind.
"I would fire somebody I did not believe would serve me well rather than trying to humiliate them in public, which is a sign of weakness," Graham said. "The president is not trying to use his power, he's trying to get Sessions to quit. And I hope Sessions doesn't quit."
The criticism extended from beyond Trump's usual critics in the Senate GOP to some of the caucus's most conservative and Trump-friendly lawmakers.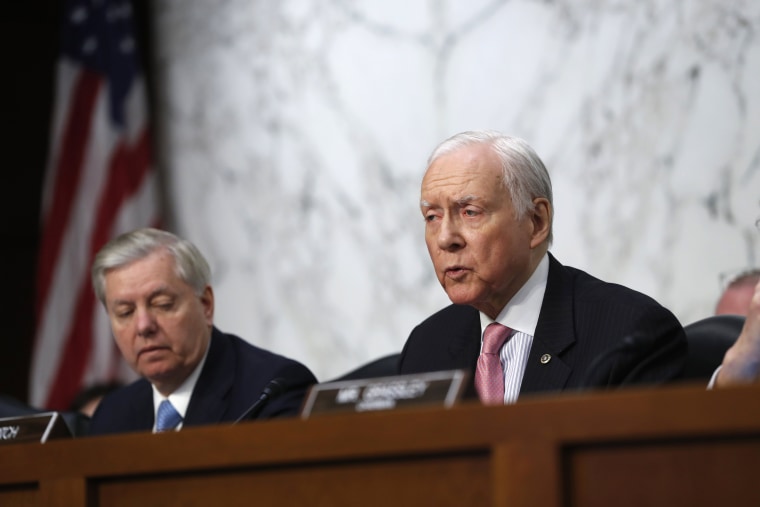 "Jeff Sessions is among the most honorable men in government today...I have full confidence in Jeff's ability to perform the duties," said Sen. Orrin Hatch, R-Utah, the most senior Republican in the Senate.
Hatch was the second senator to endorse Trump last year, he noted to reporters — "some people thought I was crazy to do it."
Sen. Tom Cotton, an Arkansas conservative, called Sessions "a good man and a fine Attorney General."
Sen. Tom Tillis, R-N.C., praised Sessions specifically for his handling of the Russia probe.
"I think that his independence has been proven by his willingness to recuse himself," Tillis told reporters. "I think he's doing a good job there and I look forward to him continuing to serve."
Asked if the Senate would confirm a replacement for Sessions should it need to, Tillies replied, "That raises the question about whether or not anybody would wanna do it."
Sen. Marco Rubio, R-Fla., who has butted up against Session's hardline on immigration, defended him on Twitter.
Trump snubbed Sessions on Monday when he spoke to the Boy Scouts Jamboree and did not bring Sessions, a proud Eagle Scout, even though he was accompanied by three other Cabinet members with ties to the scouts.
Sen. John Barrasso, R-Wyo., told CNBC that Sessions "embodies all of the things that are great about boy scouting and eagle scouts."
"I worked with Jeff Sessions for nine and a half years in the Senate," Barrasso added. "Jeff Sessions has my confidence."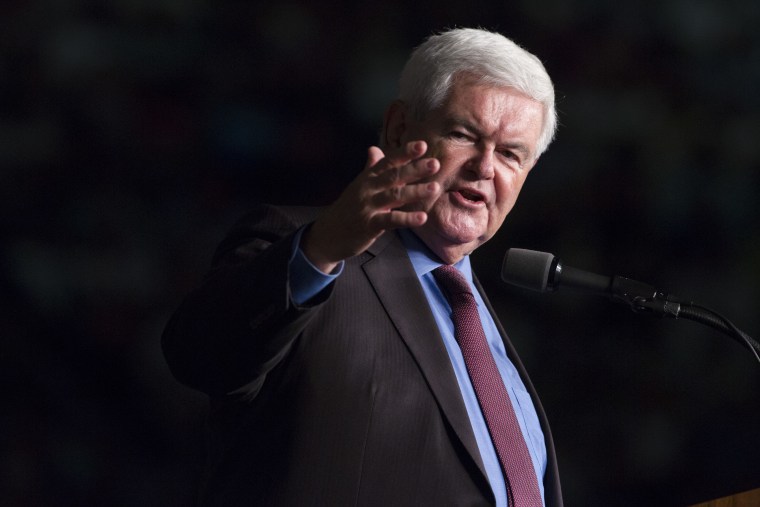 And even Newt Gingrich, the former House speaker and outspoken Trump defender, took Sessions' side. "I think Sessions should stay," Gingrich told NPR Wednesday. "I don't think this is one of the President's better moments."
Meanwhile in Alabama, three Republicans are the leading candidates vying to replace Sessions in an August 15 special election.
One of them, Rep. Mo Brooks, on Wednesday announced that he would drop out of the race if the other GOP contenders would do so as well so that Sessions could become the Republican nominee to get his old Senate seat back if he is fired by Trump.
"This public waterboarding of one of the greatest people Alabama has ever produced is inappropriate and insulting to the people of Alabama who know Jeff Sessions so well and elected him so often by overwhelming margins," Brooks said.