WASHINGTON — Sen. Mitt Romney of Utah, the 2012 Republican presidential nominee and an outspoken critic of former President Donald Trump, will not run for re-election next year, he said in a video statement Wednesday.
"I have spent my last 25 years in public service of one kind or another. At the end of another term, I'd be in my mid-80s. Frankly, it's time for a new generation of leaders. They're the ones that need to make the decisions that will shape the world they will be living in," Romney said.
He added: "While I'm not running for re-election, I'm not retiring from the fight. I'll be your United States senator until January 2025."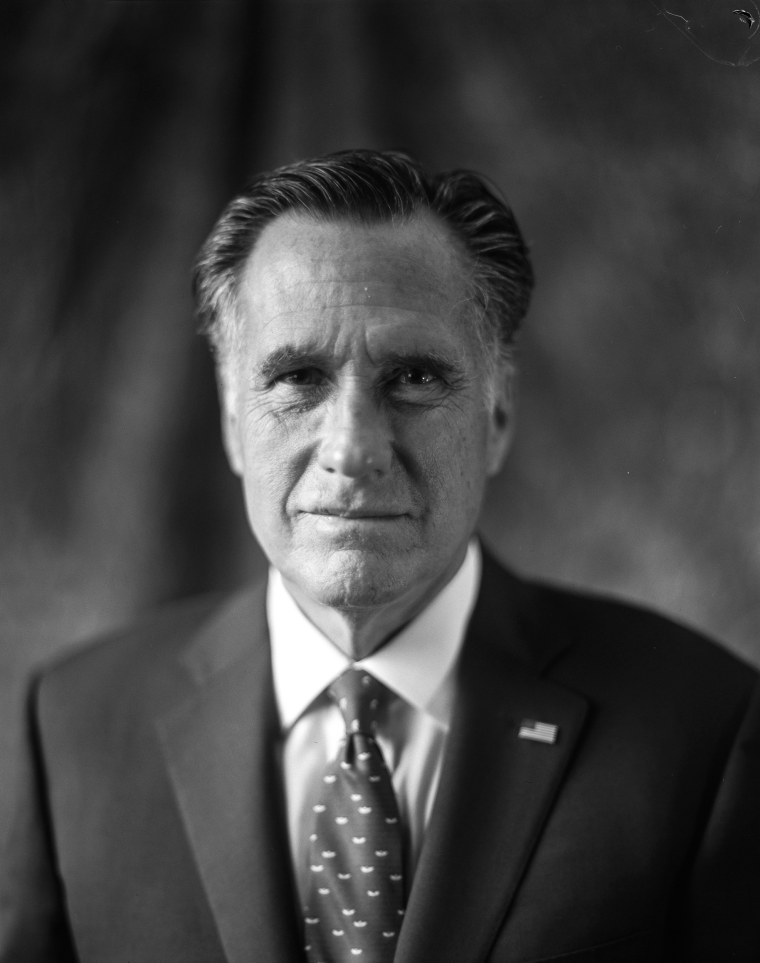 Romney, 76, who has been in the Senate since 2019, was the governor of Massachusetts from 2003 to 2007. He was the GOP's presidential nominee in 2012, losing to President Barack Obama, who won re-election.
Romney, whose six-year term expires in January 2025, said that he enjoys his work in the Senate "a good deal" and that the last few years have been "particularly productive." He listed some of his accomplishments, including helping to lead negotiations over the bipartisan infrastructure law, bipartisan gun safety legislation, the Electoral Count Act and emergency Covid relief funding.
Criticizing both Trump and President Joe Biden, Romney said, "The next generation of leaders must take America to the next stage of global leadership."
"We face critical challenges — mounting national debt, climate change and the ambitious authoritarians of Russia and China. Neither President Biden nor former President Trump are leading their party to confront them," Romney said in his statement.
A White House official said Wednesday night that Biden spoke with Romney by phone after Romney made his announcement.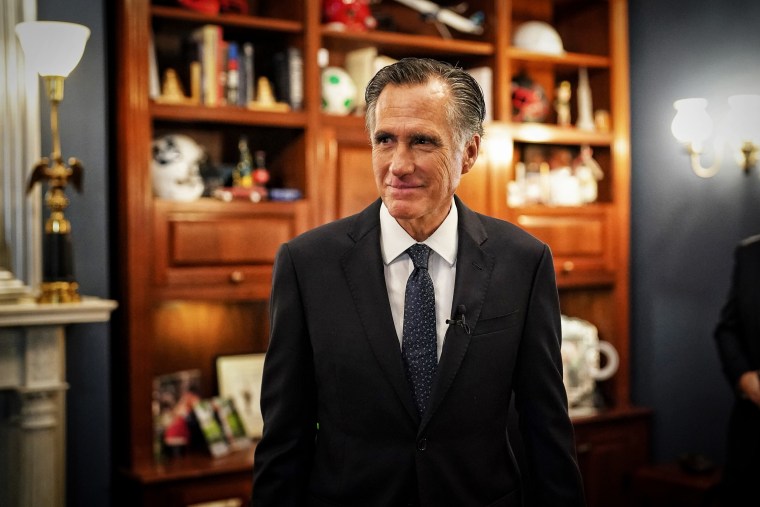 Romney has been one of the most prominent Republicans to speak out against Trump. He expressed concern when Trump first ran for president in 2016 and fiercely criticized him during his four years in office.
"Donald Trump is a phony, a fraud. His promises are as worthless as a degree from Trump University," Romney said in a major speech during the 2016 GOP presidential primary race. "He's playing the members of the American public for suckers. He gets a free ride to the White House, and all we get is a lousy hat."
When he ran for the Senate in 2018, he said Trump is not "a role model for my grandkids."
Notably, he was the only Senate Republican to join Democrats and vote to convict Trump during the first Senate impeachment trial in 2020. He was also one of 10 Senate Republicans to vote to convict Trump during the second impeachment trial in 2021 after the Jan. 6 attack on the Capitol.
Senate Minority Leader Mitch McConnell, R-Ky., praised Romney in a statement Wednesday: The U.S. Senate is known to attract bright and proven public servants. However, we rarely get to welcome new Senators already as accomplished and well-regarded as Mitt Romney. The Senate has been fortunate to call our friend from Utah a colleague these past four and a half years, and I am sorry to learn that he will depart our ranks at the end of next year."
Former Romney aides and advisers expressed their disappointment and a bit of surprise at his decision to retire from Congress. "He'll get bored," a longtime Romney aide said. "But there's not much sense in staying in the Senate another six years."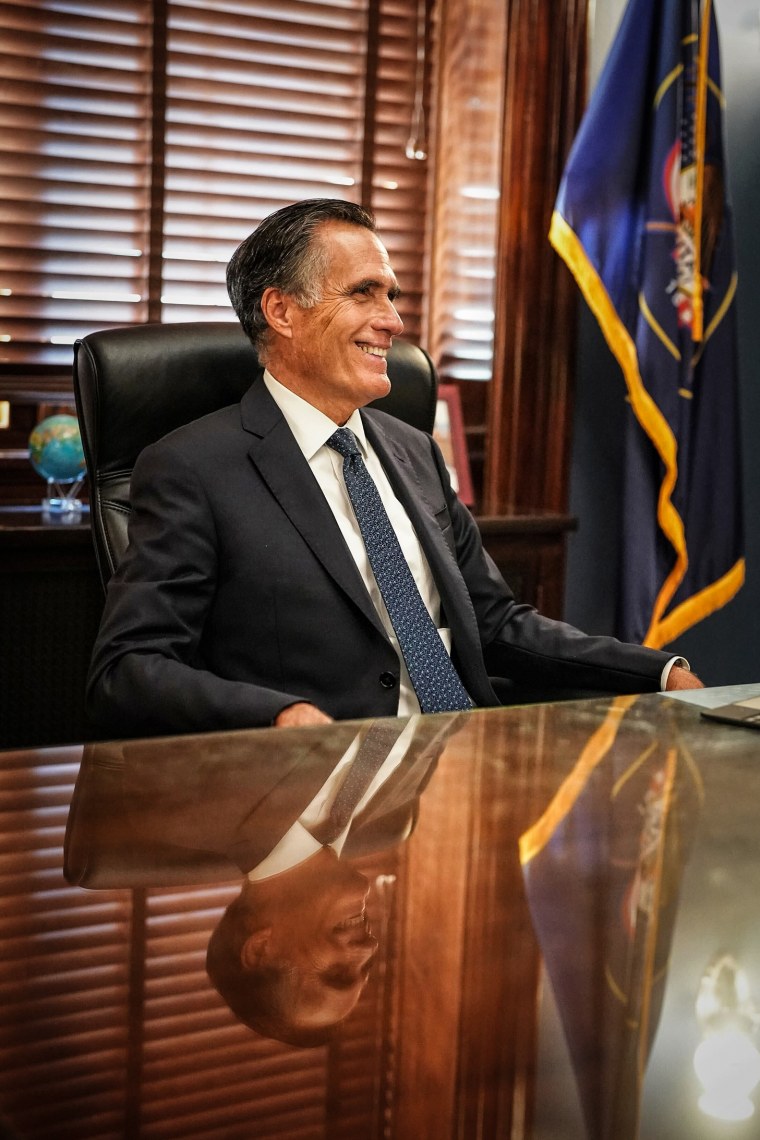 Romney also faced pressure from within his own party. Utah House Speaker Brad Wilson said this year that he was exploring the possibility of running a primary challenge against Romney. As of the end of June, Wilson had raised $2.2 million, including a $1.2 million loan from himself.
In response to the announcement Wednesday, Trump wrote a statement in all caps on Truth Social celebrating the news.
"Fantastic news for America, the great state of Utah, & for the Republican Party. Mitt Romney, sometimes referred to as Pierre Delecto, will not be seeking a second term in the U.S. Senate, where he did not serve with distinction," Trump wrote, referring to Romney's using the pseudonym "Pierre Delecto" to operate a Twitter account anonymously.
Trump added: "A big primary fight against him was in the offing, but now that will not be necessary. Congrats to all. Make America Great Again."
CORRECTION (Sept. 14, 2023, 7:55 p.m. ET): A previous version of this article misstated when Mitt Romney first ran for the Senate. He also ran for the Senate from Massachusetts in 1994, when he lost to Sen. Edward Kennedy. A photo caption also misstated when Romney announced he would not seek re-election. He made the announcement Wednesday, not Tuesday.