Hiding documents in a shower. Showing national security secrets to a political aide and an author. And telling lawyers to simply not cooperate with a grand jury subpoena.
These are some of the allegations against Donald Trump in the bombshell federal indictment unsealed Friday, related to the more than 100 classified documents federal agents retrieved from the former president's Mar-a-Lago resort in Florida in August.
The indictment accuses Trump of breaking seven laws, including 31 counts of willful retention of national defense information and single counts of false statements and representations, conspiracy to obstruct justice, withholding a document or record, corruptly concealing a document, concealing a document in a federal investigation and a scheme to conceal.
Trump has continued to insist that he did nothing wrong and that he is being unfairly targeted by President Joe Biden's administration.
"I had nothing to hide, nor do I now," Trump posted on his Truth Social platform Friday. "Nobody said I wasn't allowed to look at the personal records that I brought with me from the White House."
Here are some of the biggest revelations from the indictment:
Trump hid classified documents in a bathroom
Trump stored his boxes containing classified documents "in various locations" at Mar-a-Lago, including in a ballroom, an office space, his bedroom, a storage room and even a bathroom and shower, according to the indictment.
In April 2021, the indictment alleges, Trump employees transported some boxes from a Mar-a-Lago business center "to a bathroom and shower in The Mar-a-Lago Club's Lake Room."
The indictment even features a color photo of the scene: more than two dozen boxes on the bathroom's marble floor, stacked high in front of a shower with a crystal chandelier overhead.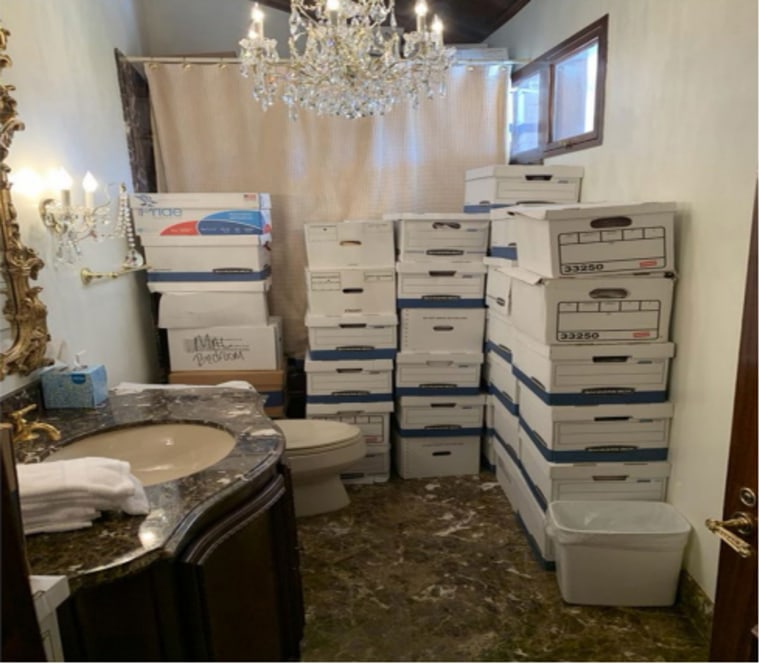 Trump revealed classified documents to an author
Chief among the examples prosecutors lay out in the indictment of Trump sharing classified intelligence with unauthorized individuals took place during a July 2021 sit-down he had with an author and a publisher for an upcoming book on his presidency. Two Trump staffers without proper clearances were also in the room for the discussion.
While the indictment does not name the author and publisher, it does include a transcript of a conversation Trump had with the two about a classified military document described as a "plan of attack" against another country. That conversation, which stems from an audio recording, was reported earlier Friday by CNN.
"Secret. This is secret information," Trump said. "Look, look at this."
Trump admitted that he didn't declassify the documents, and that they were still 'secret'
Trump has maintained that the Mar-a-Lago documents were declassified, because he was able to declassify any document he wanted, even without a specific process.
"You're the president of the United States, you can declassify just by saying it's declassified, even by thinking about it," Trump told Fox News host Sean Hannity in September 2022.
But the indictment indicates that Trump privately knew the documents were still secret.
At another point in his conversation with the author and publisher, Trump conceded he could no longer declassify the documents and did not do so when he was president.
"See as president, I could have declassified it," Trump said. "Now I can't, you know, but this is still a secret."
"Yeah," a staffer responded, laughing. "Now we have a problem."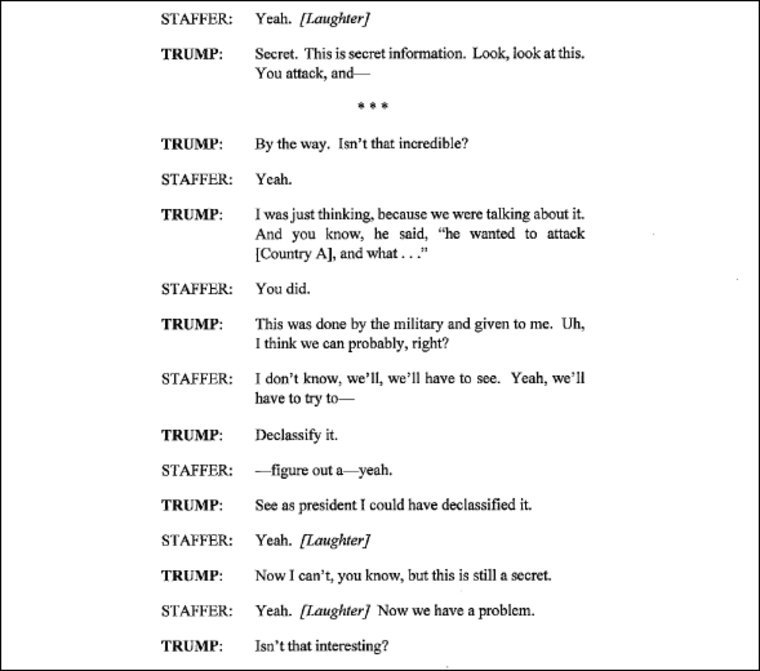 Trump could easily have received a waiver to possess classified documents
The indictment explained that protocols do exist for former presidents to obtain a specific waiver of a rule — known as a "need-to-know" requirement" — that would have allowed Trump, under certain circumstances, to possess classified documents.
But Trump "did not obtain any such waiver after his presidency," the charging document states.
Trump told someone not to stand too close a classified map
At his golf club in Bedminster, New Jersey, in August or September 2021, Trump reportedly showed "a classified map related to a military operation" to an aide who worked for his political action committee, according to the indictment. That person did not possess a security clearance.
Trump, the indictment states, "told the representative that he should not be showing it to the representative and that the representative should not get too close."
Trump's documents contained national security secrets
The indictment outlines the sensitivity of some of the classified documents retained by Trump, as they related to national security.
According to the indictment, documents Trump took "included information regarding defense and weapons capabilities of both the United States and foreign countries; United States nuclear programs; potential vulnerabilities of the United States and its allies to military attack; and plans for a possible retaliation in response to a foreign attack."
His disclosure of some of their documents' contents "could put at risk the national security of the United States, foreign relations, the safety of the United States military and human sources, and the continued viability of sensitive intelligence collection methods," the indictment states.
Staffers freaked out as classified documents needed to be moved repeatedly
The indictment details multiple instances where documents were transported — or cleaned up — by staffers who lacked proper security clearances to be in contact with such information.
At first, photos showed the documents stacked high on a ballroom stage at Mar-a-Lago. They were later moved to a "business center" at the Florida resort. It was then that an unnamed Trump staffer messaged another employee asking if the boxes could be moved elsewhere so that the business center could be transformed into a workspace for fellow Trump aides.
"Woah!!" the second staffer responded. "OK so potus specifically asked [Trump's valet] Walt [Nauta] for those boxes to be in the business center because they are his 'papers.'"
Later, they discussed moving the boxes to "a little room in the shower" for storage. The indictment then includes a photo of the boxes stacked high in a bathroom.
By December 2021, some of the boxes that had been relocated to a storage room fell, with their contents spilling all over the floor. Nauta, who was also charged in the indictment, messaged a second staffer: "I opened the door and found this …" He attached photos of the spill.
"Oh no oh no," the person responded, adding, "I'm sorry, potus had my phone."
Classified documents came from a number of federal agencies
Classified documents Trump kept after his presidency ended originated from a plethora of the top national security and law enforcement agencies of the U.S. government. Among them: the CIA, the Department of Defense, the National Security Agency, the National Geospatial Intelligence Agency, the National Reconnaissance Office, the Department of Energy, the Department of State and its Bureau of Intelligence Research, according to the indictment.
Trump suggested his lawyers should not 'play ball' with the grand jury subpoena
In May 2022, following a subpoena from the grand jury for all classified documents, Trump met with his lawyers, who told him that they needed to search for the requested items.
But Trump waved off his attorneys' attempts to comply, according to the indictment, which recounted a series of conversations Trump had with his attorneys.
"I don't want anybody looking through my boxes," Trump said.
At another point, Trump said, "What happens if we just don't respond at all or don't play ball with them?"
"Isn't it better if there are no documents?" he said, according to his attorneys' records.

Trump made a 'funny' 'plucking' motion
The indictment recounts an interaction between Trump and one of his lawyers when they were discussing what to do with a folder containing documents with classified markings. The lawyer recounted that Trump made a "plucking" motion that seemed to indicate the lawyer should just remove the incriminating papers.
"He made a funny motion as though — well okay why don't you take them with you to your hotel room and if there's anything really bad in there, like, you know, pluck it out," the lawyer said. "And that was the motion that he made. He didn't say that."
Trump wanted his lawyers to takes notes from Hillary Clinton's attorney
The indictment describes a conversation Trump had with two attorneys while discussing the document probe in May 2022. As one of the attorneys relayed, Trump was fixated on how an attorney for his 2016 Democratic presidential rival Hillary Clinton handled an investigation into her use of a private email server while she served as secretary of state.
"[H]e was great, he did a great job," Trump said of the Clinton attorney whose name was redacted in the indictment. "You know what? He said, he said that it — that it was him. That he was the one who deleted all of her emails, the 30,000 emails, because they basically dealt with her scheduling and her going to the gym and her having beauty appointments. And he was great. And he, so she didn't get into any trouble because he said that he was the one who deleted them."
Trump, according to one of the attorneys, relayed that story multiple times that day.
Of course, Trump pilloried Clinton on the campaign trail for her use of the email server, making it central to his candidacy.