As lawmakers grapple with the future of Barack Obama's signature health care law, Americans agree that the legislation needs a fix but remain divided about the scope of changes that are needed, according to a new NBC News/Wall Street Journal poll.
The Affordable Care Act is now more popular than it was throughout Obama's presidency, and support for a complete elimination of the law remains at its lowest. And while those who say they've been directly impacted by the law disagree sharply on its consequences, a plurality of Americans say the legislation has not personally affected them or their families.
Forty-three percent of Americans now say the health care legislation signed into law in 2010 is a good idea, while 41 percent say it is a bad idea. That's about the same as in January, when 45 percent said it was a good idea and 41 percent said it was a bad one – the all-time high in the bill's popularity.
While just four percent say that the law is "working well the way it is," 43 percent say it only needs "minor modifications." Thirty-six percent say the law needs "a major overhaul." Sixteen percent say it should be totally eliminated — tying the lowest share since the poll began asking about the future of the health care law in 2013.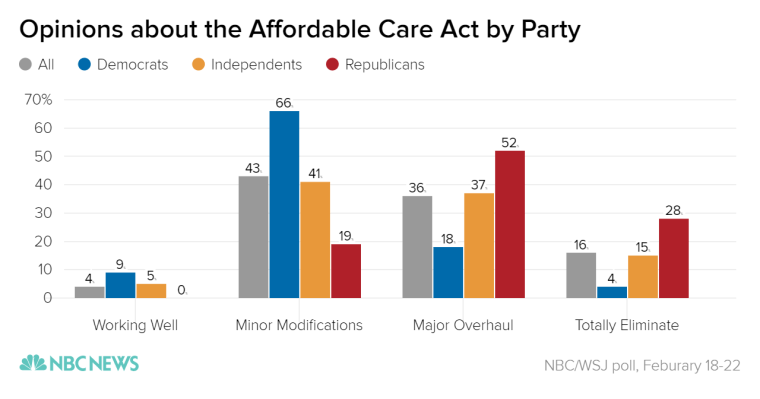 At the height of the law's unpopularity in 2013, only 34 percent called the legislation a good idea, while 50 percent said it was a bad idea. That same poll showed that 26 percent of Americans wanted the whole law nixed entirely.
Republicans are wrestling with how to fulfill President Donald Trump's campaign promise to roll back the law without eliminating its most popular components. That task has been further complicated by rowdy town hall meetings in lawmakers' home districts as the health care policy' defenders challenge members of Congress to describe their as-yet unclear alternative plans.
Among Republicans, 19 percent say the law needs minor modifications, 52 percent say it needs a major overhaul and 28 percent say it needs to be completely eliminated. Less than one percent say it's working well in its current form.
In contrast, nine percent of Democrats say the law is working well as-is and fully two-thirds say that the law requires only small changes.
The NBC/WSJ survey indicates that the public doesn't have particularly strong faith in the GOP's ability to come up with a better health care proposal if the law popularly known as Obamacare is replaced.
Thirty-one percent of Americans say they have a "great deal" or "some" confidence that the Republican alternative to the law would make things better, while 22 percent have mixed opinions and 34 percent have little or no confidence in the GOP's plan.
Amidst the emotional debate about Obama's health care law, four-in-ten Americans say they have not been personally affected by it.
Overall, 24 percent of Americans say they and their family have been helped by the law, 30 percent say they have been hurt and 42 percent say the law has had no impact on them.