DES MOINES, Iowa — Maryland Gov. Martin O'Malley took on the role of cheerleader in the all-important early presidential nominating state of Iowa on Saturday morning, helping to rally Democrats at their state convention.
"On to victory, on to November, on to a stronger country for our kids," the governor told a few hundred delegates at the Iowa Democratic Party state convention after listing off all of the candidates he hopes to win come November.
Watch NBC Nightly News tonight for more on border security
"The best tribute you can give to Tom Harkin's work is to elect Bruce Braley the next United States Senator," he said referring to the key senate race in November when Congressman Braley squares off against Republican State Senator Joni Ernst.
It may only be the first day of summer 2014 but O'Malley, a potential 2016 presidential candidate, is making a two-day swing thru the first-in-the-nation caucus state. Hillary Clinton, the clear Democratic favorite for a 2016 bid, meanwhile, is on her cross-country book tour.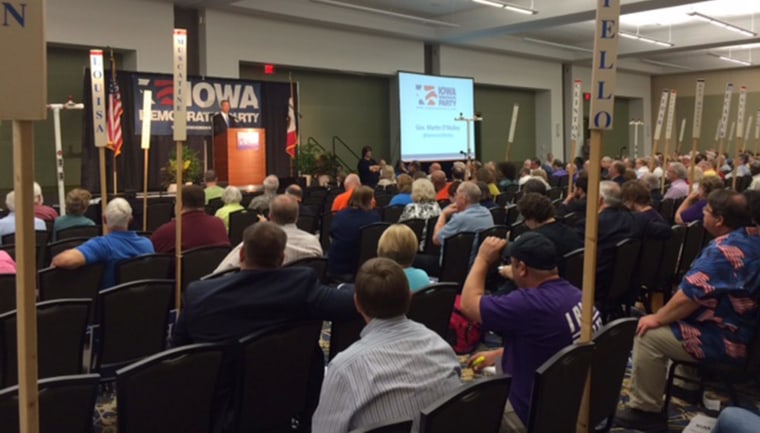 O'Malley gave no hints about his presidential ambitions during his Saturday morning convention speech, but there were stump speech undertones.
"I want to talk with you about the story of us — the story of Baltimore and Iowa, the story of Maryland and America," he said.
The Maryland governor introduced himself to Iowans — ticking off his successes as governor and explaining how he turned the city of Baltimore around as mayor.
O'Malley, the former chairman of the Democratic Governors Association, praised President Barack Obama and attacked Tea Party Republicans as "the cynical few who have hacked our democracy."
He said that Democrats have an "urgent responsibility" to help grow jobs, build a stronger middle class, and create a better future for children.
"Hope drives belief. Belief drives action. And action achieves results," the governor said.
O'Malley was last in Iowa back in 2012, where he spoke at U.S. Sen. Tom Harkin's 35th annual steak fry fundraiser. The term-limited governor has also made an appearance in New Hampshire — another presidential testing ground — this month, keynoting the Manchester City Democratic's annual Flag Day Dinner.
Following his roughly 30-minute speech inside the Community Choice Credit Union Convention Center here, O'Malley mingled briefly with delegates — shaking hands and posing for pictures in the lobby.
One delegate asked the governor for his autograph for when "he becomes president."
"Hey, thank you," O'Malley replied with a smile.
O'Malley will spend the remainder of the day campaigning in Eastern Iowa with Jack Hatch, the Democratic gubernatorial candidate. The pair will make stops in Iowa City, Cedar Rapids and Dubuque.
"I'm looking forward to your next trip here," a Des Moines resident told the governor after his speech.
"So am I," O'Malley responded.