WASHINGTON — A former Chicago police officer who admitted entering the U.S. Capitol during the Jan. 6 attack claimed on the stand Thursday that he didn't recall hearing the blaring alarm that can be heard in a video he shot that day, which also shows rioters climbing out a broken window.
Karol Chwiesiuk was 29 when he was arrested in June 2021. He faces five misdemeanor charges, while his sister, Agnieszka Chwiesiuk, faces four charges.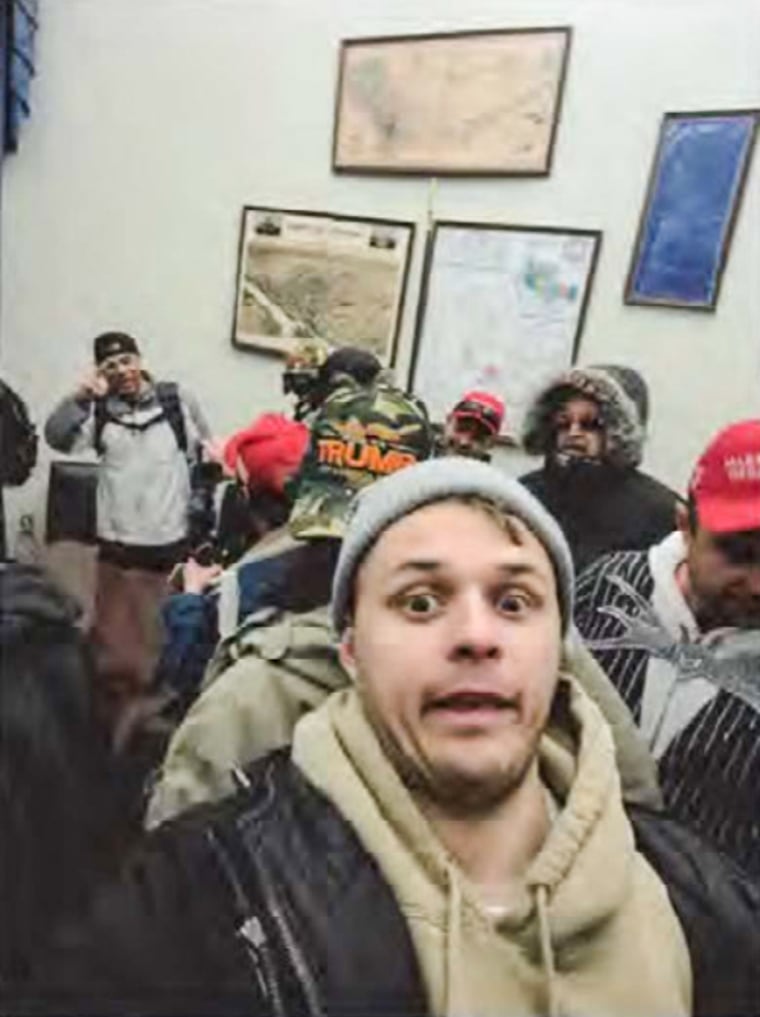 Karol Chwiesiuk testified at his jury trial Thursday that he swore an oath to the U.S. Constitution as a Chicago police officer. As a patrol officer, he said, he had policed major events but never donned riot gear.
There's no dispute about whether Chwiesiuk entered the Capitol; his defense has been trying to create reasonable doubt about whether he knew he couldn't enter.
During cross-examination, a federal prosecutor pressed Chwiesiuk about how he knew not to steal from a bank.
"Are there signs that say 'no stealing'?" Assistant U.S. Attorney Sean Murphy asked.
"I think it's implied," Chwiesiuk replied.
A video recorded by Chwiesiuk and a video that shows him and his sister just outside the Capitol doors featured an audible alarm emanating from the door they entered through. Chwiesiuk testified that he heard the "fairly loud" alarm in the videos but that he didn't recall hearing it that day because so much was going on. One of his videos featured rioters climbing out a broken window, and Chwiesiuk sent a text to an associate saying rioters "stole a lift," referring to a piece of scaffolding that might be used to clean windows or do repairs, according to court evidence.
Was there a sign on the lift that said, "Don't steal me?" Murphy asked. No, Chwiesiuk replied.
Prosecutors also presented evidence that showed Chwiesiuk took photos of the Capitol the night before the attack, which featured the security perimeter, including a selfie of himself standing in front of a sign noting that the grounds of the Capitol were restricted.
"You're just looking for trouble," his sister texted him that night.
In another message, Chwiesiuk wrote he was "actually in disbelief" that there were "so many blacks" at the pro-Trump events in Washington. Using a racial epithet, he later told his cousin "don't snitch," according to an FBI affidavit.
Chwiesiuk received emails from Ali Alexander's "Stop the Steal" organization, one of which noted there would be a rally near the Capitol to put pressure on members of Congress, according to court evidence.
"I believed he should have won," Chwiesiuk said of former President Donald Trump on the stand.
Some of Chwiesiuk's communications with his cousin gave an insight into his state of mind in the time between Trump's election loss and Jan. 6, 2021.
"Fat man child lost," his cousin wrote. "Give it up," the cousin added, noting the number of lawsuits Trump had lost.
"Didn't read," Chwiesiuk replied to his cousin. "Busy planning how to f--- up commies."