ATLANTA — Fani Willis, the Fulton County district attorney investigating Donald Trump's attempts to overturn the 2020 election in Georgia, shared a racist threat she had received as her office prepares to make charging decisions in the probe.
Willis forwarded the threat, noting it was one of many, in an email to Fulton County commissioners that was obtained by NBC News. In the email, Willis urged commissioners to "stay alert" and "stay safe" ahead of potential indictments this month.
The e-mail to commissioners, which was first reported by The Atlanta-Journal Constitution, included a copy of a profane threat Willis says she received last Friday, calling her the n-word and a "Jim Crow Democrat whore."
She describes the vulgar email as "not very unique. In fact, it is pretty typical and what I have come to expect."
"I am also aware of some equally ignorant voice mails coming in both to the county customer service and my office. I expect to see many more over the next 30 days," she wrote.
Willis emphasized last weekend that her office is "ready to go" in announcing charging decisions in a probe of Trump and his allies' attempts to overturn the 2020 election in Georgia, which she reaffirmed will come by Sept. 1.
Two grand juries have been impaneled in Fulton County that are likely to be tasked with deciding whether Trump and his allies will face election interference charges. The juries' terms end Sept. 1.
Willis told an NBC affiliate over the weekend, "The work is accomplished," adding that she has sought increased security around the county courthouse.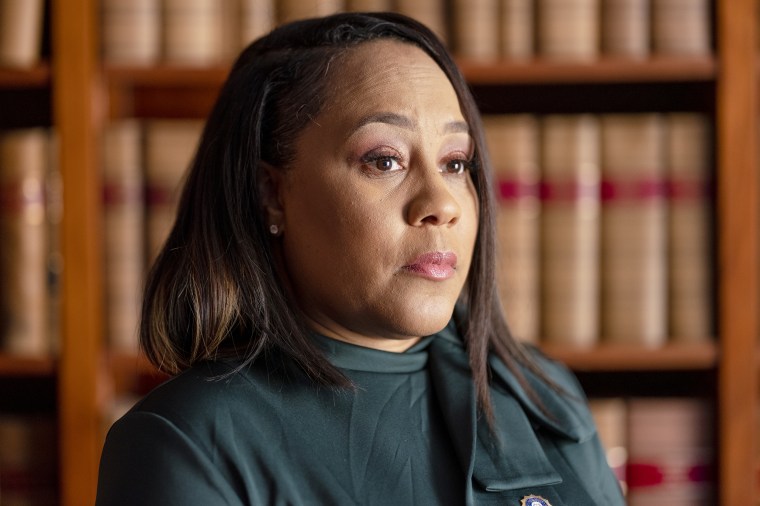 "Some people may not be happy with the decisions that I'm making," Willis said. "And sometimes, when people are unhappy, they act in a way that could create harm."
Other Fulton County officials decried the threats against Willis and said they are also preparing by increasing security and allowing some staff to work remotely, according to e-mails obtained by NBC News.
"I have every intention of doing my job," Willis wrote in her e-mail to county commissioners. "Please make decisions that keep your staff safe."