The Office of Government Ethics on Thursday sharply rebuked the White House for not disciplining top aide Kellyanne Conway for her endorsement of Ivanka Trump's clothing line during an appearance on FOX News.
Conway's comments last month — which included a plea to viewers to "go buy Ivanka's stuff" — raised questions about whether the counselor to President Donald Trump violated the ethics rule barring federal employees from using their public offices to endorse particular commercial products.
In letters Thursday to both the White House Counsel's office and top members of the Oversight and Government Reform Committee, OGE Director Walter Shaub expressed concern over the lack of discipline of Conway.
"I remain concerned about Ms. Conway's misuse of position," Shaub wrote to the White House. "Not taking disciplinary action against a senior official under such circumstances risks undermining the ethics program."
Shaub also said he was disturbed by the White House's "extraordinary assertion" that many of OGE's regulations don't apply to White House employees.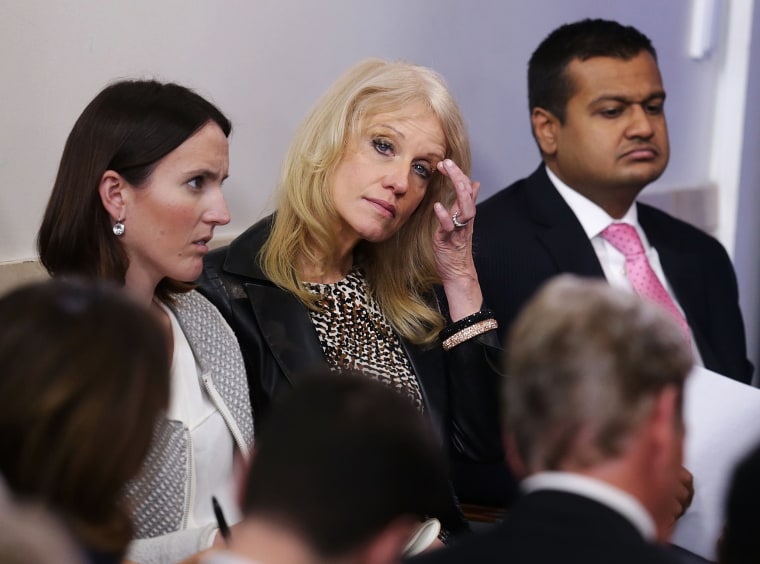 "The assertion is incorrect ... Presidential administrations have not considered it appropriate to challenge the applicability of ethics rules to the entire executive branch. It is critical to the public's faith in the integrity of government that White House employees be held to the same standard of ethical accountability as other executive branch employees."
The White House previously responded to the OGE inquiries into the TV appearance by announcing there would be no punishment of Conway. Stefan Passantino, Deputy Counsel to the President, deemed the comments inadvertent and said they were unlikely to happen again.
"It is noted that Ms. Conway made the statement in question in a light, off-hand manner while attempting to stand up for a person she believed had been unfairly treated and did so without nefarious motive or intent to benefit personally," Passantino said.
Conway touted Ivanka Trump's brand after Nordstrom department stores dropped the First Daughter's clothing and accessories line.
"I'm going to give a free commercial here," Conway said on Fox. "Go buy it today, everybody."
She immediately came under fire from ethics watchdogs and Democrats, who called it an explicit endorsement of a commercial product from the White House.
White House Press Secretary Sean Spicer said afterward that Conway had been "counseled" about the comments.