President Donald Trump stressed his desire to broker a peace deal in the Middle East as he was joined Wednesday at the White House by Palestinian Authority President Mahmoud Abbas.
Trump offered himself as a "mediator, arbiter or facilitator" to help reach a peace agreement between Israel and Palestine, but said, "Any agreement cannot be imposed by the United States or any other nations."
Despite the decades of failed efforts to achieve a lasting peace in the region, Trump said his administration has a "very, very good chance" to get it done. "And I think you feel the same way," Trump said to Abbas, standing next to him.
Trump noted that over the course of his life he'd heard "that perhaps the toughest deal to make" is the one between Israel and Palestine. "Let's see if we can prove them wrong, okay?" he said, concluding a joint statement with his Palestinian counterpart.
But sitting down to lunch several minutes later, Trump wondered if maybe it wouldn't be so tough after all. "Let's see if we can find the solution. It's something, frankly, maybe not as difficult as people have thought over the years. But we need two willing parties."
At one point, Abbas, who read a statement in Arabic, said in English, "We have hope."
The leaders did not take questions from reporters.
For his part, Abbas echoed the hope for peace, stipulating peace "based on the vision of the two-state" solution, with Palestine's capital in East Jerusalem.
He emphasized that negotiations should include refugees, prisoners and borders.
"It's time for Israel to end its occupation of our people and of our land," Abbas said.
The meeting comes amid the Trump administration's efforts to lay the groundwork for brokering a lasting peace between Palestine and Israel.
One White House official, speaking on condition of anonymity, told NBC News earlier on Wednesday that the Trump-Abbas meeting would center around moving toward a "path to peace," as well as "rehabilitating" the relationship between the United States and the Palestinian Authority.
Trump also was expected to press Abbas to stop payments by the Palestinian Liberation Organization to families of militants jailed by Israel, a move that Israeli Prime Minister Benjamin Netanyahu has also called for.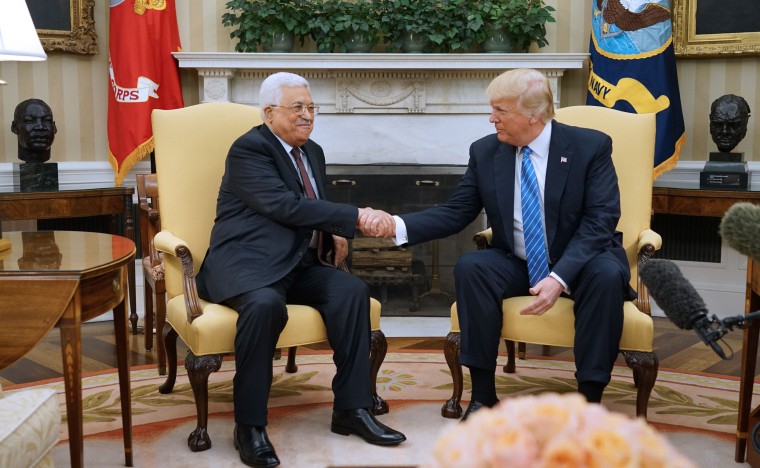 Just last week, Trump spoke about his desire for peace in the Middle East, telling Reuters that "there is no reason there's not peace between Israel and the Palestinians — none whatsoever."
He has charged son-in-law and senior adviser Jared Kushner with a key role in the effort — just one part of Kushner's sprawling White House portfolio — as well as enlisting former Trump Organization executive Jason Greenblatt, now a special representative for international organizations.
Trump has repeatedly called himself a friend of Israel, with a close relationship to Netanyahu. Still, Trump chastised Israel in February, asking the Israeli prime minister to "hold back on settlements" being built in the occupied West Bank.
While Trump is committed to peace, his rhetoric on what it would take to get it has sometimes wavered on the idea of a two-state solution and bucked orthodox foreign policy premises.
During a joint press conference with Netanyahu at the White House in February, Trump said he was "looking at two-state and one-state, and I like the one that both parties like."
"If Israel and the Palestinians are happy, I'm happy with the one they like the best," he said, standing next to Netanyahu.
He also gave early warning that both sides will have to negotiate — and give in on certain points.
"It is the parties themselves that must directly negotiate. Both sides will have to make compromises," he said, directing a question at Netanyahu: "You know that, right?"
Trump has also said he's looking "very strongly" at moving the American Embassy in Israel to Jerusalem from Tel Aviv — a promise that appears to be inscribed on Chief Strategist Steve Bannon's white board, but which has yet to be undertaken.
"For us the most important thing in this meeting is that it will allow a Palestinian perspective," Ghassan Khatib, a professor of political science at Birzeit University in the West Bank, told NBC News. "The current American president is very familiar with the Israeli side and is constantly in touch with the Israeli point of view, but is a stranger to the Palestinian narrative."