The gift was a symbol of the French-American bond — an oak sapling from a World War I battle site where France and the United States fought the Germans.
French President Emmanuel Macron brought it during his White House visit last week and, with cameras clicking, planted it with President Donald Trump on the South Lawn. But by the end of the week, photographs appeared to show that the tree had vanished.
It was replaced by grass, its whereabouts unknown.
Hoping to shed light on the arbor's sudden exit, France's ambassador to the United States, Gérard Araud, tweeted Sunday afternoon that the tree actually had to be quarantined — as required by U.S. agricultural rules — and will be replanted at a later time.
The White House didn't earlier respond to a request for comment, nor did Customs and Border Protection, which inspects plants at points of entry. The Agriculture Department, which monitors diseases from invasive species, also didn't comment.
William Fountain, a professor of arboriculture at the University of Kentucky, correctly surmised on Sunday that the sapling — a variety of oak not native to the United States — would have been quarantined if it was brought to the United States by diplomats and not subject to typical agricultural inspection.
Araud did not specify how the tree was delivered to the U.S.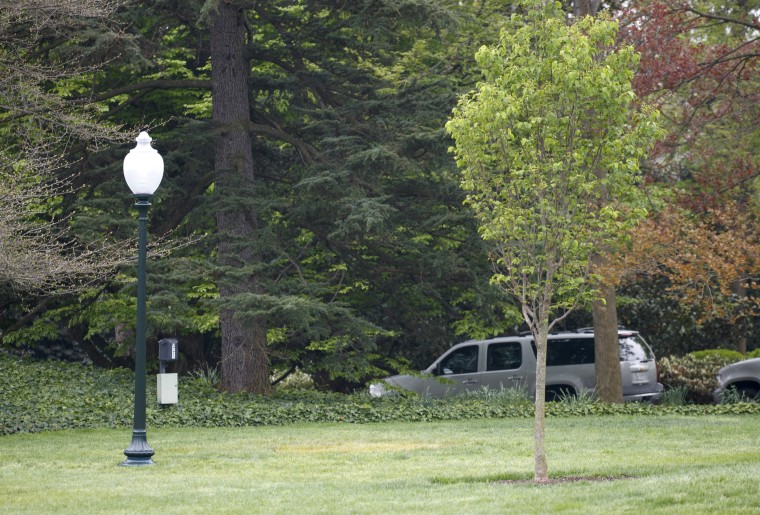 Fountain said the sapling was likely placed in a sealed area at the National Arboretum in Washington, where it could remain for as long as 90 days.
"They're probably looking to see if it has any kinds of problems," he said in an interview. "They're looking for bacterial or fungal infections or cankers" — open fungal wounds found on tree trunks.
It's unlikely that Macron's gift, a Durmast oak, brought the sorts of parasites or diseases that can wreak havoc on a non-native landscape's environment, Fountain said, adding that temperatures have probably been too cold for fungus or insects to survive.
"If they came out and got this plant material, they were just doing their due diligence," he said. "They're following the rules of the USDA."