Michael Jordan didn't travel the easiest of roads en route to becoming a college basketball star and an NBA legend.
And certain obstacles put a chip on his shoulder that, while it long since seems to have vanished, helped shape the athlete's drive and competitive spirit moving forward, according to "Michael Jordan: The Life," a new biography about the six-time NBA champion by sportswriter Roland Lazenby that hit shelves Tuesday.
"I considered myself a racist at the time"
Per an excerpt from the book, Jordan told Lazenby that he was suspended from school in 1977 after throwing a soda at a girl who called him the N-word.
"So I threw a soda at her," Jordan's quoted as saying. "I was really rebelling. I considered myself a racist at the time. Basically, I was against all white people."
PHOTOS: 2014 NBA All-Star Game celeb sightings
Lazenby told Sports Illustrated that it appeared that the root of Jordan's animosity came from growing up in an area of North Carolina where the Ku Klux Klan once had a large presence.
"I've been to North Carolina hundreds of times and enjoy it tremendously, but North Carolina was a state that had more Klan members than the rest of the Southern states combined," the author said. "As I started looking at newspapers back in this era when I was putting together [Michael's great-grandfather] Dawson Jordan's life, the Klan was like a chamber of commerce. It bought the uniforms for ball teams, it put Bibles in all the schools. It may well have ended up being a chamber of commerce if not for all the violence it was perpetrating, too. A lot of the context just wasn't possible to put it in a basketball book. A lot of it ended up being cut."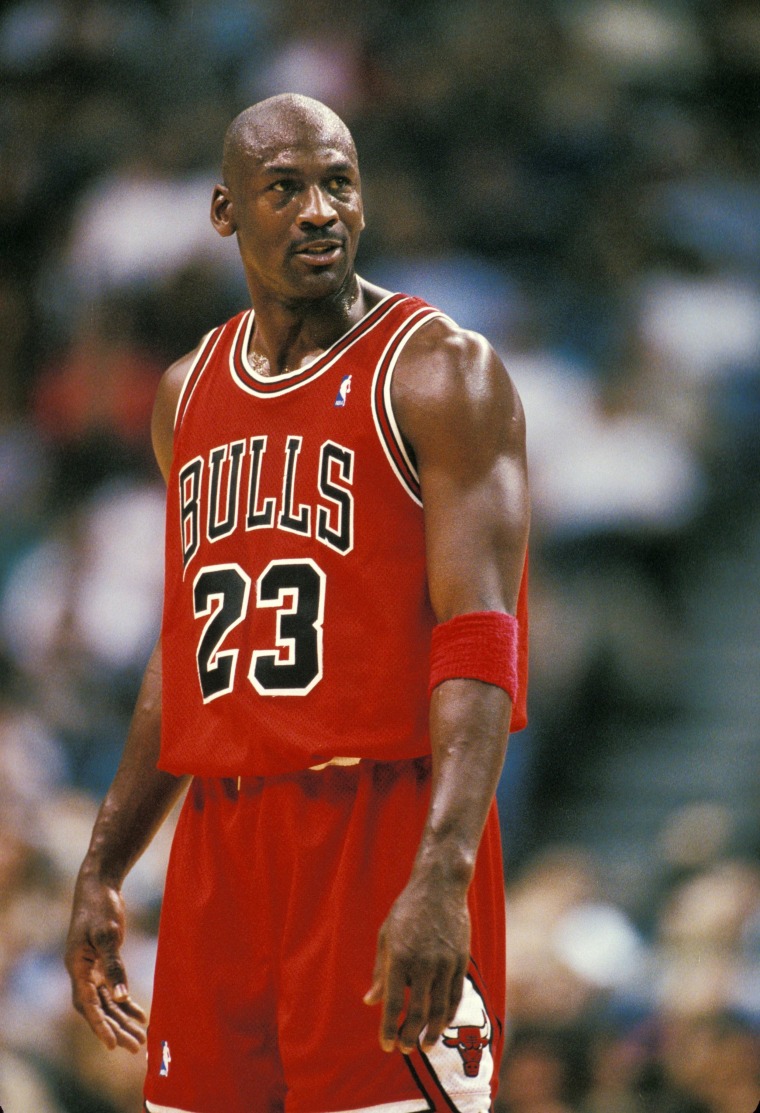 Jordan's story is "an economic story," Lazenby continued. "It's a black power story. It doesn't come from politics or protests, it comes right off the Coastal Plain of North Carolina and out of the African-American experience."
Following the release online of remarks made by L.A. Clippers owner Donald Sterling in which he told friend V. Stiviano that he didn't want her posting pictures of herself with black people on Instagram or bringing black people with her to Clippers games, Jordan quickly released a statement unequivocally supporting swift and decisive action from the NBA.
"As a former player, I'm completely outraged," the NBA Hall of Famer said. "There is no room in the NBA--or anywhere else--for the kind of racism and hatred that Mr. Sterling allegedly expressed. I am appalled that this type of ignorance still exists within our country and at the highest levels of our sport. In a league where the majority of players are African-American, we cannot and must not tolerate discrimination at any level."
After NBA Commissioner Adam Silver banned Sterling for life from further association with the league and encouraged other team owners to come together to force the 80-year-old real billionaire to sell the Clippers, Jordan applauded the "swift and decisive response."
The recently remarried father of five said: "[Silver] sent a powerful message that there can be zero tolerance for racism and hatred in the NBA. I'm confident that the league, our players and our fans will move on from this stronger and more unified."