Scotty Moore, a pioneering rock guitarist best known for backing Elvis Presley as a member of his original band and into superstardom, died Tuesday at the age of 84.
Moore's website late Tuesday confirmed his death, which was first reported by the Commercial Appeal newspaper of Memphis, Tennessee.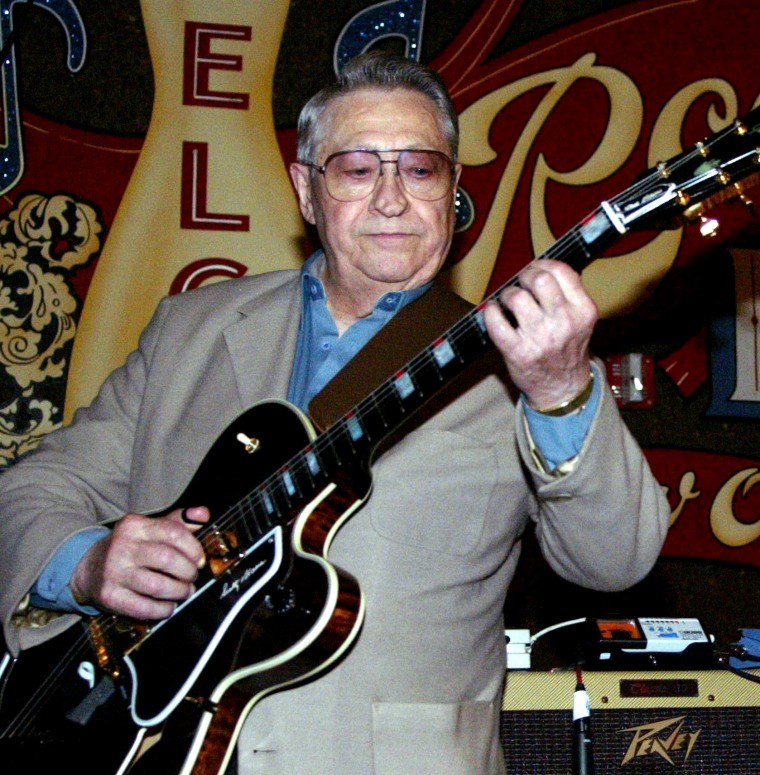 Moore, who played on Presley's first hit, "That's All Right (Mama)," as well as such singles as "Heartbreak Hotel" and "Hound Dog," died in Nashville, Tennessee, after several months of poor health, the newspaper said.
"We lost one of the finest people I have ever met today," Matt Ross-Sprang, an engineer at the Sun Studio in Memphis, said on Instagram. "The guitarist that changed the world ... especially mine; I hope you don't mind if I keep stealing your licks."
Moore, who was born in Gadsen, Tennessee, and began playing the guitar at age 8, was recruited for Presley's band by legendary producer Sam Phillips in 1954. It was that band — dubbed the Blue Moon Boys, with Moore, bassist Bill Black and drummer D.J. Fontana — that backed Presley over much of the next decade on the songs that earned him the title of the King of Rock 'n' Roll.
Moore was inducted into the Rock and Roll Hall of Fame in 2000. The Commercial-Appeal reported that services were scheduled for Thursday in Humboldt, Tennessee.