When the Beatles had to "Get Back" across Abbey Road, who knew that they were being photographed going in the opposite direction from that shown on their 1969 album cover?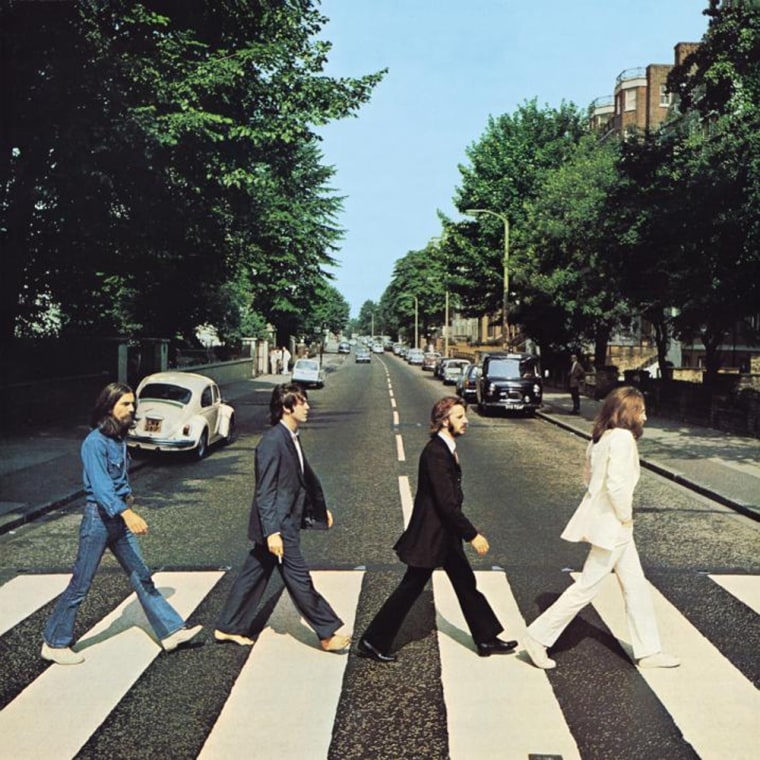 A rare image now headed for auction is one of just six taken during a 10-minute photoshoot of the Fab Four outside Abbey Road studios in St. John's Wood, northwest London. The photo is expected to fetch up to $14,000 when it's offered on May 22.
In the original image, John Lennon (in his white suit) leads the group from left to right in a crosswalk. A Volkswagen Beetle sits in the background. Ringo Starr follows Lennon. Behind him is a barefoot Paul McCartney and George Harrison brings up the rear. (Want to read more than you ever cared to about why McCartney being barefoot and out of step with the others is actually a clue to his covered-up 1966 death? Do an Internet search of "Paul is dead.")
In the image up for sale, Lennon leads his bandmates from right to left. Aside from posture and spacing differences, the biggest treat for hardcore fans is that McCartney is seen wearing sandals on his feet.
According to The Guardian website, a police officer held up traffic as the late photographer Iain Macmillan shot the band from a ladder in the street. The Guardian quotes Sarah Wheeler of Bloomsbury Auctions in London: "The photo has been called an icon of the 1960s. I think the reason it became so popular is its simplicity. It's a very simple, stylised shot and is a shot people can relate to."
On The Sun website, Wheeler says Macmillan "was the chosen photographer for the shot because he was friends with Yoko Ono. Paul McCartney drew a sketch of what he wanted the front cover of 'Abbey Road' to look like."
The photo up for auction is one of 25 chromogenic prints made at the time and is being offered by a private music memorabilia collector.
News of the photo comes just a day after Rolling Stone reported that Ringo Starr, who often took candid photos of the band, says he doesn't know the location of his numerous unreleased photographs.
Do you own a great piece of rock 'n' roll memorabilia? Tell us about it on Facebook.
Related content: