Canada's new printed-polymer $5 bill has received the country's highest sendoff, altitude-wise, from International Space Station commander Chris Hadfield. Tuesday's currency-unveiling ceremony in space was just the latest in a series of achievements that have drawn attention to Canada's best-known spaceflier.
Hadfield already has made his mark as a photographer, a musician and composer, and an explainer of outer-space phenomena ranging from crying to vomiting in zero-G. There's a reason why the Bank of Canada turned to him to introduce one of the last currency notes to be converted to counterfeit-resistant polymer: One side of the $5 bill celebrates Canada's contributions to space exploration, including the space station's Canadarm2 and DEXTRE robot.
"I just want to tell you how proud I am to be able to see Canada's achievements in space highlighted on our money," Hadfield told Canadian officials via a space-to-Earth video link. Hadfield said the pictures played to Canada's strength in space robotics.
As Hadfield spoke, he plucked a bill from the wall of the station's Destiny laboratory and set it spinning in zero gravity in front of the camera. The other side of the bill has a less spacey theme: It features a portrait of Sir Wilfrid Laurier, who was Canada's prime minister from 1896 to 1911.
Bank of Canada spokeswoman Julie Girard said the outer-space ceremony was "quite a few months in the making." The polymer note was flown up to the space station with Hadfield back in December, and held in reserve for Tuesday's ceremony. "We wanted to be the first to unveil a bank note in space," she told NBC News.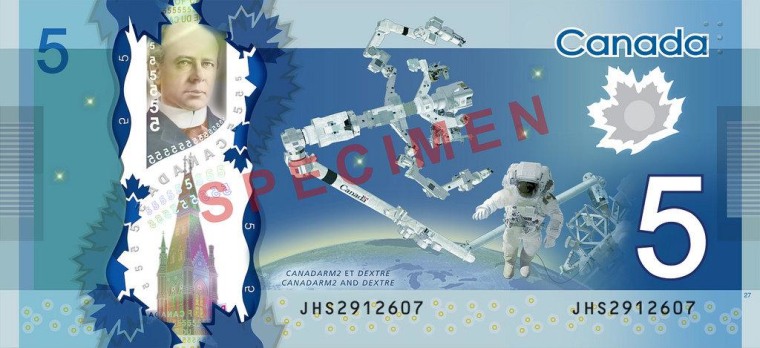 Canada's new $10 note, which commemorates the country's rail system, was unveiled at the same time in Ottawa. The $5 and $10 bills will complete Canada's conversion to polymer-based currency, tricked up with transparent areas and hologram markings to make them harder to counterfeit. The Bank of Canada says these notes should last two to three times longer than the country's cotton-based paper bank notes — and when they wear out, they can be traded in and recycled.
The new notes won't be rolled out to the Canadian public until November. That'll provide enough lead time for training clerks and law enforcement officials to get familiar with the bills. Hadfield will be back on Earth long before November: He's due to get on board the next Soyuz capsule leaving the station on May 14, alongside NASA's Tom Marshburn and Russia's Roman Romanenko.
So what happens to Hadfield's $5 bill? Girard said the astronaut will bring the note down with him, and it will eventually be put on exhibit at the Bank of Canada's currency museum.
Several of Hadfield's priceless photographs of Earth from space are already on exhibit in our latest Month in Space Pictures slideshow. Check out the pictures, plus this bonus 3-D picture of Mars from NASA's Curiosity rover. The 3-D photo was featured in our "Where in the Cosmos" contest on Facebook. Cosmic Log fan Ryan Meader was the first to report that the mountain featured in the picture is referred to as Mount Sharp (by Curiosity's science team) and Aeolis Mons (by the International Astronomical Union).
Meader says he's a long-time reader: "I think it's fair to say that I'm on the hard-core passionate end of the spectrum — so it was to my great delight that I got the jump on this little contest," he wrote.
We're delighted to send Meader a free pair of red-blue 3-D glasses, compliments of Microsoft Research's WorldWide Telescope project — and we'll have a few more spectacles to give away in the weeks to come. So click on the "like" button for the Cosmic Log Facebook page and get ready for the next "Where in the Cosmos" contest.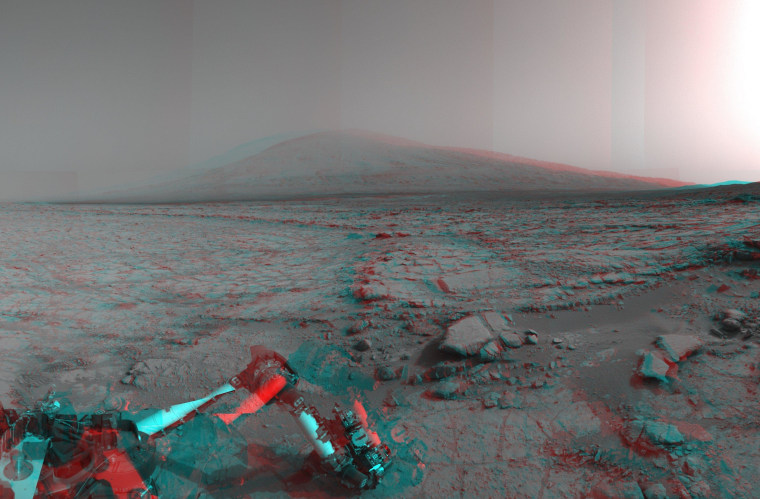 More about Canada's best-known spaceflier:
Alan Boyle is NBCNews.com's science editor. Connect with the Cosmic Log community by "liking" the log's Facebook page, following @b0yle on Twitter and adding the Cosmic Log page to your Google+ presence. To keep up with NBCNews.com's stories about science and space, sign up for the Tech & Science newsletter, delivered to your email in-box every weekday. You can also check out "The Case for Pluto," my book about the controversial dwarf planet and the search for new worlds.