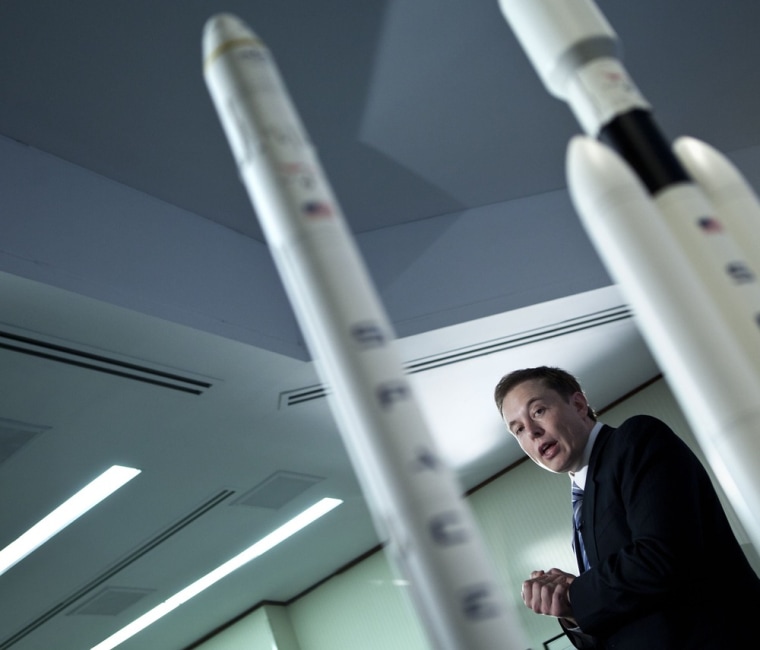 Don't expect to hear any nostalgia about the soon-to-end space shuttle era from Elon Musk, the millionaire founder of Space Exploration Technologies. Musk isn't prone to look to the past, but rather to the future — to a "new era of spaceflight" that eventually leads to Mars.
SpaceX may be on the Red Planet sooner than you think: When I talked with him in advance of the shuttle Atlantis' last liftoff, the 40-year-old engineer-entrepreneur told me the company's Dragon capsule could take on a robotic mission to Mars as early as 2016. And he's already said it'd be theoretically possible to send humans to Mars in the next 10 to 20 years —  bettering NASA's target timeframe of the mid-2030s.
You can't always take Musk's timelines at face value. This is rocket science, after all, and Musk himself acknowledges that his company's projects don't always finish on time. But if he commits himself to a task, he tends to see it through. "It may take more time than I expected, but I'll always come through," he told me a year ago.
Since that interview, a lot of things have come through for SpaceX. The company has conducted successful tests of its Falcon 9 rocket and Dragon capsule. Before the end of the year, another test flight is expected to send a Dragon craft all the way to the space station for the first time. If that test is successful, SpaceX can start launching cargo to the International Space Station under the terms of a $1.6 billion NASA contract.
The company is also in line to receive $75 million more from NASA to start turning the Dragon into a crew-worthy space taxi for astronauts by 2015 or so. And just today, the company broke ground on a California launch pad that could be used by the next-generation Falcon Heavy rocket starting in 2013.
Once the Dragon and the Falcon Heavy are in service, the main pieces would be in place for a Mars mission, Musk said.
"One of the ideas we're talking to NASA about is ... using Dragon as a science delivery platform for Mars and a few other locations," he told me. "This would be possibly be several tons of payload — actually, a single Dragon mission could land with more payload than has been delivered to Mars cumulatively in history."
SpaceX is working with NASA's Ames Research Center in California on an interplanetary mission concept that could theoretically be put into effect for a launch "five or six years from now," Musk said.
By that time, astronauts will once again be riding on U.S.-made spaceships to the space station, including the Dragon — that is, if the current schedules hold true. But there's a lot of doubt surrounding those schedules. As you'd expect, the end of the space shuttle program and the shape of spaceships to come were major themes in my conversation with Musk. Here's an edited version of the Q&A on those subjects:
Cosmic Log: A lot of people are saying that when the space shuttle stops flying, that might be the end of the American space program. The idea is that commercial spaceflight providers are not going to be able to do the job, and there won't be sustainable interest in building the beyond-Earth-orbit rocket that NASA has on the drawing board. What's your response to the claim that this is really the end?
Elon Musk: It flies in the face of the facts. Six months ago, we had the second launch of the Falcon 9 and the first launch of the Dragon. The Dragon orbited Earth twice, it performed orbital maneuvers, it made a precision re-entry under the control of thrusters, and it landed within a mile of our target. We brought the Dragon back, and it was actually in good enough condition that we could fly it again if we wanted to.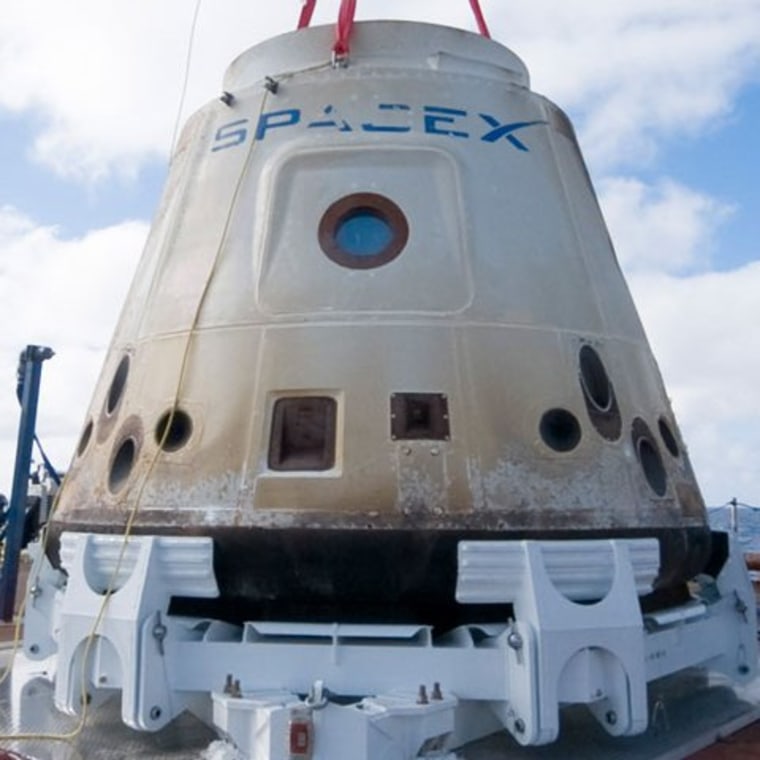 So as far as I'm concerned, it's not the death of anything. What we're really facing is quite the opposite. I think we're at the dawn of a new era of spaceflight, one which is going to advance much faster than it ever has in the past.
The space shuttle was designed in the '70s, and it really didn't improve after almost 40 years. They've upgraded the electronics here and there, but that's about it. That's incredibly static when you consider how other fields of technology have improved.
Now, with the public-private partnership that NASA has established with SpaceX, and the efforts made by other companies, we're actually going to see dramatic improvements in spaceflight technology for the first time since the '60s. The Dragon is taking technology to a whole new level beyond the shuttle.
The shuttle is fairly constrained because it's a winged vehicle with a landing gear. It can't land anywhere except Earth, and even on Earth, it can land only on certain runways. It doesn't have any ability to go beyond Earth orbit. But because the Dragon has a propulsion-based landing system and a much more capable heatshield than the shuttle's, it can land anywhere in the solar system with a solid surface — as long as you can throw it there. The Falcon Heavy can throw it pretty much anywhere in the solar system.
Q: The Dragon certainly looks different from the shuttle, and some people might get the impression that it's a step backward, back to the days of Apollo.
A: I've heard that. But I hope we can make it clear that this is actually a big step forward from the shuttle. It can do all sorts of things that the shuttle can't do. People look at something like wings and say, yeah, that's how a spaceship should look. But let's say you had a boat, and you put wheels on it and drove it down the road. It'd look pretty silly, right? Well, why do you have wings in a vacuum?
Q: One of the issues that always comes up when discussing commercial involvement in NASA spaceflight is the safety issue. A lot of the critics of your program have focused on that concern as the sticking point. NASA certainly devotes a lot of attention to safety assurance, and some say that's why it's so expensive to put humans into space. Any attempt to cut corners on that would make the whole enterprise look questionable. How do you respond to that?
A: Well, first of all, I suspect that the people saying that wouldn't have a problem flying on Southwest Airlines or driving a car or taking other types of transport that are not government-operated. The government does have a role in safety oversight, and anything we do for NASA goes through an extremely rigorous safety and liability examination. But I think what actually needs to happen is a dramatic improvement in safety. The current state of affairs with the shuttle is not acceptable at all. The shuttle's accident rate is not OK. Who would get on an airplane if you had a 1.5 percent chance of dying?
Q: Do you see any sign that NASA has different standards for oversight of commercial operations and for the shuttle program? After all, there's a whole army of engineers dealing with shuttle operations and processing.
A: I do think there are different standards. For us, the standards are higher. The shuttle, for example, has no escape system. We would not launch [astronauts on] our vehicle without an escape system, nor would NASA want us to. Also, with our vehicle, there's far less to go wrong on any given flight. With the shuttle, if anything serious goes wrong with this extremely complex vehicle, it's curtains. There's no escape. If the shuttle's level of reliability was acceptable, we could fly astronauts this year.
Q: Do you think NASA has the right vision for spaceflight? The idea is that space station resupply in low Earth orbit would be left to commercial ventures, freeing NASA up to develop the heavy-lift Space Launch System for exploration beyond Earth orbit. Some people have wondered whether the Space Launch System is really going to be necessary.
A: Personally, my view is that space transport overall should be much more of a private-public partnership, and that applies to heavy lift as well. The best use of NASA's resources is to focus on the unique scientific instruments and payloads that are truly one-off items. That's actually how it works right now for Earth-observing and space science missions. They launch the spacecraft primarily on United Launch Alliance rockets, a Delta or an Atlas. If it's a probe to Mars, or to the asteroid belt, or it's a weather satellite, it'll go up on a United Launch Alliance rocket. Obviously, in the future, they'll go up on our vehicles as well. I think that works pretty well, and I think it makes sense to extend that model to all sizes of rockets.
Q: So it sounds as if you see a role for SpaceX in exploration beyond Earth orbit. Do you see any scenario where a mission to the moon or Mars could be completely private-sector?
A: It's not out of the question. I do think missions like that are ideally handled as public-private partnerships. There are questions about how you'd pay for the missions. But the absolute goal of SpaceX is to develop the technologies to make life multiplanetary, which means being able to transport huge volumes of people and cargo to Mars. So we'll do whatever is necessary to achieve that goal.
Previously:
Connect with the Cosmic Log community by "liking" the log's Facebook page or following @b0yle on Twitter. You can also add me to your Google+ circle, and check out "The Case for Pluto," my book about the controversial dwarf planet and the search for new worlds.