NASA scientists are showing off some of the first results from a fresh crop of satellites and space station sensors designed to track the factors behind climate change and extreme weather on a near-real-time basis.
"We're really looking forward to the contributions that these new missions will make to science and to life on Earth," Peg Luce, deputy director of the Earth science division in NASA's Science Mission Directorate, said Thursday during a teleconference to discuss the results.
Some of the observing instruments are still being calibrated, but they're already providing data for weather forecasts and climate modeling, the scientists said. The latest Earth-monitoring missions include:
The GPM mission released its first global time-lapse precipitation maps, showing the patterns of rainfall and snowfall during northern summer as clouds swept from west to east in higher latitudes, and marched from east to west near the equator.
GPM project scientist Gail Skofronick-Jackson, a researcher at NASA's Goddard Space Flight Center, also showed off 3-D imagery of the winter storm system that dumped up to a foot of snow on Kentucky, West Virginia and North Carolina on Feb. 17.
"The radar, from Japan, takes three-dimensional imagery of precipitation, almost like a CT scan, like your doctor would do," Skofronick-Jackson explained. "The passive instrument, from NASA, provides intensities of precipitation, in an image like an X-ray. These show the internal characteristics of clouds and precipitation."
The readings from GPM and RapidScat are being factored into storm forecasts, including the outlook for hurricanes and other types of tropical cyclones. "RapidScat is being used even as we speak," said Brian Stiles, the mission's science processing lead at NASA's Jet Propulsion Laboratory.
The scientists behind the CATS mission released their first public image, showing clouds and particulates in a cross-section of the atmosphere over Africa on Feb. 11. In the northern part of the continent, the dominant signature was dust from the Sahara Desert. Over central Africa, the space station instrument registered cirrus clouds rising to a height of 10 miles (16 kilometers) or so. CATS also tracked the smoke rising from fires in Zimbabwe in southern Africa.
"We're continuing to see good-quality data," said CATS principal investigator Matt McGill, who is based at Goddard Space Flight Center.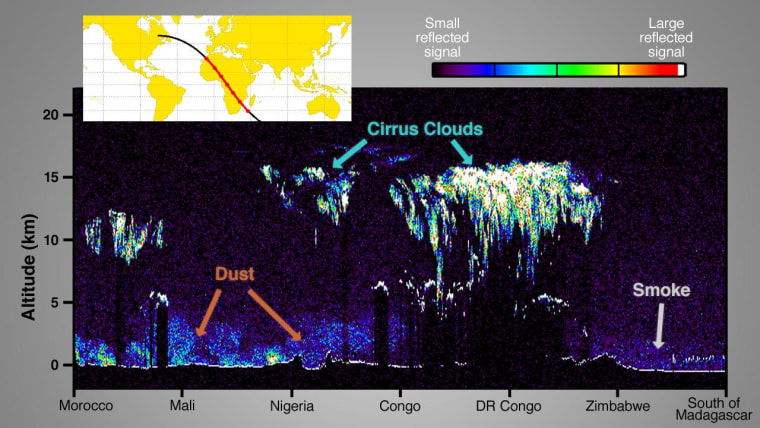 Like CATS, the SMAP mission is still gearing up for full-bore science operations. Just this week, the satellite unfurled its 20-foot-wide (6-meter-wide) reflector antenna, which will be spun up within the next month or so to begin measuring moisture levels on the planet below. The resulting readings will be factored into weather and climate models to provide better predictions for droughts and floods.
OCO-2 is focusing on a key factor behind potential climate shifts: the patterns behind emission of carbon dioxide into the atmosphere, and its removal from the atmosphere. CO2 is produced through natural processes as well as industrial processes, and it's typically removed through photosynthesis and other natural "sinks." Eventually, OCO-2 should be able to map the planet's carbon cycle in unprecedented detail.
Ralph Basilio, OCO-2's project manager at JPL, said the ultimate goal is to "improve understanding of the global climate change process and make better-informed decisions."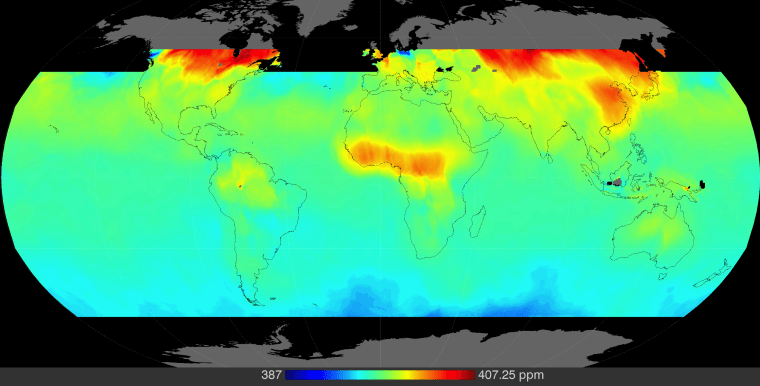 The first map from the mission shows relatively high concentrations of carbon dioxide in northern latitudes and along a band of central Africa, during a time frame running from Nov. 21 to Dec. 27. Basilio said the findings were consistent with the expectation that northern concentrations would be higher during winter, when plants are dormant and more fossil fuels are being burned for heating.
In Africa, "some of the higher CO2 levels were consistent with biomass burning," Basilio said. However, he cautioned that the readings still had to be adjusted to account for clouds, haze and dust. Over the long term, OCO-2's observations will give scientists a better handle on where the planet's CO2 is coming from — and just as importantly, where it's being removed from the atmosphere.
"We want to be able to analyze what happens to these sinks from season to season, from year to year, because we know there will be changes," Basilio told NBC News. "What's going to happen to these sinks over time? Will these sinks become saturated? Will that mean that more CO2 remains in the atmosphere, and will that mean that CO2 is going to have a greater effect on the global climate change process? These are some of the very fundamental questions that we want to be able to answer."
For more about NASA's Earth science missions, check out Thursday's briefing materials and NASA's Earth Right Now website.