CAIRO — How do you move a precious and ancient statue that weighs as much as a small elephant? Very carefully.
That's how team of experts last week shipped a 4-ton, 3,500-year-old statue of King Amenhotep seated next to the falcon-headed Egyptian god Ra. The pink granite piece, which had lain hidden in the sands of southern Egypt until it was rediscovered in 2009, was packed in a purpose-built box and carried in a heavy truck on special air bags over 400 miles.
A small crowd waiting in Cairo gathered around the box and applauded after its wooden sides were removed, revealing Amenhotep's delicately sculpted face.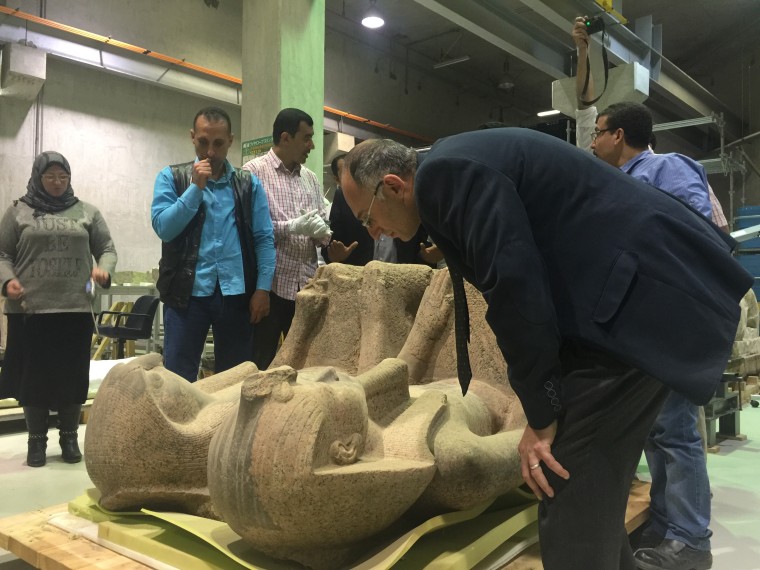 The statue, which will welcome visitors to the Grand Egyptian Museum (GEM) when it opens in 2018, traveled from the ancient pharaonic capital of Luxor with 780 other important artifacts. When all is said and done, some 50,000 pieces will be on display — 30,000 of which have never before been seen the public.
This major, and expensive, undertaking will help create what Egyptian experts and officials promise will be a world-class museum and center for the study of ancient Egypt. The museum's general director, Tarek Tawfiq, is handpicking the antiquities to create displays that will showcase the objects in their original context, and so immerse visitors in the life and times of the ancient world.
"You will be transferred to ancient Egypt and you will have an enjoyable experience through real authentic pieces," he said.
Tawfiq said each new shipment feels like a birthday. In just two years, the rest of us can join the party.