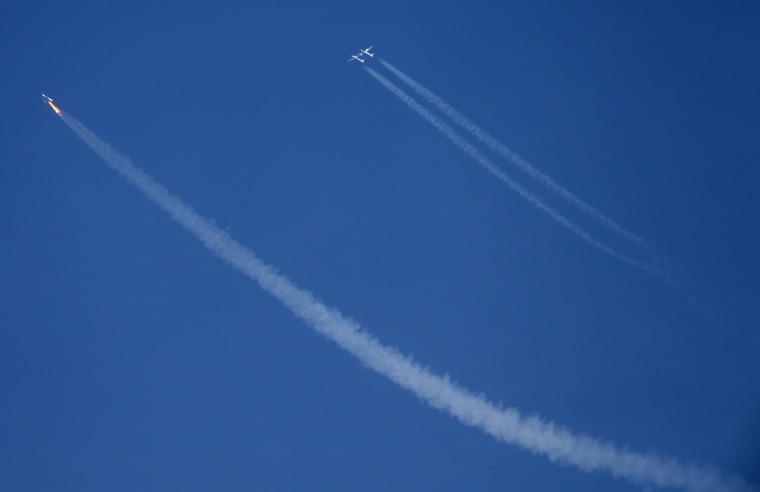 MOJAVE, Calif. — With Virgin Galactic's chief pilot behind the controls for the first time, the company's SpaceShipTwo plane reached a new high on Friday in its first supersonic rocket-powered test of 2014.
The test at Mojave Air and Space Port was aimed at setting the stage for honest-to-goodness flights into outer space later this year, and eventually for commercial space tours. 
"2014 is our year to do it for real," Mike Moses, a former space shuttle manager who now serves as Virgin Galactic's vice president of operations, told NBC News.
SpaceShipTwo now has three rocket-powered test flights under its belt, in addition to 27 unpowered gliding flights. This time, Virgin Galactic said the 27-foot-wide winged craft went to an altitude of 71,000 feet — just beating out its previous record of 69,000 feet, set last September. Both tests involved a 20-second engine burn, boosting the plane's speed to a maximum velocity of Mach 1.4.

Moses said SpaceShipTwo went a little higher this time just because the flight profile was slightly different. "I'm sure there's a pilot competition," he joked.
This time around, Virgin Galactic and Mojave-based Scaled Composites, the plane's builder, tested a new reflective coating on the rocket plane's tail booms. The flight also marked the first tryout for a thruster system that's designed to keep the plane on course when it's above the atmosphere. Virgin Galactic said all of the test objectives were met.

Virgin flight for chief pilot
Another new twist had to do with the people behind the controls. This was the first time that a Virgin Galactic pilot sat in the cockpit for a rocket-powered flight. During the previous two powered tests, all of the flying was done by Scaled Composites' test pilots.

In a post-flight statement, Virgin Galactic chief pilot David Mackay said the flight was a "dream come true."
"I have watched SS2 evolve over the years into an incredible vehicle that is going to open up space to more people than ever before," Mackay said. "To be behind the controls and fly it as the rocket ignited is something I will never forget. She flew like a champ."
Scaled Composites test pilot Mark Stucky was beside Mackay in the cockpit. Meanwhile, Virgin Galactic's Mike Masucci and Scaled's Mike Alsbury were at the controls of SpaceShipTwo's mothership, WhiteKnightTwo. 
Virgin Galactic's CEO, George Whitesides, said the flight was "another resounding success."
"We focused on gathering more transonic and supersonic data, and our chief pilot, Dave, handled the vehicle beautifully," he said in Virgin's post-flight statement. 
Friday's flight was a scaled-down version of the experience that Virgin Galactic's passengers could enjoy as soon as this year. Almost 700 people, including celebrities like Katy Perry and Justin Bieber, have already made reservations. The current ticket price is $250,000.
For the first leg of the test flight, SpaceShipTwo was slung beneath the twin-fuselage WhiteKnightTwo. The paired planes took off from the Mojave airport at 7:20 a.m. PT (10:20 a.m. ET) and rose to a height of 46,000 feet. Then it was time to unhook SpaceShipTwo for the rocket blast.
Seconds after the release, SpaceShipTwo fired up its hybrid rocket engine and blasted upward and away from WhiteKnightTwo. After the burn, the plane continued coasting into a clear sky while Mackay tried out the thrusters. Then the pilots angled SpaceShipTwo's wings into a configuration designed to ensure a safe, stable descent.
A few minutes later, the wings were straightened again, and the plane glided back to a landing on Mojave's 12,000-foot runway. WhiteKnightTwo made its own landing minutes later.
Step by step to space
Virgin Galactic's test program calls for a step-by-step progression of flights that eventually cross the boundary of outer space, at an altitude of 100 kilometers (62 miles).

At that height, up to six passengers could float free in weightlessness for a few minutes, and look out the windows to see jaw-dropping views of a curving Earth beneath the black sky of space. SpaceShipTwo's pilots would use the thruster system that was tested Friday to maneuver the plane for the best views.
PhotoBlog: Must-see pictures of SpaceShipTwo in flight
SpaceShipTwo is a scaled-up version of SpaceShipOne, a rocket plane that won the $10 million Ansari X Prize for private spaceflight in 2004 in Mojave and is now hanging in the Smithsonian's National Air and Space Museum.
Although the current test program is being conducted in Mojave, Virgin Galactic's operations are expected to shift to Spaceport America in New Mexico for passenger flights. The company's British-born billionaire founder, Richard Branson, has promised to take a seat along with his son, Sam, on the first passenger flight. 
"I couldn't be happier to start the New Year with all the pieces visibly in place for the start of full spaceflights," Branson said. "2014 will be the year when we will finally put our beautiful spaceship in her natural environment of space."
More about Virgin Galactic:
NBCUniversal has established a multi-platform partnership with Virgin Galactic to track the development of SpaceShipTwo and televise its inaugural commercial spaceflight. Virgin Galactic is owned by Branson's Virgin Group and Abu Dhabi's Aabar Investments PJS.
Alan Boyle is NBCNews.com's science editor. Connect with the Cosmic Log community by "liking" the NBC News Science Facebook page, following @b0yle on Twitter and adding +Alan Boyle to your Google+ circles. You can also check out "The Case for Pluto," my book about the controversial dwarf planet and the search for new worlds.