It's not often that bugs get whoops and cheers.
Lovers of science got their day in the rain Saturday as they rallied around their passions, delivering applause for the technology that brought their smart phones to the obvious theme of climate change on Earth Day.
And while the March for Science was on the surface nonpartisan, politics bubbled up again and again.
"Insects don't see borders and they can climb walls," Jessica Ware, an evolutionary biologist at Rutgers University, said to applause.
"We must teach our children about evolution. We must teach our children to love insects and arachnids," Ware said, to howls of approval.
Because it was a march, protest signs abounded, from the funny ("I just came for the pi" and "Without science, it's just fiction" ) to the sincere ("Science Saves Lives").
Rain poured on the marchers crowding the Mall but they stood patiently to clap and holler for a procession of speakers giving minute-long soundbites.
Related: Science Lovers Hit Streets to Demand Respect and Funding
Bill Nye, a television science entertainer and educator, noted that "science and the useful arts" are embedded in the Constitution.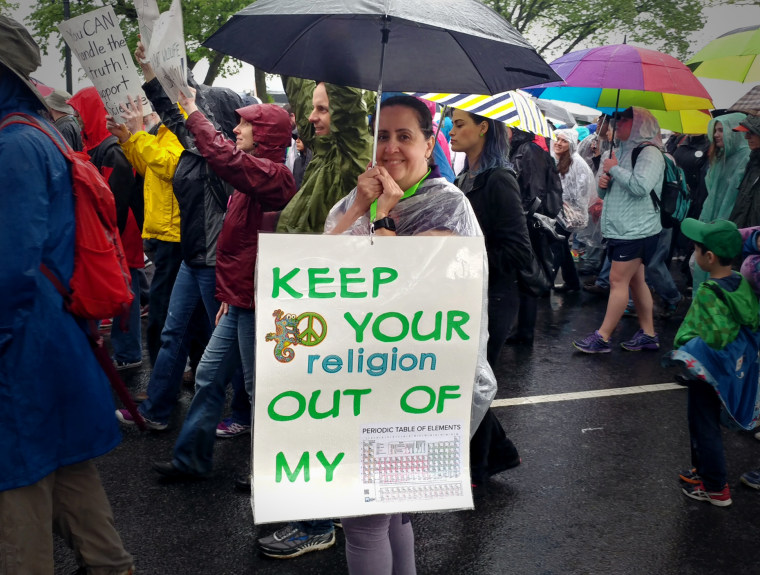 "Yet today we have active politicians deliberately ignoring and actively suppressing science. Their information is misguided," he said.
"Our numbers here today show the world that science is for all."
Some March for Science speakers invoked patriotism and love of country as their motivation. "I am a patriot. I fight for spacious skies. I fight for amber waves of grain," said photographer James Balog, founder of the Extreme Ice Survey and Earth Vision Institute.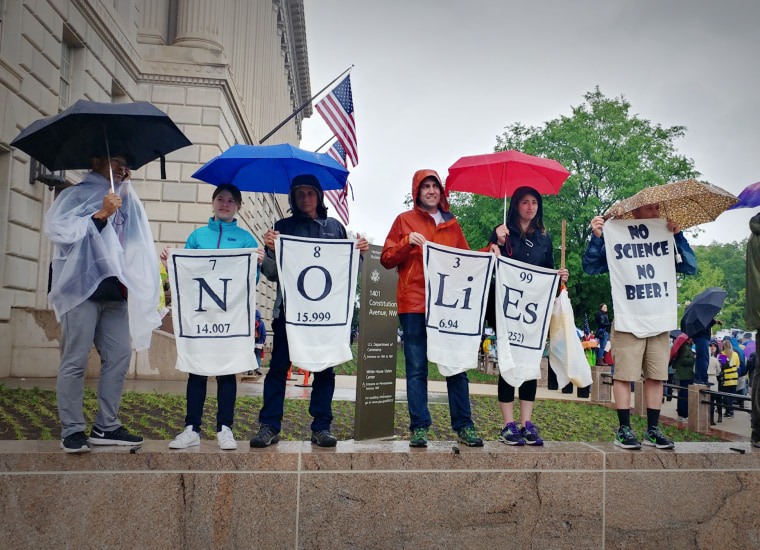 The National Mall is a national park and the Park Police do not give official crowd estimates. It's this lack of an official estimate that caused controversy when President Donald Trump claimed he had far larger numbers on his inauguration day than former President Barack Obama did — although numerous photographs appeared to show the opposite.
Related: Trump Cuts to Medical Research Will have Devastating Effects
But on Saturday, NBC News estimated that at least 10,000 turned out for a dreary Washington morning, and many thousands more showed up at satellite demonstrations. Organizers of the march listed 610 satellite marches around the world, from London to Guam.
And while much of the rally and march celebrated science, participants were also clear about who and what they were protesting.
"We are in a system where science is thought of as a joke or a belief," said Cody Eckert, a consultant from Arlington, Virginia who led chants as the cheering crowd marched along Constitution Avenue between the White House and the Washington Monument.
"But science is facts and it's reality. To deny reality and deny facts is absurdity and I refuse to live in a system that's absurd," Eckert told NBC News.
"America has had 45 presidents but it has never before had a president who is completely indifferent to the truth," said Denis Hayes, president of The Bullitt Foundation and a coordinator of the first Earth Day in 1970.
Trump has been largely silent about climate change since he took office but has called it a hoax in the past. He has also proposed sweeping budget cuts to the Environmental Protection Agency.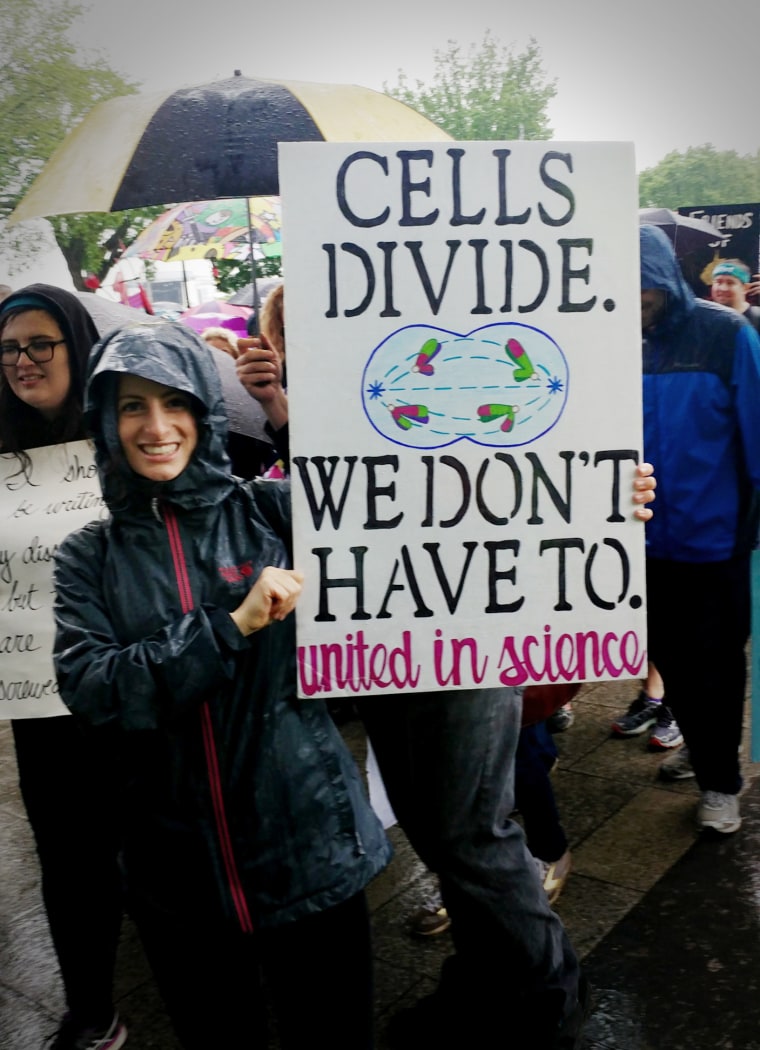 "Rigorous science is critical to my administration's efforts to achieve the twin goals of economic growth and environmental protection," the president said in a statement released on Earth Day.
"I am a patriot. I fight for spacious skies. I fight for amber waves of grain."
"My ddministration is committed to advancing scientific research that leads to a better understanding of our environment and of environmental risks," the statement added. "As we do so, we should remember that rigorous science depends not on ideology, but on a spirit of honest inquiry and robust debate."
Organizers of the march said they are concerned about Trump's proposed budget cuts to health and science, and his appointment of Cabinet officials who appear to question scientific consensus about climate, weather and international agreements to reduce greenhouse emissions.
"We are at a dangerous moment in our nation's history when science and scientists are under attack, when the very words 'climate change' are being censored," artist and environmentalist Maya Lin told the crowd.
"If you want America to succeed, Donald Trump, you can't lead with your brain tied behind your back," said Shawn Otto, author of "The War on Science." "Climate change is real; vaccines don't cause autism."