Barack Obama wants to take one more giant leap for mankind — this time to Mars.
The president announced Tuesday that the U.S. is partnering with private firms with the goal of "sending humans to Mars by the 2030s and returning them safely to Earth, with the ultimate ambition to one day remain there for an extended time."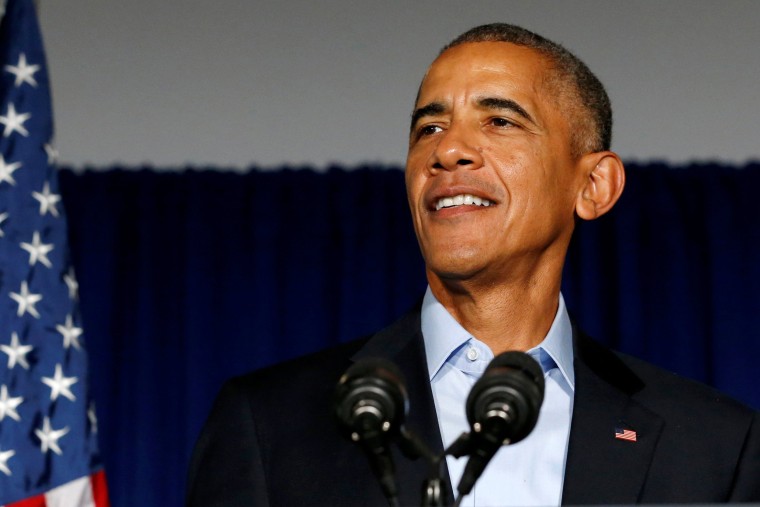 "This week, we'll convene some of America's leading scientists, engineers, innovators and students in Pittsburgh to dream up ways to build on our progress and find the next frontiers," Obama wrote in a CNN op-ed announcing his plans.
The public-private partnerships will come together at the White House Frontiers Conference, a science and technology convention co-hosted with the University of Pittsburgh and Carnegie Mellon University. Obama will go to the conference on Thursday.
Obama has long made space exploration a priority of his administration. He first challenged NASA to send American astronauts to Mars in a 2010 speech at the Kennedy Space Center.
"I expect to be around to see it," he said at the time.
Related: Elon Musk Makes His Case for Colonizing Mars
Since then, NASA has laid the groundwork for deep space missions, the White House said in a statement on Tuesday.
"For humanity to successfully and sustainably settle the 'final frontier', we will need to take advantage of investment and innovation in both the public and private sectors. Neither will handle this immense challenge on its own," the statement said. "Make no mistake, the Journey to Mars will be challenging, but it is underway and with each one of these steps, we are pushing the boundaries of exploration and imagination for the Nation."
Last year, researchers discovered strong evidence of flowing water on Mars — a finding that indicated the possibility of life on the Red Planet. NASA has sent its Curiosity rover to Mars and taken detailed photos of the planet, but the idea of humans stepping foot on Mars has so far only been confined to science fiction stories.
More than 1,000 companies across the country are already working on private space initiatives, Obama wrote in his op-ed. Within the next two years, the companies will, for the first time, send astronauts to the International Space Station, and "the next step is to reach beyond the bounds of Earth's orbit."
Related: 'Space Brain': Mars Explorers May Risk Neural Damage, Study Finds
Obama's ambitions come just a day after researchers published a study that found astronauts making the years-long journey to Mars may get brain damage from all the cosmic radiation to which they would be exposed.
"Our data provide additional evidence that deep space travel poses a real and unique threat to the integrity of neural circuits in the brain," said the report in Nature journal Scientific Reports.