A NASA astronaut, a Russian cosmonaut and a record-setting Italian spaceflier left the International Space Station and landed back on Earth on Thursday after spending a longer-than-expected 199 days in orbit.
NASA's Terry Virts, Russia's Anton Shkaplerov and Italy's Samantha Cristoforetti sailed away in a Russian Soyuz space capsule right on time, at 6:20 a.m. ET, as part of a regular crew changeover. They touched down amid the steppes of Kazakhstan at 9:44 a.m. ET.
"It was a textbook homecoming," NASA commentator Rob Navias said.
After the landing, the three crew members were helped out of the capsule and set down in chairs to adjust to Earth's gravity. "I feel really good," Virts told the recovery team. "A cold water would be nice."
The spacefliers were taken to a medical tent for checkups, and within days they'll be back in their respective homes.
During the 199 days, Virts took part in three occasionally tense spacewalks to get the station ready for the arrival of U.S.-made spaceships a couple of years from now. The crew dealt with hundreds of scientific experiments, sipped the first espresso made in zero-G, and handled three robotic cargo deliveries — two by SpaceX Dragon capsules, and one by a Russian Progress craft.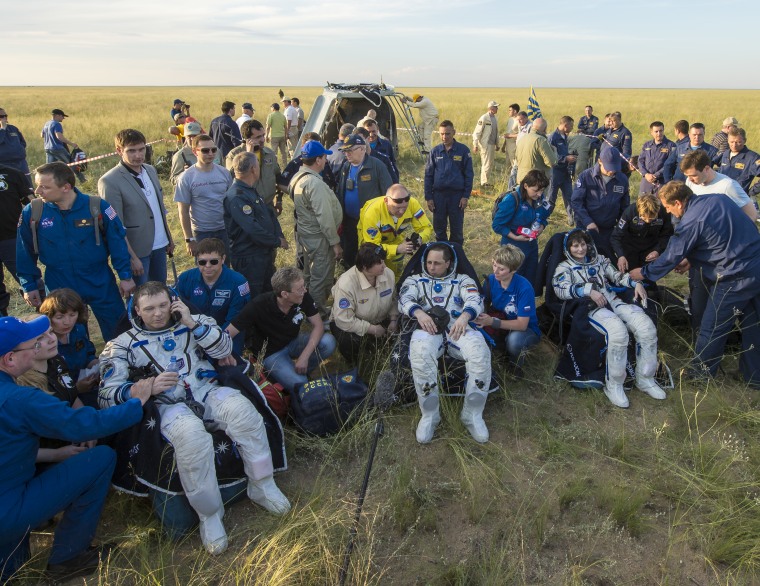 The trio's return was delayed for nearly a month due to problems with a different Progress cargo ship in April. The craft was sent into a faulty orbit due to the failure of a Soyuz rocket and eventually burned up in Earth's atmosphere. The Russians didn't want to proceed with the station crew changeover until they finished investigating the mishap. Last week Russia launched its first Soyuz rocket since the failure.
The next three spacefliers are now scheduled to launch in another Soyuz capsule in late July.
The delay kept Cristoforetti in orbit long enough to set a space endurance record for women astronauts, surpassing the 195-day mark set by NASA's Sunita Williams in 2007. The record for male astronauts is 437.7 days, set by Soviet cosmonaut Valery Polyakov in 1995.
Three other astronauts remain on duty on the station: the outpost's new commander, Russian cosmonaut Gennady Padalka; and Russia's Mikhail Kornienko and NASA's Scott Kelly, who are in the midst of a nearly yearlong stay in orbit.