Two days after missing out on a quick trip to the International Space Station, three spacefliers made a late but trouble-free arrival on Thursday.
"A flawless approach, a flawless docking," NASA spokesman Rob Navias declared after the crew's Russian Soyuz spacecraft hooked up to the station's Pirs docking module at 7:53 p.m. ET, five minutes ahead of schedule.
The spaceship carried NASA astronaut Steve Swanson and Russian cosmonauts Alexander Skvortsov and Oleg Artemyev, who lifted off from the Baikonur Cosmodrome in Kazakhstan on Tuesday afternoon ET (early Wednesday local time).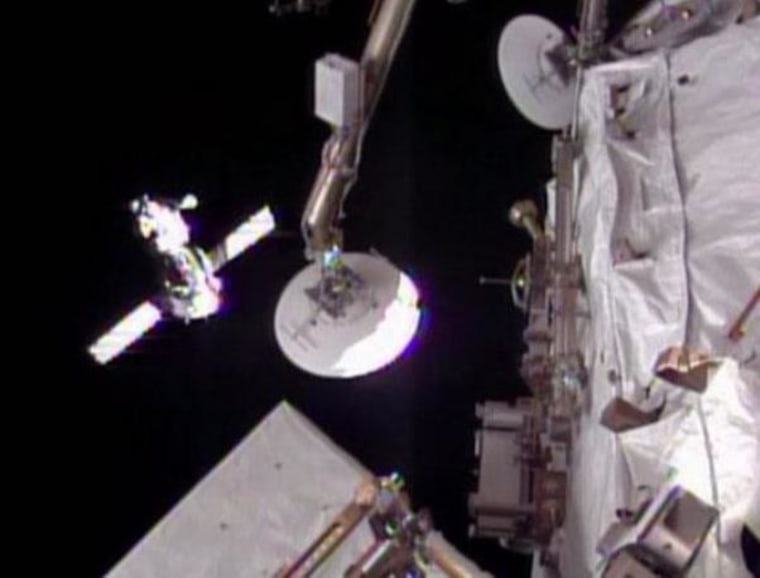 If everything had gone right, the three would have joined NASA's Rick Mastracchio, Japan's Koichi Wakata and Russia's Mikhail Tyurin on the station just hours after launch. However, the Soyuz's attitude control system failed to put the craft in its proper orientation in time for a crucial engine burn.
"They were about 1 degree off," Navias said on NASA TV.
That meant the engine firing had to be aborted, and the Soyuz crew had to follow a backup plan that required a two-day buildup to Thursday's space station rendezvous. This two-day, 34-orbit itinerary was standard until about a year ago, when mission planners tweaked some of the orbital maneuvers to allow for a six-hour, four-orbit express ride.
Navias said the software problem that led to Tuesday's glitch was "well-understood" by Russian controllers. There was no such glitch on Thursday.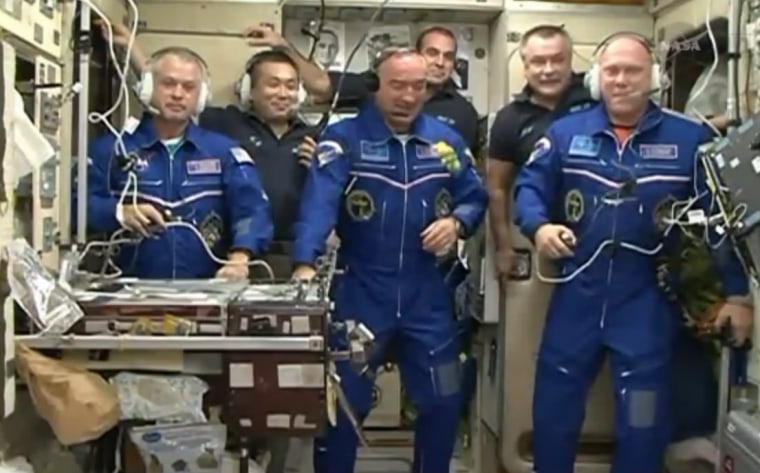 After a couple of hours of leak checks, Swanson, Skvortsov and Artemyev floated through a hatch into the station to begin a tour of duty lasting five and a half months. During a welcoming ceremony, they used a space-to-ground video link to chat with their families at Russian Mission Control.
"We're happy that you're there," Stanley Swanson told his astronaut son, "even though you took the scenic route to arrive."
The newly arrived crew members will settle in during an off-duty day on Friday.
A robotic SpaceX Dragon cargo capsule had been scheduled for liftoff from Cape Canaveral Air Force Station in Florida on Sunday, but NASA said that mission had to be postponed due to a problem with the Air Force's radar tracking system. A new launch date has not yet been announced.