Four private citizens made history Friday by launching into orbit on the first wholly private mission to the International Space Station with an all-civilian crew.
The flight, organized by the Houston-based company Axiom Space, lifted off Friday at 11:17 a.m. EST from the Kennedy Space Center in Florida.
"That was a hell of a ride," crewmember Michael López-Alegría, a retired NASA astronaut who now serves as the vice president of business development for Axiom Space, radioed to mission controllers after reaching orbit.
The Axiom mission, know as Ax-1, isn't the first time an all-civilian crew has flown to space. That milestone was set last year when SpaceX launched four private citizens on a three-day orbital joyride aboard the company's Crew Dragon capsule. It is, however, the first time an all-civilian crew will visit the space station, marking a key breakthrough for both space tourism and the rapidly expanding commercial spaceflight industry.
The launch followed a pair of high-profile trips to suborbital space last year by billionaire entrepreneurs Richard Branson and Jeff Bezos. It's also just the latest example of how human spaceflight — once limited to governments and their space agencies — is now flourishing as a commercial enterprise.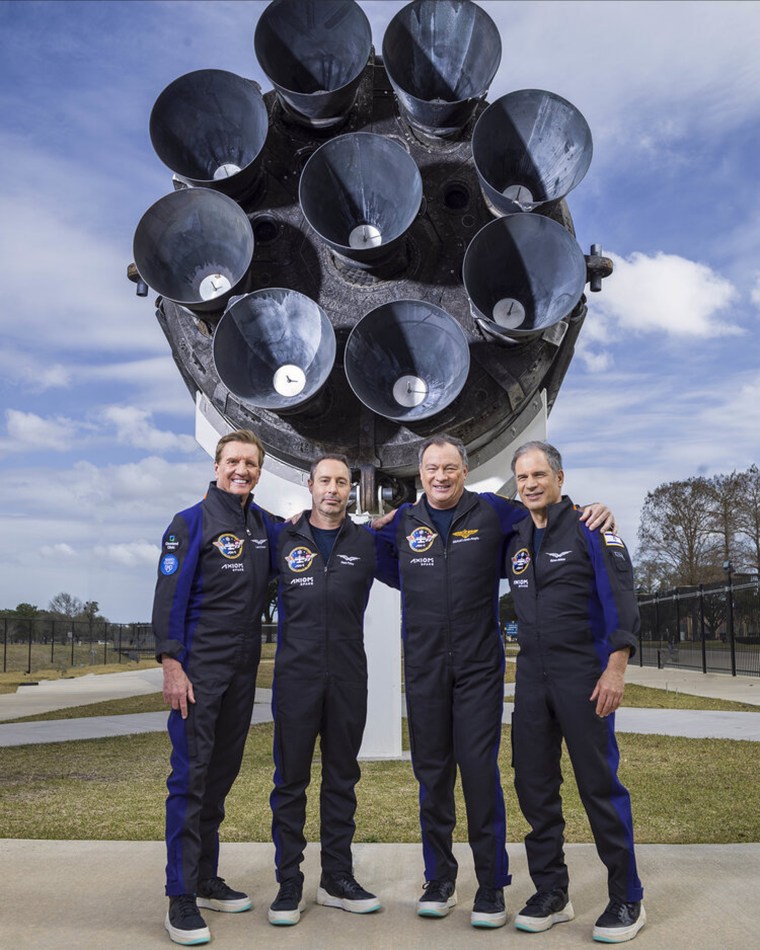 What sets Axiom's flight apart from previous trips with private citizens to low-Earth orbit and the International Space Station is that it won't just be a single paying customer accompanied by a group of professional astronauts, said Derek Hassman, Axiom Space's operations director.
"In the case of the Ax-1 mission, it's very different in that the entire crew [is] unaffiliated with any government," Hassman said Thursday in a preflight news briefing.
Four men are taking part in the Ax-1 mission, led López-Alegría. The former astronaut is joined by three paying customers on the journey: American real estate investor Larry Connor, Canadian businessman Mark Pathy and Eytan Stibbe, a former fighter pilot from Israel.
"This collection of pioneers — the first space crew of its kind — represents a defining moment in humanity's eternal pursuit of exploration and progress," López-Alegría said in a statement back in January, when the mission was first announced.
The crew members launched in SpaceX's Crew Dragon capsule atop the company's Falcon 9 rocket. Less than 10 minutes after liftoff, the booster's reusable first stage successfully landed upright on the deck of a drone ship parked off the coast of Florida.
SpaceX officials said the newly returned rocket stage has been used five times, adding that the Crew Dragon capsule carrying the Ax-1 crew is also recycled hardware, embarking on its third trip to space.
The Ax-1 crew will now spend more than 20 hours journeying to the International Space Station. The foursome is expected to stay eight days at the orbiting outpost, where they will participate in a host of science experiments and philanthropic projects, including health-related research for the Mayo Clinic and the Montreal Children's Hospital.
Connor, Pathy and Stibbe paid $55 million apiece for the experience, as The Associated Press reported this year.
Axiom Space has called the Ax-1 mission a "precursor" to commercializing low-Earth orbit. The company said it intends to fly at least three other commercial flights to the ISS and is eventually planning to construct its own privately-funded space station in orbit.