Virgin Galactic's SpaceShipTwo rocket plane, the vehicle most likely to become the world's first truly commercial spaceship, fired its engines in flight for the second time ever on Thursday.
Following up on its first powered flight in April, the craft went supersonic once more —and tested its wing-tilting re-entry system for the first time, Virgin Galactic said in a series of Twitter updates.
The company said the flight test "hit our planned duration, altitude and speed." The hybrid rocket engine was fired for 20 seconds, sending SpaceShipTwo to a maximum velocity 1.43 times the speed of sound and a maximum altitude of 69,000 feet (21 kilometers), Virgin Galactic reported. That compares with 16 seconds, a top speed of Mach 1.2 and a maximum altitude of 56,200 feet for April's flight.
Pilots Mark Stucky and Clint Nichols were at the controls during Thursday's test, which started at about 8 a.m. PT (11 a.m. ET).
The flight followed the basic scenario for Virgin Galactic's future passenger trips to space: A twin-fuselage carrier airplane, known as WhiteKnightTwo, made a conventional takeoff from California's Mojave Air and Space Port. SpaceShipTwo was tucked beneath WhiteKnightTwo's 141-foot-wide (43-meter-wide) wings, and dropped into the air from an altitude of 46,000 feet.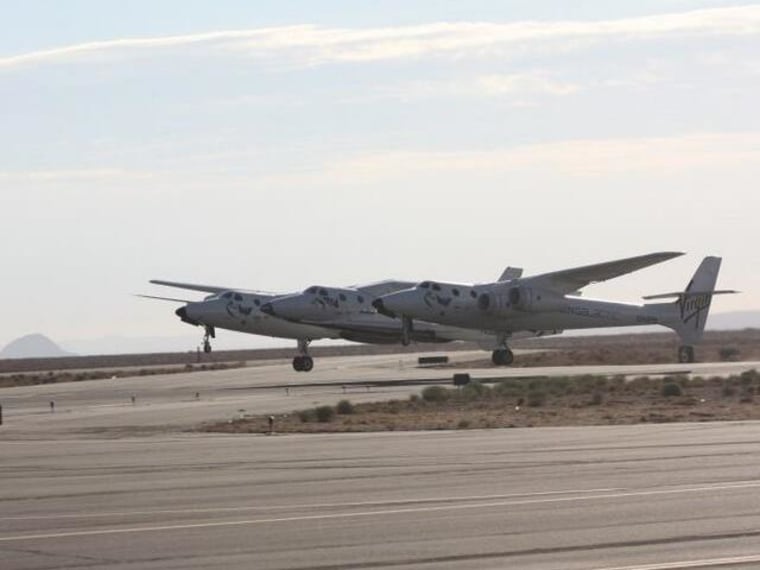 The rocket plane's hybrid engine was then lit up to power the plane even higher. After coasting to the top of its arc, SpaceShipTwo angled its wings into a "feathered" shuttlecock configuration to slow down its descent, then righted the wings again to glide to a Mojave runway landing at 9:25 a.m. PT (12:25 p.m. ET).
"We couldn't be more delighted to have another major supersonic milestone under our belts as we move toward a 2014 start of commercial service," British billionaire Richard Branson, Virgin Galactic's founder, said in a statement issued after the landing. "It was particularly thrilling to see for the first time today the whole elegant system in action during a single flight, including the remarkable feathering re-entry system. It was this safety feature more than anything else that originally persuaded us that the overall design of the system was uniquely fit for purpose. Everything we have seen today just confirms that view."
In addition to its two powered flights, SpaceShipTwo has made 27 flights without lighting up the engine. Mojave-based Scaled Composites' test program calls for a series of increasingly ambitious powered flights, leading up to trips that take the plane beyond the internationally accepted boundary of outer space: 100 kilometers, or 62 miles. Depending on how the tests go, SpaceShipTwo — also known as VSS Enterprise — could begin taking commercial passengers into outer space within a year.
Branson has said he and his family would be on the first flight. More than 600 customers have already signed up, paying deposits on fares that were recently raised to $250,000. Those passengers would get a super-roller-coaster ride to the edge of space and back, with a few minutes of weightlessness and an astronaut's-eye view of the curving earth beneath the black sky of space.
SpaceShipTwo builds on the foundation left behind by SpaceShipOne, a smaller rocket plane that reached outer space three times in 2004 — and won the $10 million Ansari X Prize for Scaled Composites and billionaire backer Paul Allen in the process. Branson licensed the technology for SpaceShipTwo, and brought in Abu Dhabi-based Aabar Investments as an investor.
Although SpaceShipTwo is being tested at the Mojave Air and Space Port, Virgin Galactic expects to operate its commercial service at New Mexico's Spaceport America. Eventually, the company plans to have a fleet of five rocket planes and two carrier planes, with options for more.
Update for 10:35 p.m. ET Sept. 5: The maker of the hybrid rocket engines for SpaceShipTwo, Sierra Nevada Corp., passed along its congratulations to Virgin Galactic in a news release. 
"Today's test has once again proven the safety and reliability of our hybrid rocket engine technology," said Mark Sirangelo, corporate vice president and head of SNC's Space Systems. "We have now supported two successful crewed flight tests for Virgin Galactic and look forward to continuing to improve this technology, not only for SS2 but also for our own Dream Chaser spacecraft. SNC is proud to be the leader in the design and development of these safe, non-toxic hybrid propulsion systems that will transport people to suborbital and orbital destinations." 
More about commercial spaceflight:

Alan Boyle is NBCNews.com's science editor. Connect with the Cosmic Log community by "liking" the NBC News Science Facebook page, following @b0yle on Twitter and adding +Alan Boyle to your Google+ circles. To keep up with NBCNews.com's stories about science and space, sign up for the Tech & Science newsletter, delivered to your email in-box every weekday. You can also check out "The Case for Pluto," my book about the controversial dwarf planet and the search for new worlds.