You'll need a strong stomach to walk into a new exhibit open at the Dublin Science Gallery: On display are cheeses cultured from the body bacteria of celebrities from the realms of science, food and art. 

Eleven "cheese portraits" include a farmhouse cheese, a washed rind, a natural rind, a whey cream cheese. They were made with bugs swabbed from the nose, toes and mouths of artists, anthropologists, writers and cheesemakers. Michael Pollan, the author of "The Omnivore's Dilemma" and other books about food, contributed the bacteria from his belly button.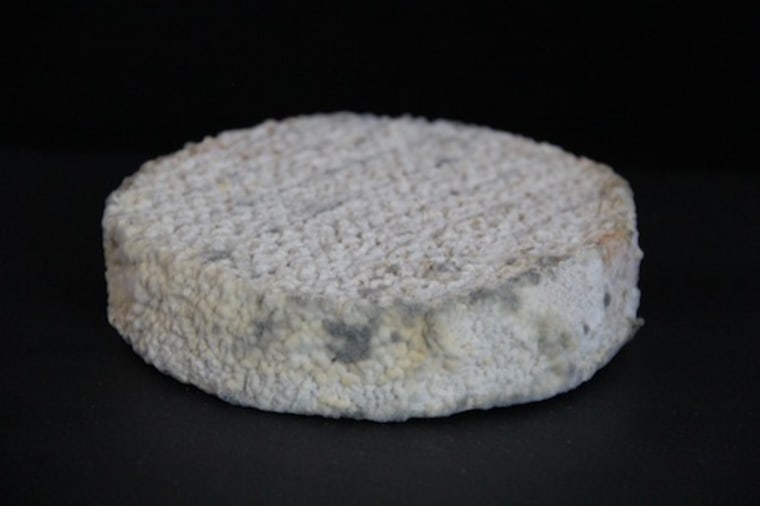 "This isn't cheese for eating," said Christina Agapakis, one of the creators of the "Selfmade" project, "but for thinking." 
Each of the cheeses has a unique and ripe odor, but they don't smell like the humans who made them. "In general, the cheeses smell mostly just like cheese!" Agapakis, who is a fellow a the UCLA Art|Science Center, told NBC News in an email. 
But, fun fact: There are some bacteria families in which one microbe specializes in body odors while a close cousin is an expert in dairywork. Take a good sniff of a Swiss Emmental, and you're inhaling a compound called isovalieric acid that's manufactured by the bug Propionibacterium freudenreichii. Several varieties of Propionibacterium roost on human skin, Agapakis explained. 
Far from turning cheese lovers off their chow, Agapakis hopes folks who experience her work will shift their assessment from "Eww!" to "Aha!" Perhaps, she said, they'll swallow their "initial reactions of discomfort or disgust" and "grow to respect and value the microbes and odors in our world." 
Via: Dezeen

Nidhi Subbaraman writes about science and technology. You can follow her on Facebook, Twitter and Google+.